By Katie Bauer:
I recently flipped through the pages of an underwater photography book and thought about how vibrant and alive the images were despite being stuck in two dimensions between hardback covers.  Just imagine being able to see these colorful creatures swim, glide, and flip their way in and out of view off beautiful tropical islands!  Having only been snorkeling, I can't say how wonderful it is to scuba dive, but judging by what you encounter at the surface it must be fantastic the farther down you go!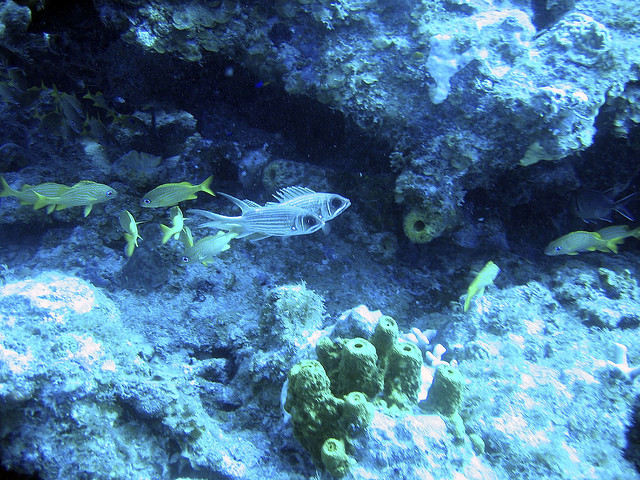 US VIRGIN ISLANDS
Understandably, The US Virgin Islands pride themselves on underwater inhabitants as well as their shops and beaches.  Here you will get a chance to see eels, lobsters, octopuses, rays, sea horses, and turtles.  Dive boat captains are US Coast Guard certified, and operators can teach beginning to instructor level classes.  Ask about drift diving, underwater photography, or wreck diving courses.  Some recommended dive sites in the USVI:
Cow & Calf.  These large rocks between St. Thomas and St. John stick out above the water's surface; their odd formation creates ledges and caves for you to explore.

Fredericksted Pier.  St. Croix's Fredericksted Pier is a good opportunity for beginners to try a night dive!

Navy Barges.  Check out these sunken pieces of history that had been quarters for military men during World War II.

Rosa Maria.  This is the deepest one of five different wrecks at the northwest tip of St. Croix.  See as many as you can, but don't miss Rosa Maria!

Salt River Canyon.  Highly acclaimed among divers, Salt River Canyon has "wall dives" that feature vertical drops whose coral and sponged-surfaces make great homes for sea creatures.  Watch out for the occasional hammerhead too!

Tunnels of Thatch.  The tunnels themselves are part of Thatch Cay island; rock arches were formed from volcanic activity and allow visitors to see a host of marine life.
Also visit the quiet, eco-conscious St. John if you want a nice relaxing underwater experience.  The coral gardens near Trunk and Cinnamon Bays are a good place to start.  Ask your captain if that would be an appropriate spot for your group.
BRITISH VIRGIN ISLANDS
The beautiful British Virgin Islands offer many terrific diving sites (as well as plenty of land-based activities).  Most sites here max out at a comfortable 80 feet, and the nutrients in the current support a wide variety of fish.  You can rely on the experience of the staff at Blue Water Divers in Tortola if you have questions, want to rent equipment, or purchase a diving course package.  Here are some dive sites you may end up visiting: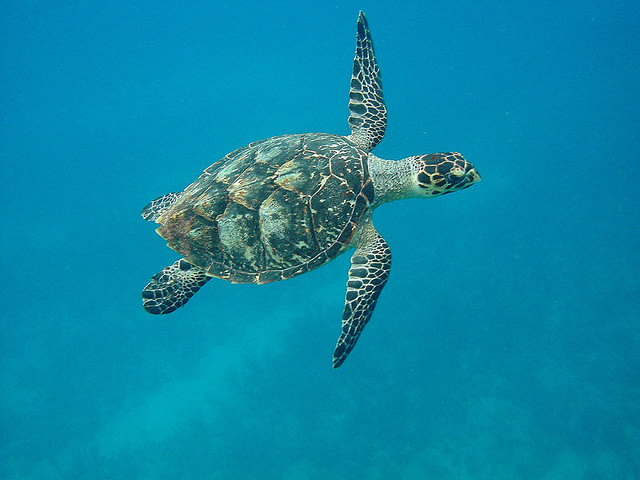 Dog Islands.  This group includes The Chimney, an archway covered in coral, the Coral Gardens on an intentionally submerged commuter plane, and Dolphin Rocks, which has barracuda, mackerel, and tarpon in the summertime.

The RMS Rhone.  The magnificent 'RMS Rhone' was built in 19th Century England and was sunk two years later in the BVI.  The site requires two dive sessions in order to see the intact bow, the propeller at the stern, and all the artifacts in between.  This is where the film The Deep was shot; explore it at night if you dare!

Scrub Island.  Come see the aptly named Shark Point, the lava-made grotto at Lee Bay, or the delightfully intricate cavern system that twists and turns underwater at Grand Central Station.

Virgin Gorda.  The shoreline of Virgin Gorda is home to The Baths, which are natural pools carved from stone.  But venture into deeper water and you'll find three separate moorings at Mountain Point, a pinnacle that nearly breaks the surface at The Invisibles, or tons of reef fish swimming around granite boulders at The Aquarium.
With so many dive sites to choose from, you may need to consider a longer vacation to get to all your favorites!   Even if you only hit a few, you might consider tacking on another week to your charter to rest on deck after all that underwater excitement!
About the Author: Katie Bauer is an experienced travel writer and editor. Having been a stewardess on private yachts, a crew member for sail races, and a sail maker in New England, she now specializes in yachting destinations. A frequent traveler, she has studied, worked, and volunteered abroad thus bringing a unique perspective to her content.