When the heat of summer hits in 2014, those in search of some relief from the punishing rays of the sun will flock in droves to water parks all across the globe. Some will be content to float their day away in a lazy river, while others will have their need for excitement satiated by a having a good splash in a mildly thrilling wave pool.
However, the adrenaline addicts among us will not be satisfied spending an entire day being idle in this manner.  They demand attractions that push the envelope of what's possible without crossing the thin line between a good time and … you know … dying!  There are many borderline insane water park attractions for those that are looking for their next big fix of endorphins, but we have upped the ante.
In this post, we present to you the 5 tallest water slides in the world. Seek them out at your own risk, and may your deity of choice have mercy on your mortal soul.
Let's begin this tour by checking out …
1) Verruckt, Kansas City, Kansas, U.S.A. (Opening Day 2014)
On track to open during the summer of 2014, the water slide Verrukt is set to claim the pole position of the "Are you out of your f****n' mind?!" water slides of the world. At completion, the starting point of Verruckt, located in Kansas City in the middle of the American Midwest, will stand 17 stories and a yet to be revealed number of feet (SPOILER: a lot) above the ground, higher than Niagara Falls and the Statue of Liberty.
To go down, you'll need to convince three other people to go down in a four-seater raft with you, down a near vertical track and over a hump that will have some people preparing for liftoff mentally.  To that end: good luck buddy!
2) Insano, Fortaleza, Brazil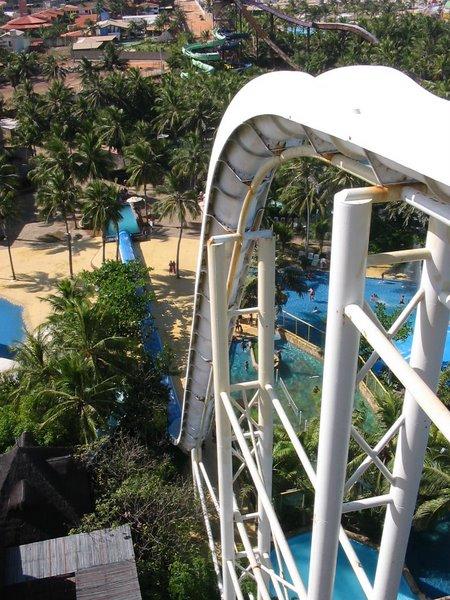 The soon to be former king of waterslides, Insano has reigned as the locus for bats**t insane water slide addicts well over twenty years, as this ride was commissioned in 1989 in the sun-soaked beach city of Fortaleza, Brazil.  The stunning views of the tropical Atlantic will shortly give way to 4 seconds of sheer terror, as Insano sends you plummeting earthward at a hair-raising speed of 65 miles per hour, only to end in a calm swimming pool at the end of the deceleration lane.
3) Summit Plummet, Orlando, Florida, U.S.A.
Another slide about to be dethroned by Verruckt, Summit Plummet is (for now) the tallest water slide in the United States.  Located within Disney's Blizzard Beach water park on its massive Disney World complex in Orlando, daredevils can expect to descend 120 feet at a top speed of 55 miles per hour.  Don't let its cartoonish exterior fool you … you begin your free-fall straight away, with the experience only heightened by the fact that you pass through a dark cave on the way down!
4) Kilimanjaro, Rio de Janeiro, Brazil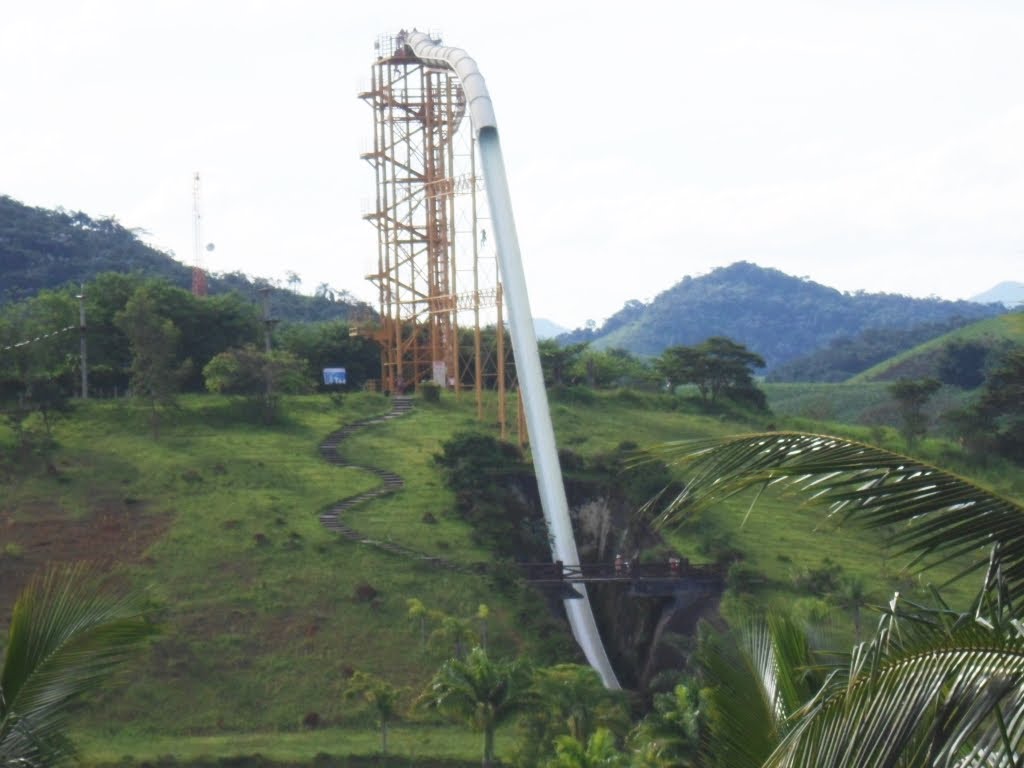 Situated at the Águas Quentes water park outside the city limits of Rio, Kilimanjaro achieves its 164 foot prominence by being built into the side of a hill, rather than it being free-standing.  Not that it takes away from the experience, as sliders have hit speeds exceeding 57 miles per hour, the fastest speed achieved on a water slide as certified by the people at the Guinness World Book of Records. Again, all eyes will be on Verruckt to see if this record will fall (it probably will).
5) Leap of Faith, Atlantis Island, Bahamas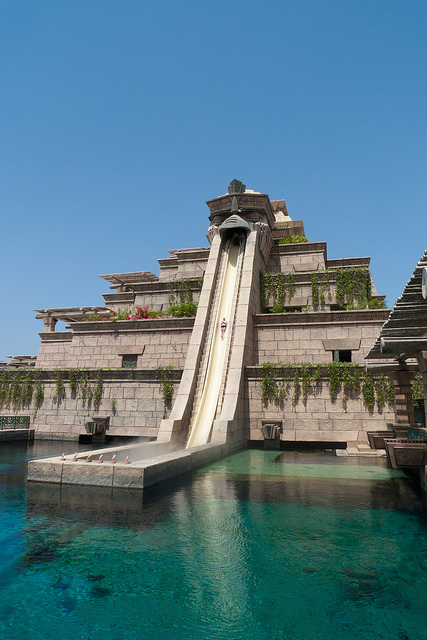 Nestled within the decadent Atlantis Resort in the Bahamas is the heart of fear, otherwise known as the Leap of Faith.  This slide is nearly vertical through its 60 foot drop, and it takes the rider through the middle of a shark-filled lagoon on the way down (don't worry, the slide is enclosed), giving some amazing views … if you're aren't closing your eyes on the way down due to the excitement flowing through you.
There are many exciting slides around the world worth experiencing.  Why not give death the finger by trying some of the tallest water slides in the world?  You only live once after all!