Picturesque canals, world-class museums, amazing restaurants  – cheap bud,  boobie shakin', all-night drinking. Amsterdam is one destination that combines all of the cerebral, hedonistic, sybaritic and lowly pleasures a human could possibly be stimulated by.
Believe it or not, this was my first time in the "Venice of the north", mostly because it was out of my price range as I've slowly transitioned from backpacker into semi-productive adult member of society (and one that is sick of roughing it, I did my time!). While Amsterdam most definitely is pricey when it comes to accommodation, you can easily find quality/affordable hostels and places to eat/drink for reasonable prices. Amsterdam attracts those from many walks of life and incomes.
While I could write this post about the, "top things to do in Amsterdam", I'm going to save myself the time and you the boredom, as you will probably find 100 websites with a quick Google search that will do a far better job than I ever could.
What I want to portray in this post is the vibe/charm that Amsterdam radiates with a little history thrown in. This city is that beautiful woman, elegantly dressed with head-turning looks by day, but come sunset, turns into the gyrating succubus every man both fears and desires. If you're a woman, just replace my imagery with that of an incubus and you get the idea (don't think that analogy actually works that well for women?).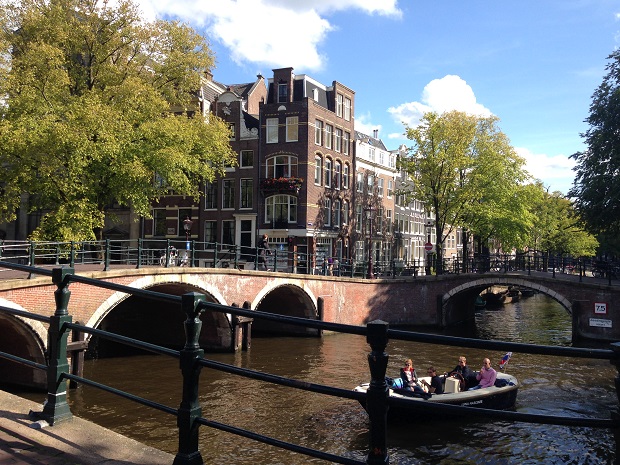 Background
Amsterdam has a storied history that dates back over a 1,000 years, but for the sake of keeping things light and breezy, it was formally established in the 1200s when some farmers bridged the river Amstel. The Amsterdam you see today (the historic part) dates to the early 1600s when the ring of canals were added to the city.
You'll see many cities in this region with similar layouts (Hamburg has many canals as well as Ghent, Bruges, etc.). Why so many canals you ask? They aren't like in Venice where they serve as the actual roads. They exist for a more practical/economic reason.
You'll see a hook on basically every single older home in Amsterdam. No, these weren't added to hang those who didn't pay their pot dealers. They are there to hoist furniture and goods to the upper levels of the homes. Staircases in the houses near the canals are shockingly narrow and steep which was an ingenious invention by the logical/practical Dutch. Why waste precious living space with stairs? You just go up and down them. You can barely even bring a suitcase up them they are so tight.
Small barges and passenger dingys would navigate the canals and a property owner could just take his things from a boat and hoist it directly into their home via the wide, hinged windows that open to the street.
One other thing to know about Amsterdam is that during the 1600s, while the rest of Europe was busy killing itself and redrawing borders (of course they did some of that too), Amsterdam was focused on more important things, like, making money. Ever heard of the Dutch East India company? Well, it is widely accepted to be the first multinational corporation in the world, and the first one to issue stock as well.
The dutch were traders and during this time period, they set out to all corners of the world in search of every possible good you could imagine. Where did they store all these treasures? On the upper levels of their homes! The most expensive items were kept near the top of the buildings, as back then, the canals often flooded until they were later tamed via an intricate lock system (tide never changes now).
Another interesting thing you'll notice about all the beautiful homes is that they are often precipitously leaning almost to the point of no return. For some reason in many old cities, they thought it would be a good idea to construct on marshy (why clogs were invented), reclaimed land (best example, Mexico City); it's a pretty cool sight now.
While there are countless museums to see, I found them to be a bit overcrowded. If you have good weather, I suggest taking one of the free walking tours. You get an overview of the city in about 3 hours and Amsterdam really is one of those places that just walking around can be more entertaining than any per-coordinated museum could ever be. Just WATCH OUT FOR PEOPLE ON BIKES. I had many close calls and the Dutch don't F around, they ride fast and expect you to know how the sidewalks and streets work.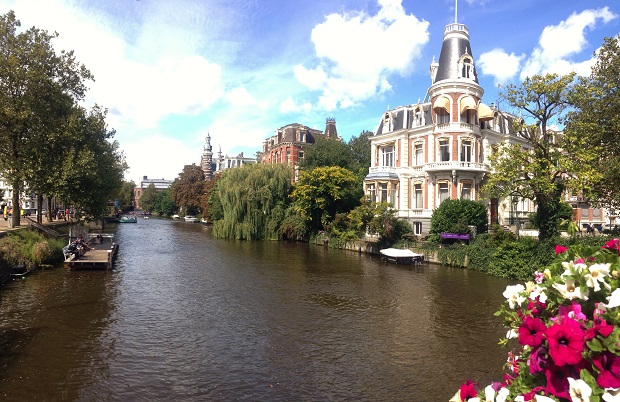 The Dutch are an accepting people. They were the first to legalize gay marriage, marijuana and magic truffles (can't be called "mushrooms" anymore), and you can take a piss in outdoor "urinals" all over the place (just don't piss in a corner or you risk serious splash back).
It's really a prototypical city that others should learn from. One that is tolerant, but has strict penalties if you mess up, which is how it should be. There is a law about standing up and drinking in public, so if you want to be outside, keep your ass planted or risk being fined by the weirdly large police. (don't let these drunk British guys on a bachelor party be an example for you).
After the sun sets in Amsterdam, the city takes on a different persona. Prostitution is completely legal and when you walk around the red light district, you'll see girls standing in doors luring you into their love dens for whatever you may desire (and be willing to pay for). You'll see every type of woman from voluptuous African woman to skinny eastern European girls – there is everything. You'll also see families walking around checking out the windows, Muslims fully clad, etc. It's really one of the top tourist attractions in Amsterdam and is pretty G rated, you won't see anything too risque from the curbside. The girls are registered with the ministry of health and have to get frequent STD checks, so I guess it's safe? (I didn't try my luck).
One other thing you will see people doing a lot of is smoking pot, and why not? It's legal! There are hundreds of coffee shops throughout the city, and each has its own vibe, but most of those vibes are as you imagined, mellow.
The shops sell pre-rolled joints, edibles like brownies and cakes if you don't like smoking, hash if you're euro, and healthy green bud with a maximum of of 5 grams per transaction. Believe it or not, the cultivation of weed is illegal in The Netherlands, but the shops are allowed to have up to 500 grams for sale behind the counter…I guess that makes sense? You can have a few plants for personal use, but of course, this isn't enough supply to run a shop, so the coffee shop owners unfortunately have to buy it illegally which doesn't really help the industry as they are legitimate businesses and want to keep things as kosher as possible.
If you want to try one out, I'd say avoid a coffee shop right in the center of town as you'll be surrounded by mostly tourists saying "this is awesome dude!" incessantly. Head to one in the outer canals or another part of the city. This way you can talk to the locals a bit more and see how they do it and still remain productive members of society. The sale of alcohol is also illegal in coffee shops which I guess makes sense, so just enjoy a soothing tea or virgin cocktail.
I stayed at the Hotel Estherea, which is in an amazing location in the heart of the city alongside one of the most inner canal rings. It was one block from the bustling city center, but felt worlds away at the same time which was pretty unique I think for that part of town.
Upon first entering the hotel, I thought it was going to be a bit cheesy, but I was wrong. The hotel tastefully  blends old world charm showcasing rich wood paneling, oriental rugs and ornate chandeliers with a modern touch of class that still pays homage to Amsterdam's interesting/international history.
There were plenty of places to sit and relax in the lobby which felt quite homely with fresh flowers, comfortable upholstered chairs and stout antique desks and tables to plan your day. There is also a library to pick up one of the international newspapers on offer to catch up on what's going on in the world (like you give a crap, you're on vacation!).
My room (Suite 11) was pretty intense with pink drapes, pink wall paper, pink rugs, pink chairs, pink duvet, pink everything! I somehow managed to hold onto my heterosexuality, but, hey if it went, it wouldn't matter, it's Amsterdam! The Wi-Fi worked well enough, I had my own high-end pod coffee maker, separate bedroom with extremely comfortable bed and sheets and an amazing bathroom. The mirror even turned into a TV! Every attention to detail was thought about from any level of lighting  you could possibly desire to the decadent L'Occitane bathroom products.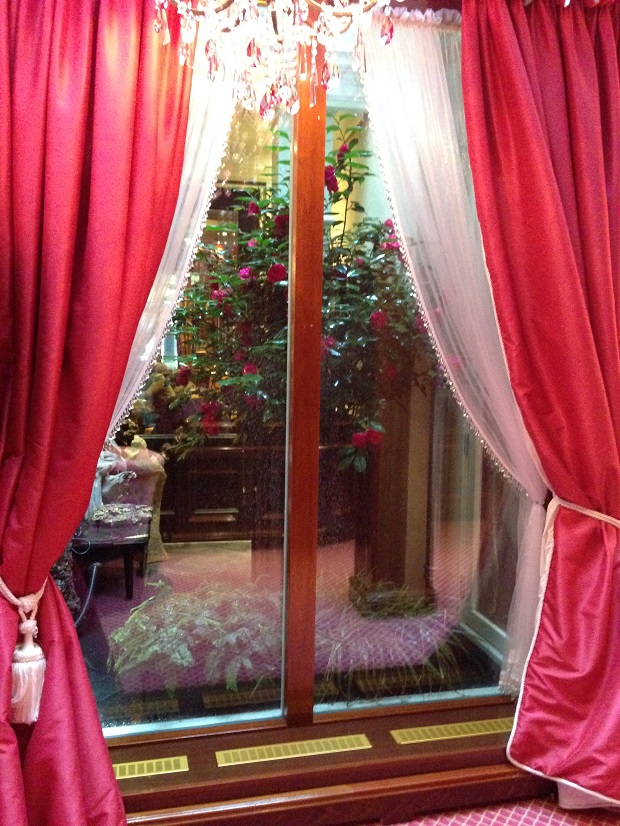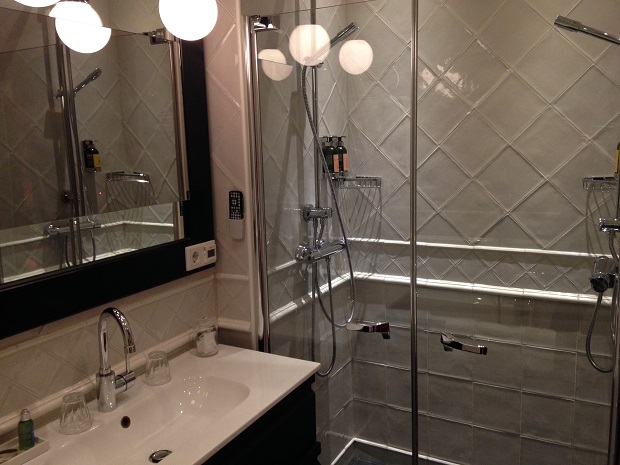 Breakfast in the morning was very good and had everything you'd want to start the day on a happy and full stomach.
The hotel has 93 rooms and 2 suites, but still maintains a very boutique feel. They have a nice bar for a cocktail as well as a well equipped gym for a quick pump if you so desire.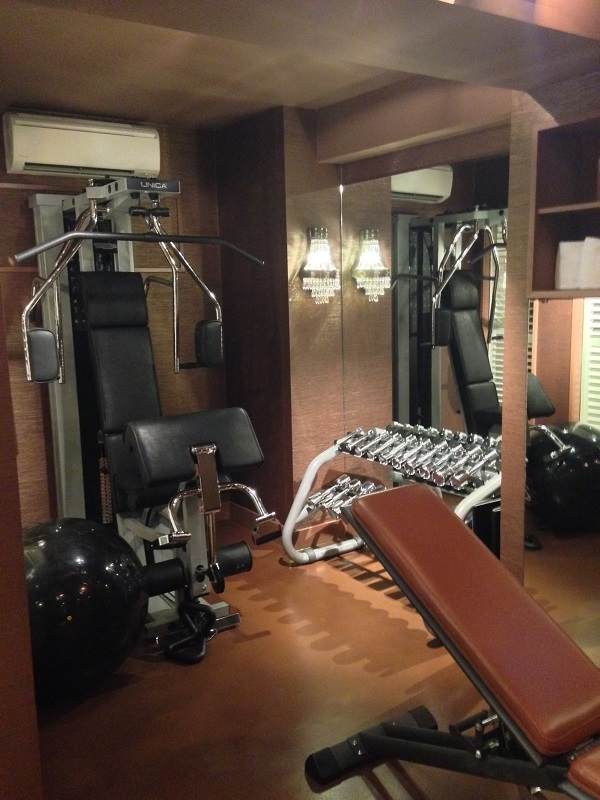 In conclusion, Amsterdam has something for everyone, and that something is something you're going to enjoy, so don't think twice about not hitting this unique European city, at least once in your lifetime!