If you haven't read The Gayest, Non-Gay Experience of My Life: Part 1 – The Turkish Bath House, I suggest you do so before reading this post.
After almost two years of intense psycho and physical therapy, finally letting people touch me again, and having as much sex (with women) as humanly possible, I have finally shed the terrible memories of the homo-erotic Turkish Hammam in Istanbul. It was not easy moving on after such an experience, but it had to be done.
Fast forward two years, and I'm still traveling, and more than ever in fact. I'm currently in the middle of a 6 month trip around the world, and just left Budapest, Hungary. Budapest is now one of my favorite cities in the world. It's the perfect size, there's good public transportation, young people speak English, the nightlife is epic and it's very affordable. Budapest's location is easy to reach from both Western and Eastern Europe, really making it a great stop on any solid European trip.
But, one thing I learned that Budapest after after arriving sent shudders down my spine, they have bath houses. The seedy Ottomans slimed their way up into Central Europe in the 16th century, and of course, once learning of the thermal hot springs within the city, set up their sinful, sinful steam dungeons.
Now a days, there are a few historic bath houses around Budapest, but the most popular is Szechenyi Thermal Baths in the center of the city. One would think that after my experience in Turkey that I would never set foot in another bath house in 10 lifetimes, but no people, this was part of the healing process.
I took the metro from the apartment I was staying at to the Széchenyi Fürdő metro stop, which lets you out right in front of the bath house. It was a clear day, and I didn't have to walk down any dark cobble stone alleys to get to this bath house, thank god, so I was already feeling more at ease than in Istanbul.
The Szechenyi bath house is actually a beautiful building as you can see, built in 1913 in the neo-boroque style.
The inside was quite impressive as well: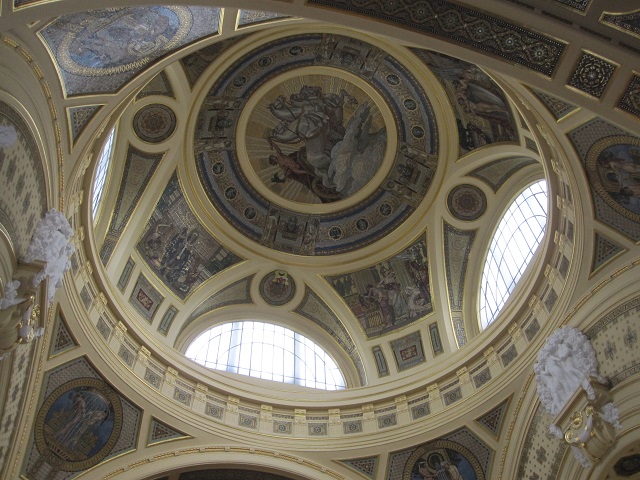 Deciding to face my fears, one shoulder knead at a time, I opted to get a massage, crazy right? I paid around 10 USD for 20 minutes at the window, and then a little old man in white clothes escorted me (with a hand on my shoulder the entire way) to the massage rooms. We turned a corner and I saw a row of little ominous looking white closets, clearly holding dark secrets beyond their hardened wooden doors
The little old man knocked three times on one of the doors. I heard a little shuffling on the other side and then the door knob slowly turned as sweat started to bead on my forehead.
As the door opened, I was praying it wouldn't be some hairy, shirtless middle-aged man with a mustache like in Turkey, and my fledgling prayers were answered! A tall guy in his early 30's, in the same clean white outfit as the other guy, smiled and greeted me with a, "hello mate!" in a pretty good British accent. Phew.
I laid down on the massage table (bathing suit glued to my ass) as he began to massage my shoulders and back in a traditional Swedish style that put me at ease. It was actually a great massage and afterwards, I slipped him an extra 5 bucks for doing a great job (and not molesting me).
I was feeling pretty good, and just as I walked out of the massage room, 5 old naked man grazed my shoulder as they walked past. I raised my eye brows, and tightened my upper lip as I quickly shuffled through the locker room back into the general population to try and find a bath to sit in for a while and pretend everything was ok.
The inside of the bath house was kind of a labyrinth with a ton of different pools in many rooms, all with different temperatures. I found an innocuous looking one to sit for a few minutes. As i sat there, I started seeing people heading for a door a couple rooms over. Being curious (not sexually) I decided to follow suit and I was amazed at what I saw. A veritable pool party!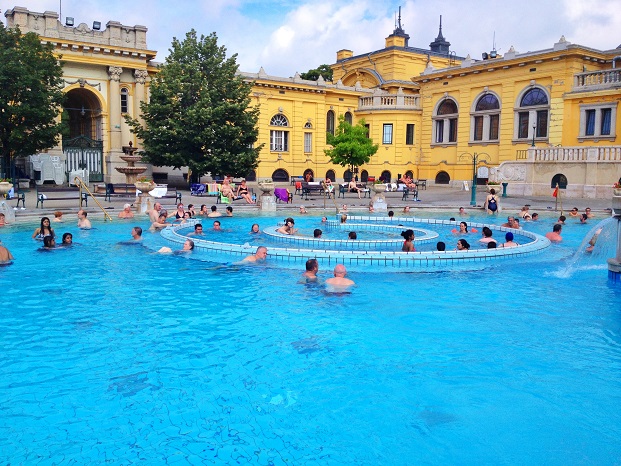 Now I understand why everyone was telling me to come here. The outdoor section of Szechenyi is in stark contrast to the inside baths, and there were a ton of young people (including girls!) hanging out in the many comfortable pools, having a snack or drinking some beers at the bar located right in the middle. I guess the closest thing to a San Francisco style bath house circa 1985 was the shirtless old men in bikinis playing chess, but they were occupied.
In conclusion, I think I can safely visit bath houses again without the fear of sexual molestation, and in fact, I'd highly recommend checking out the Szechenyi Thermal Baths in Budapest, you'll have a great time!