Updated May 28, 2019
When it comes to Mexico City, there are a lot of preconceptions and false truths. If you ask someone what they know or think about it, you'll probably get, "dangerous, dirty, crowded".
While I myself had many doubts the first time I decided to go to Mexico City, I couldn't have been more wrong and my initial trip was a completely eye opening experience.
Mexico City is massive, and like any massive city, it has less desirable areas to visit…just like any city for that matter. Cities don't operate without a strata of people in different economic situations, it's an unfortunate truth of the urban model, but that's how it works.
For a city the size of El D.F. (How Mexicans refer to Mexico City), there is a surprisingly large middle and upper class as a majority of the country's wealth is centered here. You can basically draw a vertical line down the middle of the city, and for the most part, everything to the west is perfectly safe to walk around, stay in, enjoy, etc. The eastern side is a bit more iffy, but that being said, you'll most likely be completely fine during the day time anywhere if you keep your wits about you. Mexican people are extremely hospitable and friendly, and you'll find people asking you if you need anything all the time, or at least lost!.
I've spent an extensive amount of time in Mexico City in various areas, but I have to say, Roma Norte is my favorite, here's why Roma Norte is the best neighborhood in Mexico City and where I now live and opened a Restaurant!
It's very central, situated about 2 miles south west of the epicenter of the city. (see map)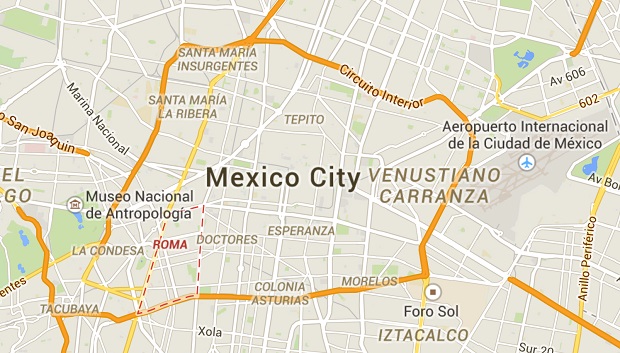 After the colonial center of the city (which is probably the coolest colonial city center I've ever been to), became overcrowded, the wealthy residents of Mexico City headed west. Roma was constructed primarily between the end of the 1800s and early part of the 20th century.

Back in the day, Roma was where the majority of the aristocracy lived and it had a very European vibe (mostly French), which still permeates today. You can spend days just wandering around enjoying the beautiful eclectic architecture which includes Art Nouveau, Art Deco, Modernist and as of lately, a lot of contemporary developments filling in the gaps.


Today, Roma Norte is a hip, safe neighborhood full of countless amazing restaurants offering every type of cuisine you can imagine, hipster-run coffee shops, bars, parks and just about anything you'd want from a well-rounded neighborhood. It borders the very similar Condesa neighborhood, so add the two, and you have a huge area to enjoy.

Roma Norte is canopied by trees which adds a breath of fresh air, literally, to a city that can often feel choked. There are plenty of options for public transportation (elaborated below) which include the Metrobus, Metro no more than a couple blocks from wherever you might be. Uber in Mexico City also works exceptionally well here as well as EasyTaxi, another app everyone uses.

Here is what Roma Norte looks like: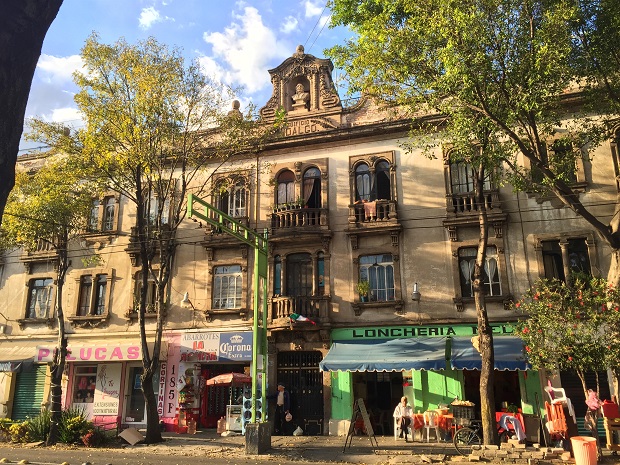 Here are some of my recommendations for how to get around, places to eat, drink and be merry in Roma Norte. Some are cheap, some are a bit more pricey, but all are well under western prices for the quality of food, service and ambiance you'll receive. Note: many restaurants are closed Mondays, so check online before heading there if you plan to go then.
Transportation in Roma Norte:
The best part about Roma Norte is that you can walk everywhere! A truly pedestrian neighborhood, wide sidewalks ensure you can go on foot virtually wherever you want. But, sometimes the distances can be longer or you want to head somewhere else in the city with ease.
Uber in Mexico City: Is Uber in Mexico city? Oh yes, and there are probably the most cars available you'll ever see. You'll wait no more than 2 or 3 minutes max for an Uber in Mexico City, and there are plenty of Ubers in Roma Norte. The base fare, which will get you pretty far, is just 35 pesos as of 9/20/2016 which is only $1.77 USD! You can even take Uber pool for less. There is also Uber XL, UberSUV, and UberBLACK in Mexico City. If you've never taken Uber before, I'd say it's the safest option, most comfortable and often fastest way to get around Mexico City. If you've never ridden before, your first ride's on me! Just sign up here. https://www.uber.com/invite/jeremya15
Metrobus: Mexico City has a fantastic rapid bus system in which 2 or 3-car buses drive in their own lanes and only have to stop for lights and to let people off at designated stations. If there is heavy traffic, this is a great option. Roma Norte is surrounded by 3 Metrobus lines, the 1, 2 and 3 ensuring you're no more than a 5 min walk from a metrobus station. The current cost is only 6 pesos, .30 cents us! The busses come every minute or two.
Metro: Roma Norte also enjoys multiple options for the underground metro which goes all over the city, including the airport. Roma Norte is served by three different lines the 1,3 and 9. The fare is only 5 pesos, .25 cents! Avoid it like the plague at rush hour though if you don't want to be smushed.
Best Restaurants in Roma Norte:
The Dog House Pub – Sinaloa 61B, Roma Norte – Authentic British Pub in Mexico City with Indian dishes as well. They play international sports on their multiple large screen tvs and has become a go-to place for foreigners and locals alike to watch UFC in Mexico City, Premier League, Rugby, NFL, etc. – Sinaloa 61B, Roma Norte
Cabrera 7 – Mexican Fare – Calle Cabrera, #7 7, Roma Norte. This place has awesome drinks and is one of the most beautiful restaurants I've ever been to.
El Parnita – Mexican Fare – Avenida Yucatán 84-E2, Roma Norte. Only open for lunch, Tues – Sun from 1:00 PM to 6:00 PM. Awesome "chic Mexican" cuisine, but with very affordable prices. This place is super popular, so if you want to go, I suggest you get in before 3 PM when Mexicans take their lunch break or on the weekends when people go for Comida, the Mexican version of brunch (more like dunch!). Upstairs they have a place called Paramo which is more of a night spot.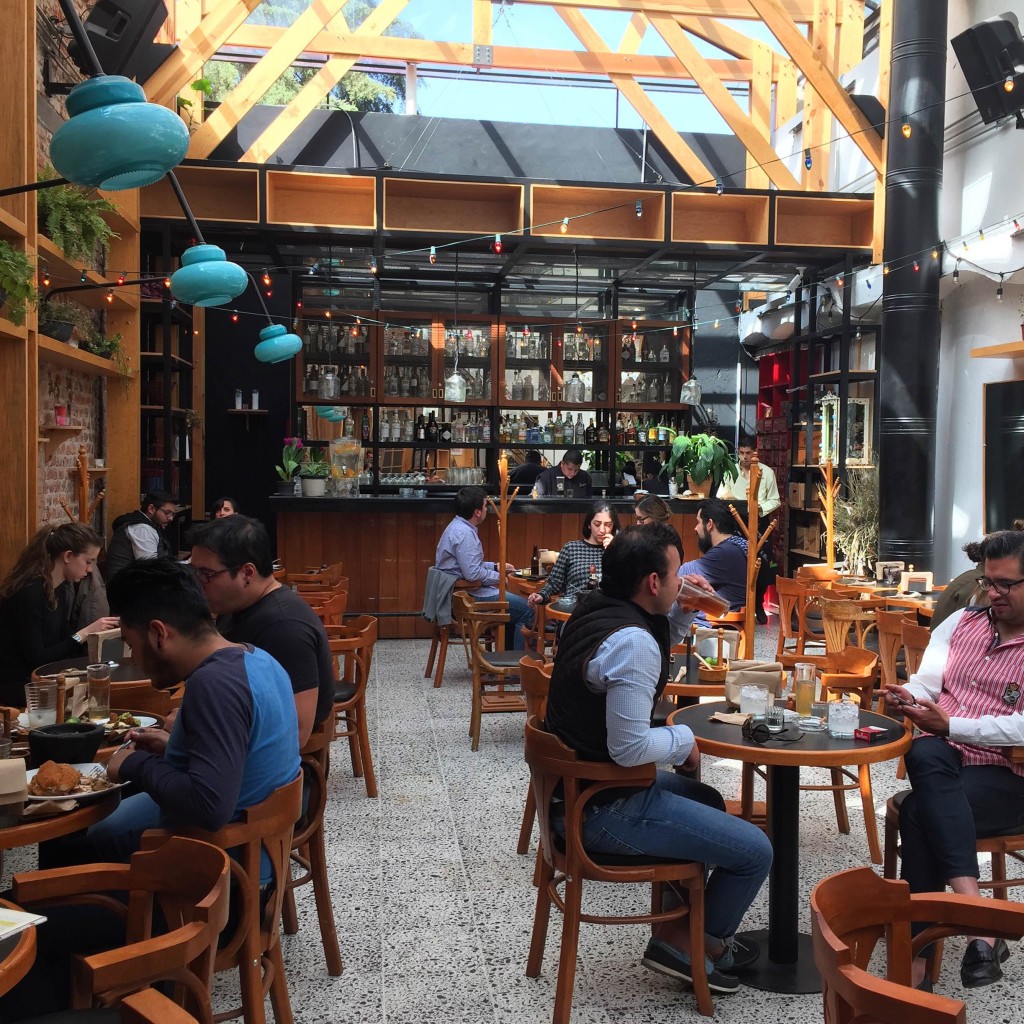 Porco Rosso – American-Style BBQ – Calle Zacatecas, #102, Roma Norte. It's not easy to find good American-style BBQ outside the states, but Porco Rosso does it quite well. It's got a cool communal style vibe with picnic tables and the kitchen and bathrooms are housed in old shipping containers.
Blanco Colima – International Fare/Fine Dining/Oyster Bar – Colima 168, Roma Norte. Blanco Colima is a must visit! Housed in a beautiful historic mansion, this restaurant/bar/lounge is actually an amalgamation of options including 2 restaurants, a sexy bar and terraced patio for cocktails and light snacks. Head on a Sunday mid-afternoon to "dominguear" which I translate to Sunday Funday, or, on a Friday or Saturday night to enjoy cocktails and DJs pumping minimal tunes with the Mexico City elite. The food is phenomenal and creative (not the cheapest place in the world, but well worth it).
Lalo –  Zacatecas 173 – Light Dining – An common-table restaurant for those who like to make new friends- Run by the chef at Maximo, this bustling spot offers great options for breakfast and brunch. The pan francés with berries is absolutely incredible.
Super MiKasa Roma – Japanese Fare – Calle San Luis Potosi #173, Roma Norte. This is actually a Japanese super market, but on the weekends, they have a BBQ until about 6 PM. It's very affordable and everything is a la carte. Don't miss their Udon soups!
La Riviera Del Sur – Modern-Style Cantina serving Yucatecan Food – Calle Chiapas, #174, Roma Norte. This place is awesome. Rather unassuming by day, but by night, the lights turn down, the music turns up and everyone from couples to groups of friends 20 deep come to enjoy the delicious and very reasonably priced Yucatecan-style Mexican food, Mezcal, Tequila and ice-cold cervezas. Awesome place for a birthday or large group. The waiters are top-notch and fun. 4 stars!
Forever Vegano – Vegan Cuisine – Calle Guanajuato, #54, Roma Norte. Believe it or not Mexico City, with Roma Norte and Condesa in focus, are very vegan and vegetarian friendly with a wealth of options available. Forever Vegano is one great place to enjoy a vegan meal, even if you're not vegan! The beautiful space is housed in an amazing Art Nouveau building which is worth the trip just to see itself.
*Other recommendations from local friends include Broka, Mog Bistro, Rosetta, Traspatio, Casa Awolly
The Best Tacos in Roma Norte
Taquearte – Alvaro Obregon #40 – This newcomer to the area's restaurant scene gets rave reviews for its excellent service and its tacos al pastor, served with plenty of warm tortillas.  Try the aguas de sabor.
Taquitos Frontera – Alvaro Obregon #25 – Delicious and affordable, enjoy some tacos al pastor on the patio of this busy restaurant.
Por Siempre – Chiapas and Insurgentes
– This food truck has a dedicated following of vegan and vegetarian taco lovers – until recently they were only open for dinner, but due to popular demand you can now find them ready for business after
4pm
.
Best Cafes/Coffee Shops in Roma Norte:
Boicot – Jalapa 99, Roma Norte – A laid back coffee shop offering a wide range of coffee-based drinks as well as cold brew. The baked goods are nice and the WiFi is strong as well.
Belmondo – Tabasco 109, Roma Norte – Great cafe/restaurant in Roma Norte with delicious breakfast/brunch, lunch and dinner. They have an assortment of fantastic sandwiches at lunch as well.
Peltre Roma – Córdoba No.85, Roma Norte – On the corner of the main drag of Roma Norte, Avenida Alvaro Obregon and Cordoba. This restaurant is great for late breakfasts, a coffee, or lunch. Lively seen and great for people watching!
Cardinal Casa de Cafe – Cordoba 132, Roma Norte. Hip coffee shop with great hand-dripped brews.

Dosis Cafe – Alvaro Obregon 24, Roma Norte
Industrial chic coffee on the main drag of Roma Norte, Avenida Alvaro Obregon. 30 meg Internet, good coffee and nice baked goods.
Buna  – Orizaba 42, Roma Norte.  One of my favorite coffee shops in Mexico City. Great decor/vibe, nice staff, delicious artisan coffees, fast Wi-Fi and right next to Parque Rio Di Janiero.
Cafe Toscano – Mexican/International Cuisine – Two Locations – Orizaba 42 and Orizaba 145, Roma Norte
Cafe Toscano is actually a small chain with a few locations around Mexico City including two in Roma Norte, and on the same street none the less. Both locations are beautiful and this is the best of sidewalk dining you'll find in Mexico City. They make great coffee and the food is fantastic as well. Enjoy a breakfast here on one of the squares both Cafe Toscano's rest on including made-to-order fresh juice, try the Jugo Verde, a healthy mix of fruits/vegetables.
Best Bars in Roma Norte:
Entre Perros y Lobos – Córdoba 108, Roma Norte A more upscale but not pretentious cocktail bar with great house/techno music and live DJ's most of the nights.

Casa Awolly: Sinaloa 57 – A 3 story restaurant/bar/lounge in a turn of the century mansion, Casa Awolly offers delicious creative food, amazing cocktails and a higher-end vibe.

The Bier Garten at Mercado Roma, 225 Queretaro, Roma Norte. The first floor of this modern market is occupied by gourmet vendors selling everything from coffee, flowers and ice cream to food stalls offering artisan tacos and European cuisine. The 2nd floor however is occupied by a Bier Garten with long wooden tables, communal seating and craft brews. This is a great place to go during the week as it's easy to get a seat then.

La Nacional

– Orizaba 170, Roma Norte. Nice place to try Mezcal a drink made from agave and tequila's evil twin!
Best Clubs in Roma Norte:
Supra Rooftop – Av. Álvaro Obregón 151, Roma Norte. The best rooftop in Mexico City in my opinion. Enjoy unimpeded 360 views of the entire city, a fantastic place for sunset, a snack and amazing cocktails. Dress to impress Send me an email at Jeremy@theworldorbust.com and I will put you in touch with the reservations person as you need to be on the list to go up.
Departamento – Alvaro Obregon 154, Roma Norte – A cool lounge/bar/club in the heart of Roma Norte with good drinks and offering a mix of indie live bands and DJs. Always a good time and a good crowd mixed with foreigners and locals.
Mama Rumba – Calle Queretaro #230, Roma Norte (wed-sat nights) If you're looking for a fun night out, look no further than Mama Rumba. One of the most famous salsa clubs in Mexico City, this place gets going every night it's open. They offer cheap classes before the night kicks off (around 9 PM) and even if you don't know how to dance salsa, the mood is fun, drinks reasonably priced and you can watch some real salseros tear up the floor.
There are a myriad of other restaurants, bars, clubs and coffee shops in Roma Norte. These are just the ones I've been to and can personally vouch for. If you make it to Mexico City, I recommend staying in Roma Norte 100%. You'll thank me later! Here are some good options for Hotels in Roma Norte.