Halloween and Thanksgiving are two of my favorite holidays. Why? Because there is no religion involved and it's all about eating/drinking, dressing up like a fool (Halloween at least) and hanging out with friends and family.
Mexicans, while often pretty religious, do know how to separate the two and if there is partying involved, you can best bet their piety will take a back seat to putting back cervezas, grubbing with a vengeance and singing/dancing with their amigos.
3 days not to miss in Mexico are October 31st, Nov 1, and Nov 2 in which Halloween (which everyone celebrates here) goes right into The Day of The Dead celebrations (which is two days and should be called, "The Days of The Dead").
I got invited by a friend to a Halloween party on the 31st, and given it's one of my favorite holidays, I decided to go all out and drop 1000 pesos, ~$75, on a full-on Gladiator costume…Cervezus Maximus!
I had a great time at the "all-you-can-drink" party that was mostly occupied by university students, but screw it, I'm not that old and can still tear up a rug like any 21 year old…or at least I think I can…my calves hurt the next day…
On November 1st, The Day of the Dead celebrations start and are dedicated to children that have passed away. Essentially, The Day of The Dead is a holiday to gather with family and friends and remember those who have passed, kids on Nov 1st and adults on Nov 2. The "thought" is that the dead come back to "live it up" and party for one day a year, and one day only.
Every town and city in Mexico does their celebrations a bit differently, but Mexico City is definitely a cool place to be, hell there are 20 million people, somebody's gonna be doing something cool!
I headed to the historic center which had plenty of partying going on including Mexican wrestling (Lucho Libre), live music from rock bands dressed like skeletons, plenty of people drinking in the cantinas, and of course, elaborate offerings for the dead. I also walked around the next day in Coyoacan, another neighborhood in the south of the city and people had offerings on their front porches and there was a very elaborate display at the Frida Kahlo house (definitely worth a visit!).
Instead of rambling, here are the pics!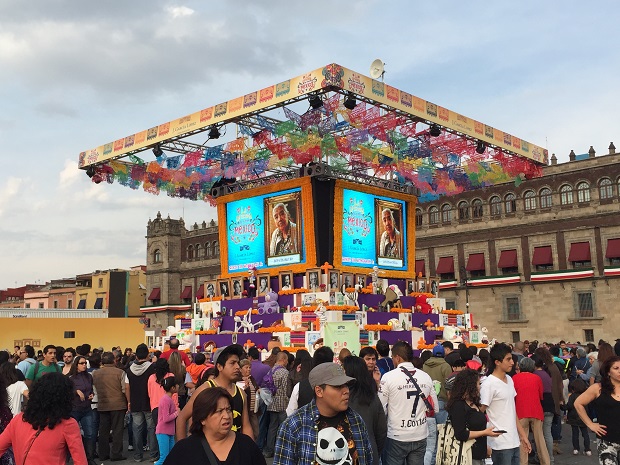 It was a really cool experience, and while it might not be as hardcore as let's say Carnival might be in Brazil, it's worth the trip!