If you've read my blog over the years, you'll know that Mexico is one of my favorite countries in the world. A quick flight from the US, the land "south of the border" is chock full of so many things to do, see, smell, taste and experience, that it would honestly take you years of continuous travel to see it all.
Often tarnished by the media (what isn't these days?), the country really is safe to travel around for the majority of areas minus a few places near the border and some interior states. Infrastructure is modern and you can find absolutely anything you'd want from new glasses to American-trained dentists for a fraction of the price in the states.
So, given I had about a month before I needed to head back to Philly for my best friend's wedding, I said, "Mehiiicooo here I come!" once again.
My first stop anytime coming to the country is usually Mexico City as most flights pass through. While many people don't think twice about exploring the MASSIVE city that is El D.F. (federal district), I can't recommend it enough. There is so much to see and do that you could spend weeks (which I currently am!).
Before heading out to explore the country for a couple of weeks, I spent my first 3 days back in Mexico in the capital city. I stayed in a hotel right west of the historic center called Hotel Plaza Revolucion and I can recommend it if you want to be near all of the historic sites, but want to be closer to some of the other cool neighborhoods (called colonias) like Roma, Condesa, Polanco and relaxing/interesting Chapultapec Park.
This was what my room looked like. It was modern, had good Wi-Fi, comfortable bed, a desk to work, nice bathroom and was really quiet.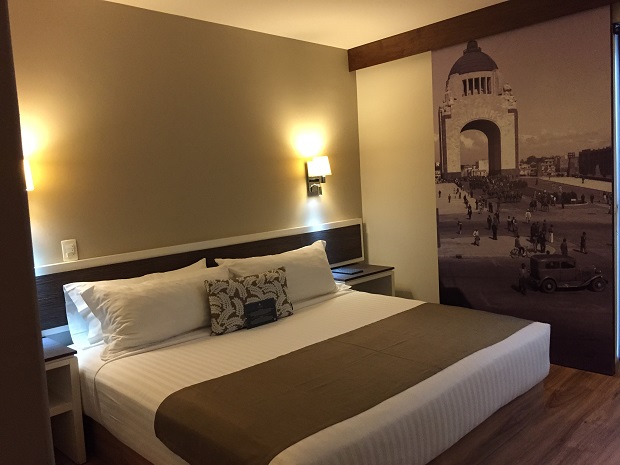 I've seen a lot of the sites in Mexico City but this time I managed to check out some new stuff with the help of some friends.
Right outside my hotel was the impressive Plaza Revolucion with the Monumento Revolucion. You can take an elevator up to the top for nice views of the city. There is a splash fountain in front that you'll find more adults fully clothed in their suits and students in their school uniforms than little kids playing in it.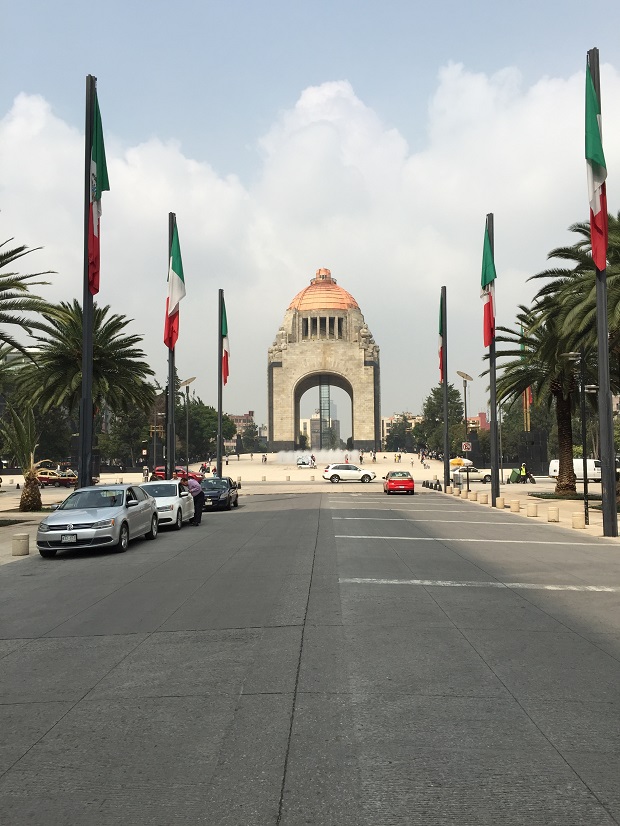 A short walk away is the amazing Palacio de Bellas Artes. It took decades to build and started out with an Art Nouveau flare which is apparent from the exterior, but when you make your way inside, it's Art Deco. They have a nice collection of murals and there is an architecture museum on the top floors (better off just admiring it from the outside and checking out the interior).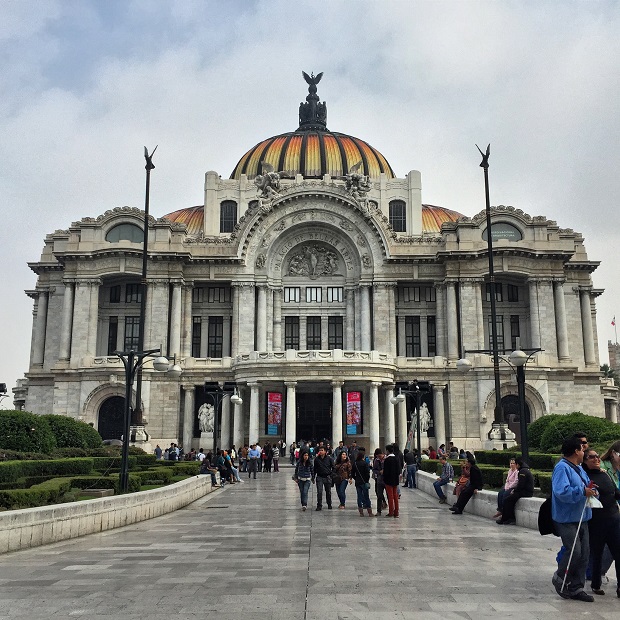 Around the corner I checked out the very impressive Palacio de Correos de Mexico (the main post office) which was built in 1902. The foundation was even constructed in New York City and shipped down to complete the rest of the building. It isn't so stunning from the outside, but once you step in you'll be wowed.
It has many Art Nouveau elements which were en mode at the beginning of the 20th century worldwide. The coolest part about the whole place is that it still serves as a post office!
After the post office, I headed to the Zocalo, which is the main plaza in the heart of Mexico City. I've been here many times, but I'm wowed every time at the immense size and beauty of the cathedral. This time I decided to have lunch at one of the many restaurants that occupy the upper floors of the buildings that surround the Zocalo which offer fantastic views of the cathedral to enjoy while you eat.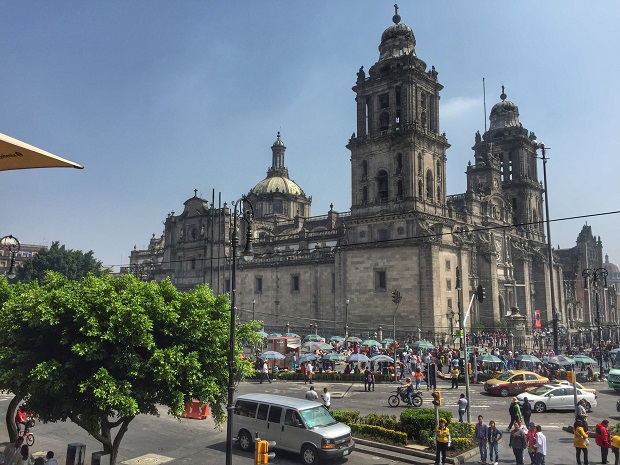 My last stop for the day was  Chapultapec Park which is just west of the city center. You can easily reach it by metro which costs only about 50 cents or you can take a taxi for a couple bucks more. Hell you can even take Uber which has been in Mexico City for over a year now!
Chapultapec Park offers often needed respite for tourists and locals alike in the bustling megapolis that is Mexico City. Besides perfectly maintained green space which is in the form of forest for the most part, the park also houses some fantastic attractions like the Anthropology Museum (a must do!), the Museum of Modern Art, The Zoo and Chapultapec Castle which I checked out this time.
The castle is actually one of only a handful in North America that was actually inhabited by a sovereign entity, in this case Emperor Maximilian I of Mexico. It has served many functions since its construction in 1775, but now it houses the National History Museum which focuses on the life of Maximilian for the most part. There are also some amazing views of the city which can be had from multiple viewpoints.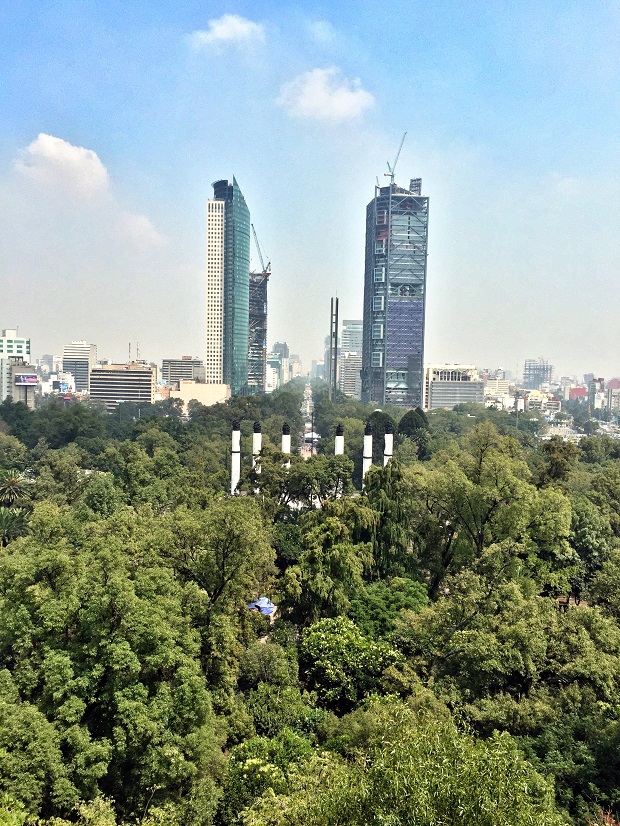 The next day I headed down to the UNAM Campus, one of the largest universities in the world! It's located in the far southwest of the city and takes about an hour to get to on the Metrobus which is Mexico's new rapid bus transport system. If that's how you get there, leave around 10:30 AM after rush hour as they get packed, and I MEAN PACKED!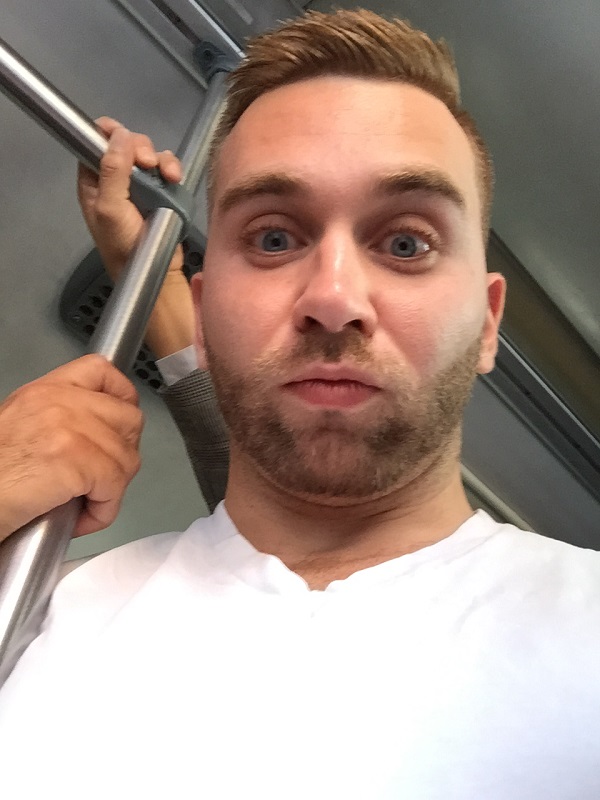 The university is so large that the only way to get around is take local buses within the campus, or you can do what I did and just hop into one of the taxis which are abundant. There are some cool things to see at the university which could take you at least a half day. Firstly, check out the MUAC, a new contemporary art museum that has some very cool exhibits. You'll find a student in each room who will be eager to explain the often esoteric art work if you'd like to know a bit more.
Another cool thing to do is head out behind the MUAC into the campus a bit and you'll come to a sculpture garden that is pretty large and actually rests on top of an old lava field. It's pretty fun to explore.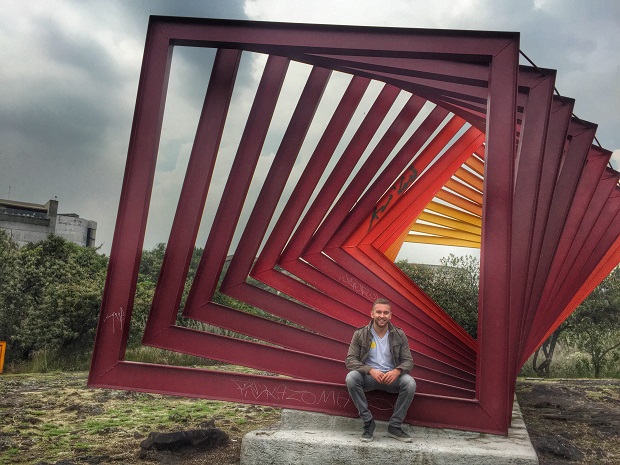 Probably the most popular reason anyone would come to the university if they weren't studying there is to check out the amazing murals which are by famed artists like Diego Rivera and Juan O'Gorman. These are located in the main quad area and you can hang out, grab an ice cream and watch how Mexican college students go about their day. There are even about 50 ping pong tables that are definitely being used. Hang out by one and you'll surely be invited to play a game or two if you're up for it.