If you want to see a totally different and perhaps unexpected side to Mexico City, Santa Fe on the western edge of the city is a good place to start.  Thoroughly modern and urban, Santa Fe is dominated by skyscrapers, wide multi-lane highways and high-end shopping and restaurants; more business district than residential space, this part of town feels like a large American city more than any other area of Mexico City.  Because it is a relatively new and business-oriented zone, it doesn't have many of the features that are typical of other neighborhoods in the city – there are very few cultural or historic attractions in Santa Fe and for that reason, Santa Fe is often  overlooked as a destination by both travelers and Chilangos (people from Mexico City) who might see it instead as a place to pass through on the way to somewhere else.   This is unfortunate because there are many things to see and do in this steel and glass neighborhood at the pinnacle of modernity.

Santa Fe began as an independent town with a profitable sand mining industry.  As Mexico City grew in the early 20th century, Santa Fe provided sand to the massive construction underway in the area.  The landscape of the area was characterized by huge mining pits left behind after the extraction of the sand.  As the sand mining industry began to decline, these old mines were sold in the 1960s to the local government who used them as garbage landfills.  It wasn't until the 1980s that the area became a focus for  development.  However, as the landfills were closed the area experienced a booming local construction rush – very quickly, modern high-rise buildings and malls were built upon the former garbage dumps in a carefully planned effort involving developers, architects and government. In part, this legacy explains why the area is predominantly business rather than residential, and why the residential areas are dominated by high rise buildings rather than single family homes – the challenges of creating infrastructure (and especially water services) made traditional residential areas very difficult to plan.  It is often noted that many of the office towers located in the area had to provide their own water services for the same reason.
This business zone was not planned with pedestrians in mind, and as a result there was little attention paid to creating green spaces, bike paths or pedestrian malls.  However, in recent years this has begun to change as developers consciously adopt eco-sensitive plans and techniques. Recently, a massive park – Parque la Mexicana – has been opened in the heart of Santa Fe.  Surrounded by skyscrapers, this park features lakes, bike and running paths, a dog park and sports areas.  It is described as the "new lungs" of the city due to its huge verdant spaces, competing with Chapultepec Park.  While malls are not usually top neighborhood destinations, there are two in Santa Fe that are well worth the visit. The Garden Santa Fe is a modern and environmentally-friendly underground mall that combines shopping, restaurants and entertainment facilities which can be seen from street level through giant inverted glass domes surrounded by gardens and green-space.  The Centro Santa Fe is the largest shopping center in Latin America and, with more than 500 stores and an indoor skating rink, its 450-room hotel makes it an ideal stopping off point.
Anyone who appreciates modern architecture will find much to admire in the zone.  There are many distinctive buildings around Santa Fe.  One of the most iconic is the Torre Arcos Bosques I, which was one of the tallest buildings in Mexico and the first intelligent building in Latin America.  Locals often refer to this building as El Pantalon ("the pants") because it resembles a pair of legs in dress pants.
Although not technically within Santa Fe, the Desierto de los Leones National Park is a short drive away along the Mexico-Toluca highway.  This 15,000+ hectare park is located in the Sierra de las Cruces mountain range and as a result the climate is considerably cooler than in Santa Fe. Most of the heavily forested park is designated as a protected biosphere and is not open to the public.  However, there is plenty of space available for camping, horseback riding, biking and especially hiking (there are extensive trails, including one to the Cerro San Miguel, the highest point in the park at 12,400 feet above sea level). It is a very popular place for families to go for picnics or BBQs – and you can sample some great quesadillas made on the spot near the park entrance.  The park is also home to a beautiful convent built in the 17th century by Carmelite monks (complete with underground tunnels), a restaurant, museum and beautiful gardens.
Where is Santa Fe, Mexico City?
Santa Fe is better described as a "zone" rather than a "colonia."  It is spread across two delegaciones, Cuajimalpa and Alvaro Obregon and is located along the western edge of the city and includes at least 10 separate colonias spread out over 3.5 square miles.  For that reason it is difficult to clearly define the area, but you can get a sense of it below: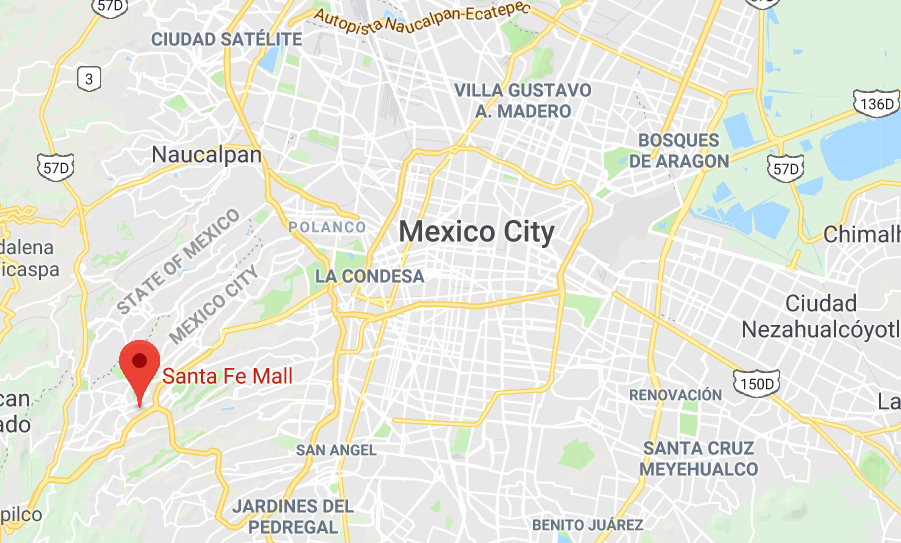 What Santa Fe, Mexico City Looks Like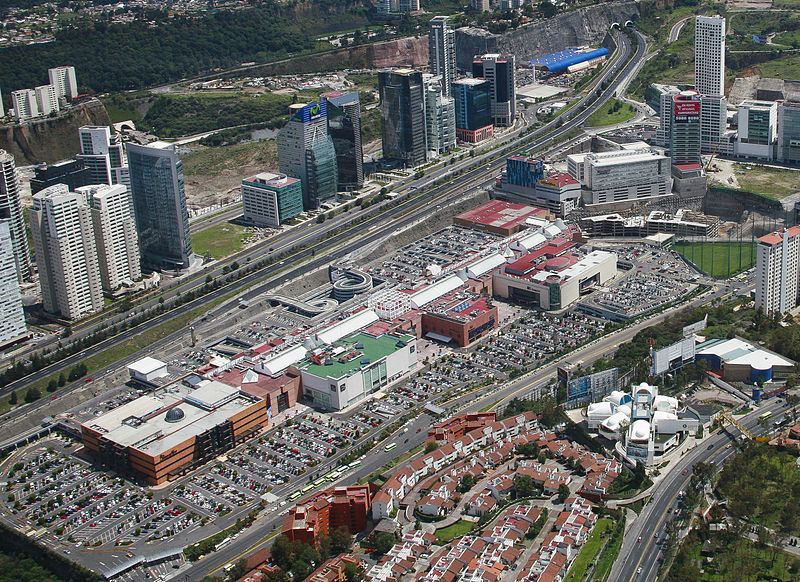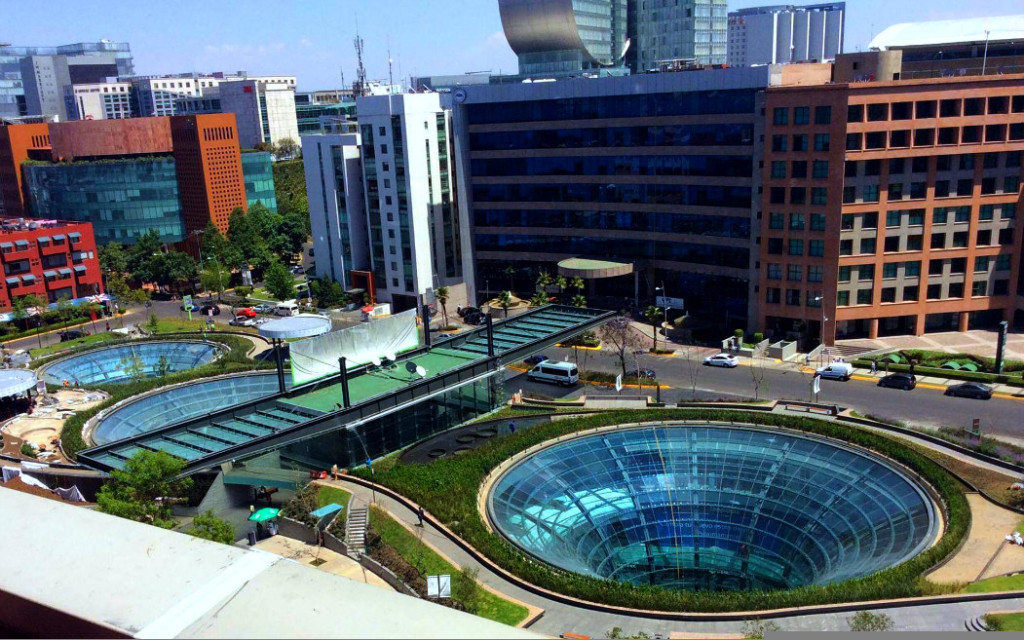 Garden Santa Fe – Underground Mall
The new urban 'Parque Mexicana' a great place to walk, cycle and enjoy the more spacious side of Santa Fe.
Transportation in Santa Fe, Mexico
Transportation to Santa Fe is notoriously difficult.  It is accessible primarily through only two major streets – Reforma and Constituyentes – both of which are heavily congested during rush hour.  Not surprisingly given the fact that it is built on landfills, the area is not served by the Metro.  However, there are a number of bus routes that go to and within the area, including the EcoBus on the Ruta Verde from Balderas metro station.  There is also a commuter train ("Tren Urbano de Pasajeros Toluca-Valle de Mexico) that is set to open in 2018.
Ecobici, Carrot Car and Econduce
Ecobici, Mexico City's bike-share program, does not currently have stations in Santa Fe, nor does the scooter-share Econduce program. There is a Carrot Car option at Guillermo González Camarena 999.
Taxis
Taxis are generally easy to find in Santa Fe. However, you should always be sure to find an official "sitio" (taxi stand) when using taxis in Mexico City – although these taxis can be a bit more expensive, they are regulated and therefore are generally more secure. Sitios are marked by signs and kiosks and can be easily be found in front of popular destinations in the area and restaurants, hotels and other businesses will be happy to call a taxi for you.
Uber
Using Uber in Mexico City is easy, safe and affordable and is an excellent option for travel in Santa Fe given the lack of public transportation options. It is rare that you will have to wait more than a few minutes, even at peak times. If you have never tried Uber, go here to sign up and get your first ride free! https://www.uber.com/invite/jeremya15, or just use the code "jeremya15" when signing up.
Best Restaurants in Santa Fe, Mexico City
Quattro – Avenida Santa Fe 160 – located in the Hotel JW Marriott, this Italian/Mediterranean restaurant is known for its exceptional service and extensive wine list, as well as for its impeccable design and ambiance.
Au Pied de Cochon – Juan Salvador Agraz 97 – like its sister location in Polanco, this restaurant is located within the Hotel Presidente Intercontinental.  Although there are many traditional Mexican items featured on the menu, French cuisine is the restaurant's specialty – if in the mood for foie gras, escargots or duck confit, this is an excellent choice.
Shu –  Calle Tres 55 – offers a wide range of rolls, sushi, sashimi and teppanyaki with a Mexican twist.  The decor is elegant and modern, and the food is beautifully presented.
Cantina La No. 20 – Prolongacion Vasco de Quiroga 3800 – this stylish cantina is always busy and offers great drinks, typical Mexican snacks and bites, and a lively atmosphere complete with roving mariachis.
Hookah Santa Fe – Avenida Vasco de Quiroga 3880 – this is not your average hookah bar; in addition to a wide and varied menu of tobacco and non-tobacco based shish, this beautiful space is a great place to enjoy Mexican-Arab fusion food, cocktails, and an impressive view of the city skyline from the terrace.
Best Bars in Santa Fe, Mexico City
La Federal – Guillermo Gonzalez Camarena 1600 – informal and busy, this cantina offers typical Mexican snacks and excellent cocktails after work on to start the evening.
Sens – Paseo de los Tamarindos 90 – if you are looking for a high-end club, this luxurious venue is a great choice. Make sure you get a reservation or show up on the earlier side.
Kings's Pub – Guillermo Gonzalez Camarena 999 – styled after a traditional English pub, this is a great place to enjoy pub grub, a good selection of international beers and live music
Hookah Santa Fe – Avenida Vasco de Quiroga 3880 – this is not your average hookah bar; in addition to a wide and varied menu of tobacco and non-tobacco based shish, this beautiful space is a great place to enjoy Mexican-Arab fusion food, cocktails, and an impressive view of the city skyline from the terrace.
Gin Gin Kitchen Bar – Antonio Dovali Jaime 95 – this self-describe old-fashioned gin joint specializes in pre-prohibition style cocktails and features a small but excellent menu.
Escaparte Karaoke Bar – Avenida Santa Fe 443 – if you just have to sing, this is the place to do it in Santa Fe. Be sure to make reservations, and check out their online catalogue of songs so you can practice before heading out.
Hyde – Paseo de Lost Tamarindos 90 – not technically in Santa Fe, this very popular dance club is well worth the visit, with great cocktails and infectious beats. Reservations are definitely recommended.
Best Shopping in Santa Fe, Mexico City
Centro Santa Fe – Vasco de Quiroga 3800 – the largest shopping center in Latin America, with high-end shops including El Palacio de Hierro and Saks Fifth Avenue, a 22-screen movie theatre, a grocery store, a skating rink, and a 450-room hotel.
Garden Santa Fe – Guillero González Camarena 1205 – high-end shopping, entertainment and various services in an environmentally friendly and unique underground space
Paseo de Arcos Bosques – Paseo de Tamarindos 90 – offers more than 200 exclusive shops and 40 restaurants to explore.
Samara – Antonio Dovali Jaime 70 – provides a shopping experience that features green spaces indoors, a cinema, many restaurants and shops and a gym.
Patio Santa Fe – Prolongación Paseo de la Reforma 400 – a very popular mall with many restaurants, a cinema and a Home Depot.
Best Tacos in Santa Fe, Mexico City
Taquería Local – Calle Juan Salvador Agraz 61 – noted for its tacos al pastor, a bit off the beaten path but if you have the craving you can have your tacos delivered.
Tacos Don Manolito – Guillermo González Camarena 999 – a popular place for both lunch and dinner, offers a wide selection of tacos and other typical snacks.
Carnitas el May – Tamaulipas 192 – this cash-only spot can be quite busy at peak times so expect to wait; serves up a wide range of options including tacos de costilla and quesadillas de sesos (brains).
Taqueria El Rinconcito – Vasco de Quiroga 1863 – noted as much for its coffee as its tacos, this small traditional taquería is a great place to have snack.
Tacos "El Vaquero" – Vasco de Quiroga 2012 – centrally-located, this busy taquería is popular with the office crowd, so be prepared to wait if you go during the lunch hour.  Enjoy a full range of typical tacos and a cold beer on the sidewalk patio.