Before you think I'm a degenerate, renegade drunk, I only called this post what I did so that you would click. So, now that you're here, mind as well stick around, right? While I did experience all of the things mentioned in the title, don't worry, they weren't all performed simultaneously!
This post is a follow up to the one I did about the amazing state of Guanajuato in Mexico. While the first post was more of a feature about the actual city of Guanajuato, this post serves more to showcase all of the awesome adventure activities and experiences we got to enjoy on our whirlwind trip.
Living Legends and Four-Legged Friends in San Miguel
After our first day of getting acclimated in the city center of Guanajuato, we made our way to San Miguel de Allende. An unbelievably beautiful colonial town about an hour away from Guanajuato. My mom actually lived there for a year in the 1960s when my beatnik grand father shuttled his family (overland) from Philly to San Miguel to work with some local potters. Since then, the town has become a big expat destination and you'll see lots of gringos strolling the streets, operating small businesses or enjoying one of the countless amazing eateries.
Our first real stop in San Miugel was at the home of Rodrigo Landeros. A rather mythic individual famous to all middle-age women who have had the luck to cross his path. By the end of my trip with him, he became basically the Mexican version of Chuck Norris to me.
A true cowboy, he grew up on the border with Texas and moved down to San Miguel a couple decades back when he fell in love with the area. Every person that was on our trip who had met him before at one of the other ATMEX conferences (Adventure Travel Mexico) had only good things to say about him, and I have to agree. Rodrigo runs, Coyote Canyon Adventures, a tour provider that is one of the oldest and well-known in the entire country for adventure travel and a slew of other activities that they offer in the region. He was basically in charge of us for the subsequent two days as we went horseback riding, repelling, and to some pretty cool precolonial ruins that had just opened up to the public recently.
After our wizard driver, Bonifacio, somehow Willy Wonka'd our over-sized van through impossibly narrow corners and streets to Rodrigo's home, the legend himself was waiting for us on a large, perfectly manicured steed, loyal dogs in tow. He introduced himself to us all in perfect English, and we got right to being fitted for a horse.
After a quick tutorial on how to ride, we were clapping down the cobble stone roads from the hills towards the city center where we were going to enjoy a night ride. It was a really cool experience, and when we pulled into the main square, all the people were staring at us. I felt kind of bad ass, like how Pancho Villa must have felt pulling into a a rural town square (Rodrigo was one of the main cowboys in the Pancho Villa movie with Antonio Banderas by the way…).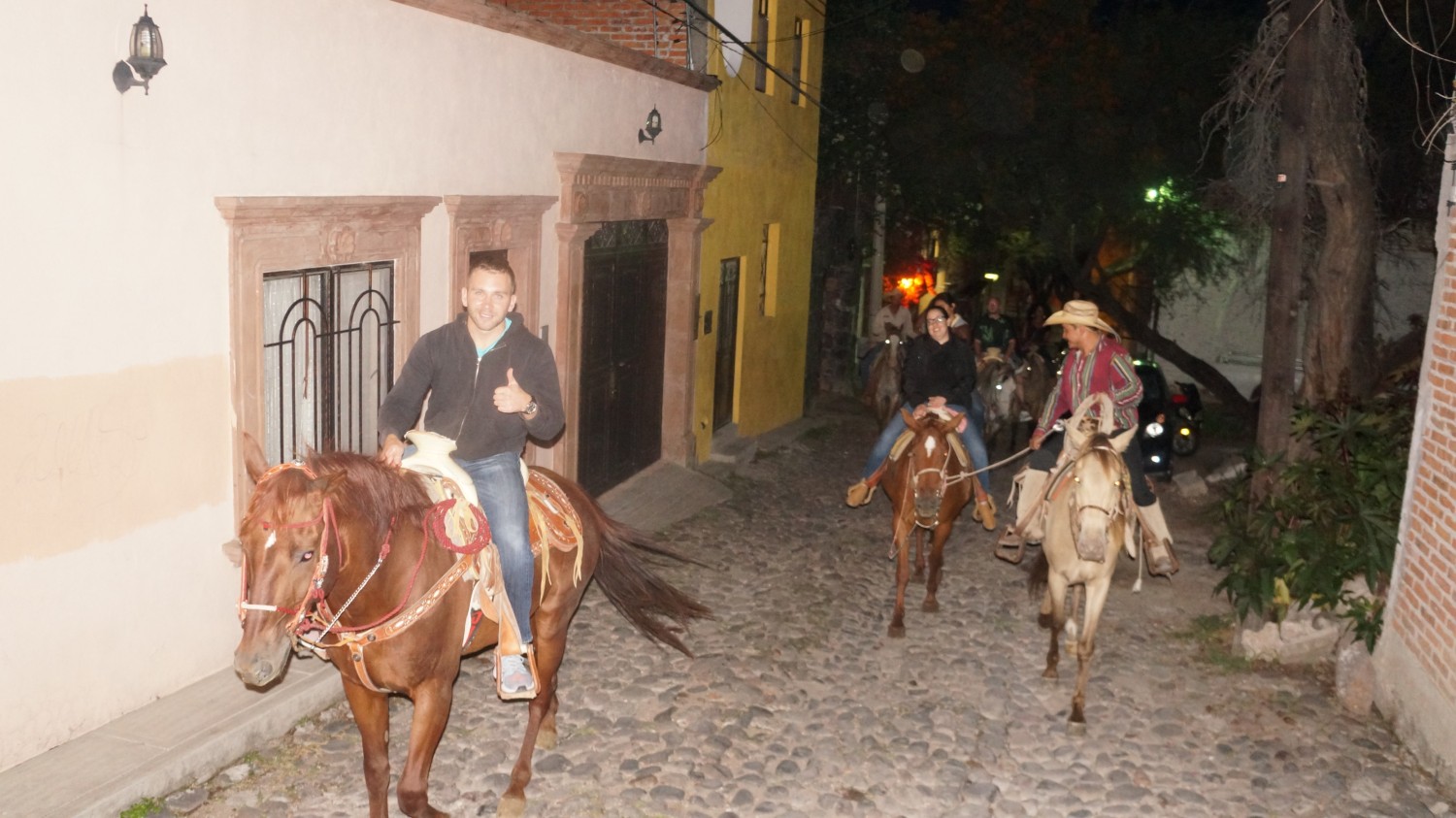 After our ride, we did like any Mexican cowboy would do, headed to the cantina! Rodrigo was good friends with the jovial owner (of course) and we got a private concert from him. He sang cantina favorites like Guantanamera and… John Denver's  – "Country Roads"? Anyways, I had a well deserved beer and a sneaky tequila up at the bar. It was a lot of fun (look at the posters next to the singer).
After the cantina, we had a nice rooftop dinner overlooking the illuminated neogothic church which is one of the most beautiful I've ever seen.
The following day it was time to get hitsorical, so we headed for the Cañada de la Virgen archaeological site which has just been opened for a couple of years. I asked why it had just opened and Rodrigo informed me (of course he knew the answer to my question) that Mexico is covered with ruins from precolonial times, it's just a matter of money and time so there is a governmental agency in charge of deciding what will be excavated. He said many landowners know that they have ruins on their lands but don't inform the government as Tio Sam will often "claim" it and, adios, less room to grow agave for your tequila stash.
Ayways, we had a great tour guide who gave us the background about the site, which is actually Otomi, and the most northernmost site in Mexico to have been discovered. The ruins were designed with celestial bodies in mind and it was kind of scary how exact some things were laid out in reference to them.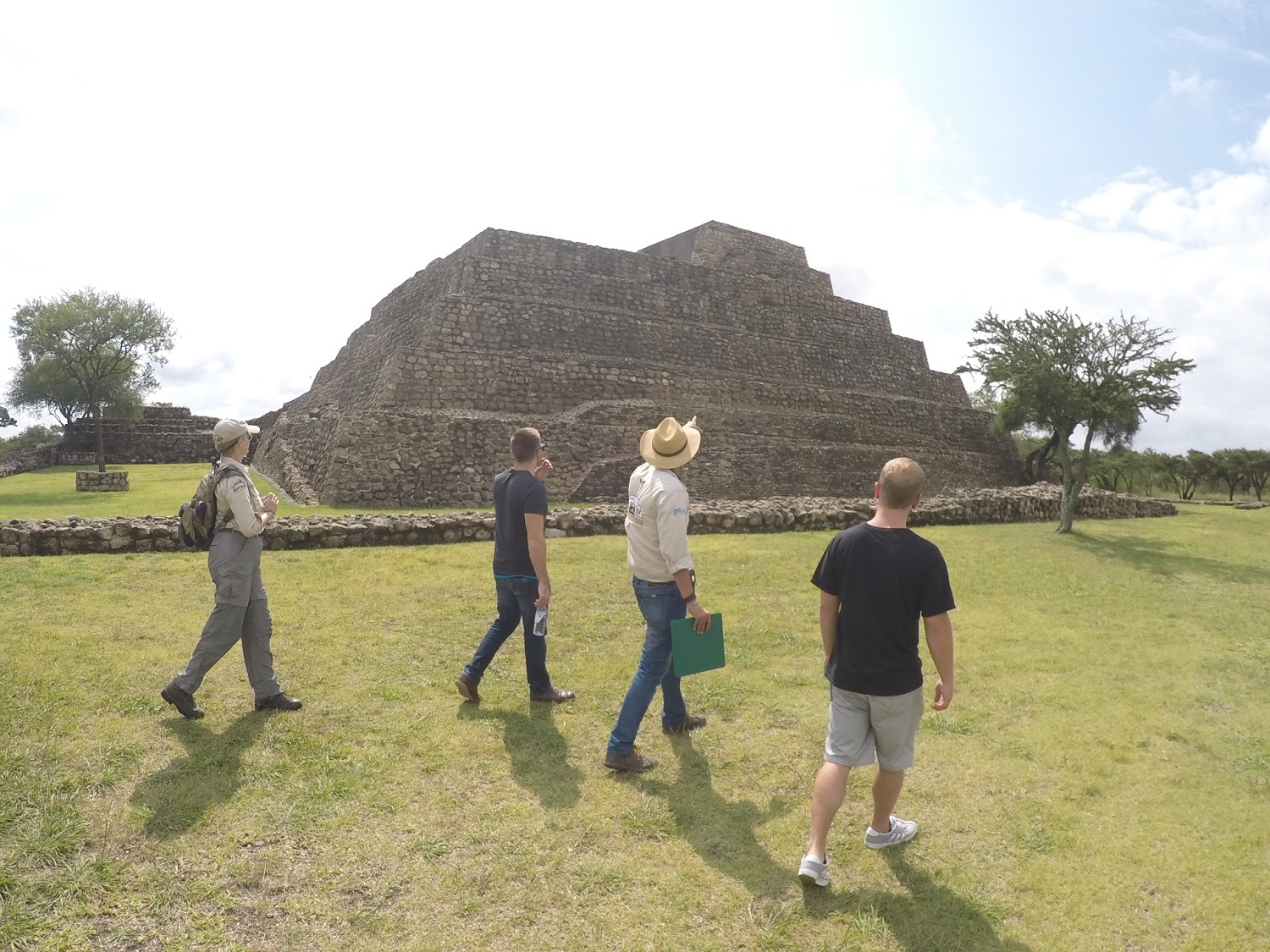 After our introduction (well for me at least) to riding horses, we went out to a ranch very near the ruins where an authentic lunch was prepared for us before setting out on a more serious ride than the day prior.
After a couple of beers, a little tequila and a belly full of Mexican delights, it was time to get back up on my high horse, literally. We were all sized up again by the ranch hands and paired with a 4-legged friend. Big Rod then gave us another crash course on riding horses, "offroad", and we were off.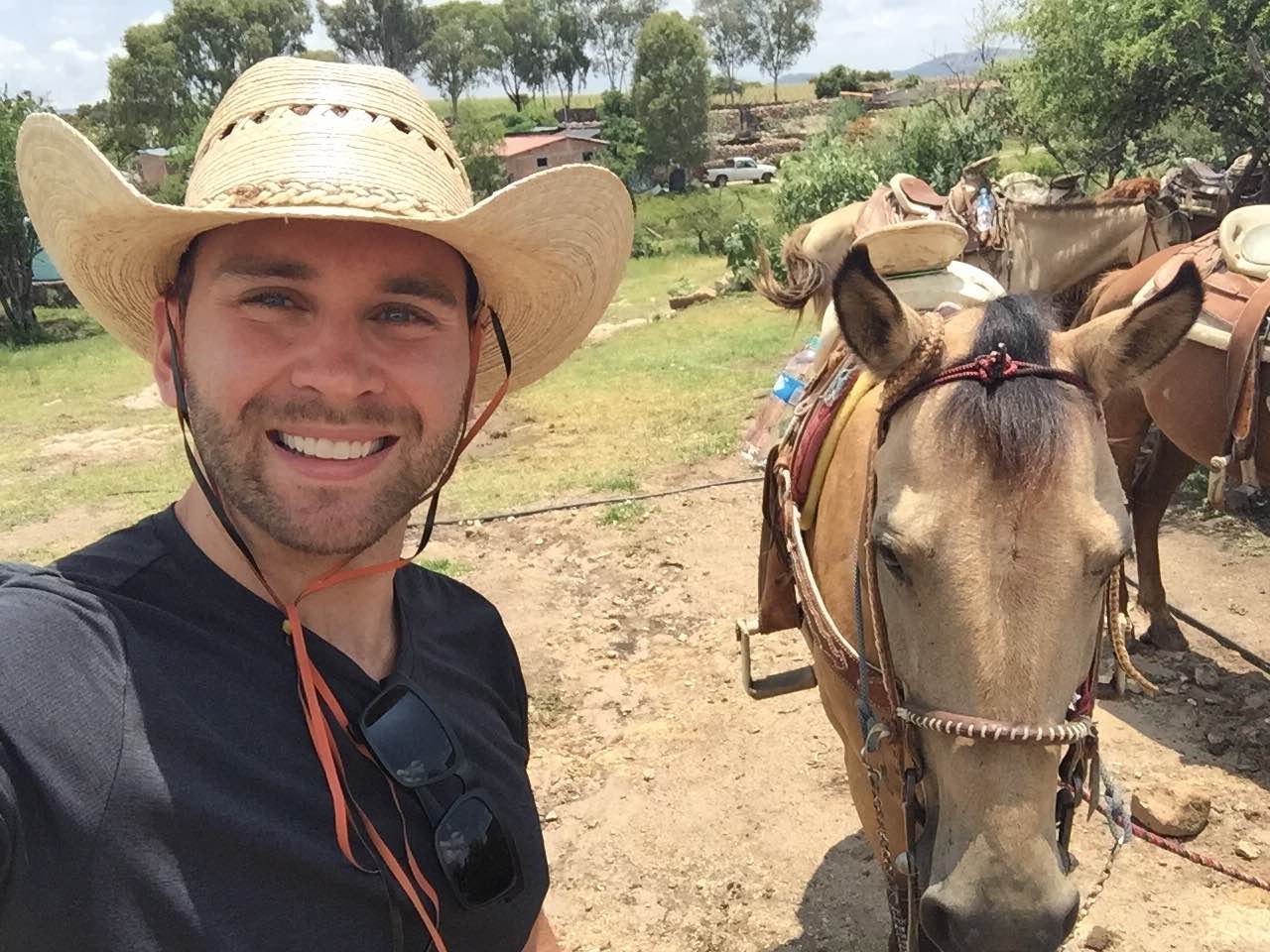 We started on top of a hill and slowly started making our way towards our destination, Coyote Canyon, a beautiful, pristine gorge on private property. Only those with Coyote Canyon Adventures (or who offer the cowboys who own it some Tequila) have access to it. The views were pretty surreal.
Rodrigo then gave everyone the option of galloping if we felt comfortable. Me being the wild ride-em cowboy I am said, "F Yea!" So, I lined up in the running group, whipped my reins, gave my horse a gentle kick to the ribs, and, BOOM! I was off like a bat out of hell. About one second later, I regretted my decision as my precious cajones (that's balls in Spanish) were pounded into oblivion on the rawhide saddle as I held on for dear life and attempted to take my mind to the thought of scantily clad Rodri….Señoritas and more tequila.. I felt like I was galloping for 10 minutes until we finally slowed down (it was 30 seconds). I said, "yep, never need to do that again".
We then descended some pretty steep and rocky terrain to the canyon bottom. I asked Rodrigo as he rode his horse past me, off-trail of course, "I didn't know horses could go on terrain like this". He replied, "this is a 3 out of 10 of what horses can do". I should have known that any horse being straddled by Rodrigo had super powers…
When we made it to the bottom, we took our horses for a dip and walked through the stream and then had a break for some water, and a bit of tequila of course. The next part of our journey brought us through some pretty forested terrain until we reached the top of the canyon again where repelling was on offer. I opted out of that as I'm about as scared of heights as Rodrigo is of Kryptonite. (I manned up the following day though…)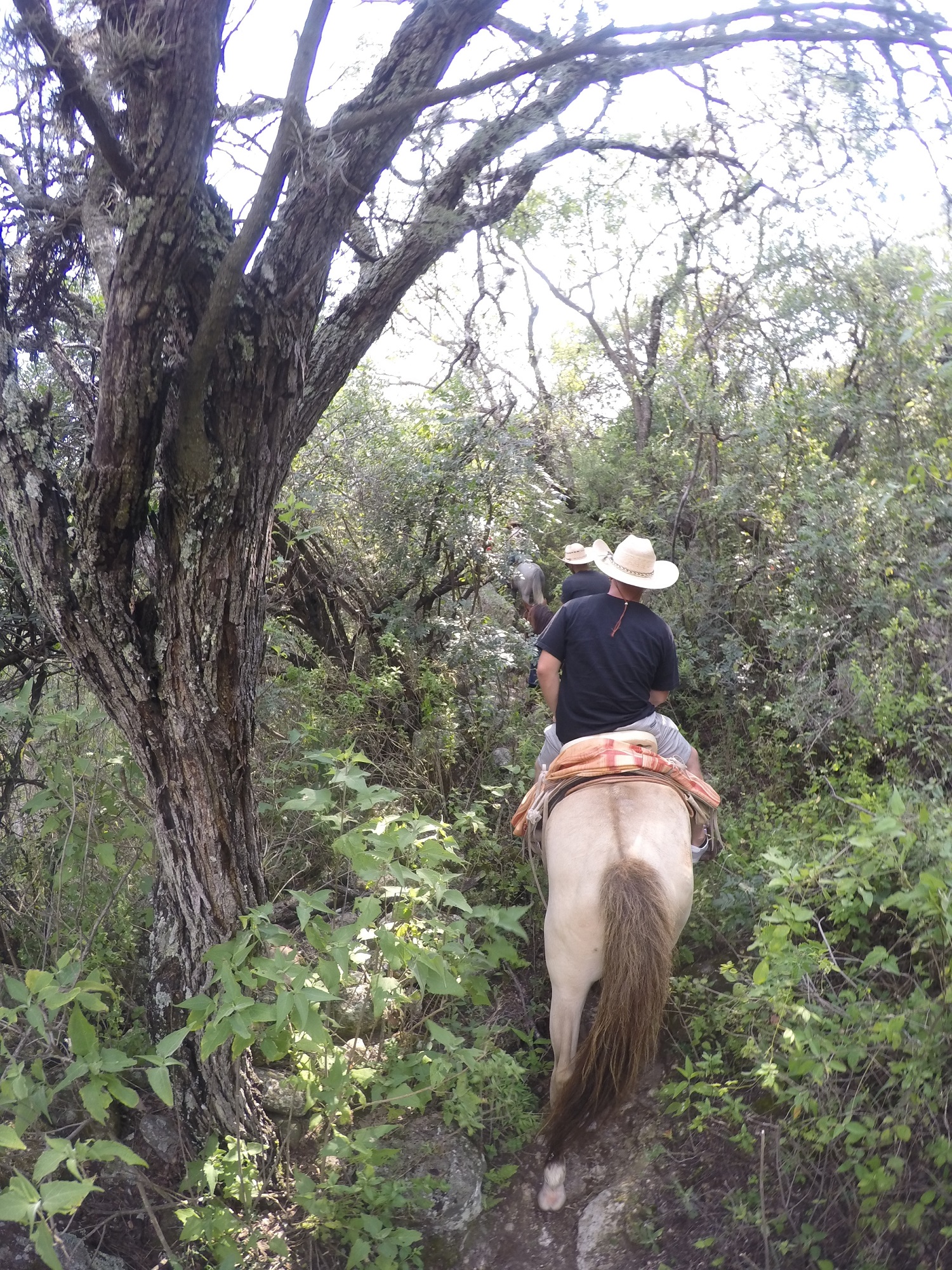 Replacing Horse Power for Horsepower in Guanajuato!
The next day, we were still in San Miguel de Allende when Rodrigo handed over the keys, and a piece of my soul, to our next tour provider, Israel Ferro from Turismo Alternativo en Guanajuato (Alternative Tourism in Guanajuato). And for the record before we carry on with the story, I am in fact straight 😉 I just didn't think I could keep your attention this entire post without the indirect help of Rodrigo de Montoya Sanchez Villareal Rodriguez Dominguez Landeros, so feel free to keep on reading!
Turismo Alternative en Guanajuato is also a trusted tour provider of multiple adventure activities in the state of Guanajuato including ATV tours, mountain biking (we did both), hiking, etc.
So, we showed up in the center of town at the garage, raised our hands for what we wanted to ride (single ATV) or a slightly bigger off-road vehicle. I started with the bigger one and then made my way to the single. We rode basically off-road on some pretty awesome trails for 13 km from San Miguel to Atotonilco, a small colonial town that was recently renovated including the amazing church that sits at the center.
The roads were full of mud and puddles as it had rained hardcore the night before, so we got pretty wet and wild.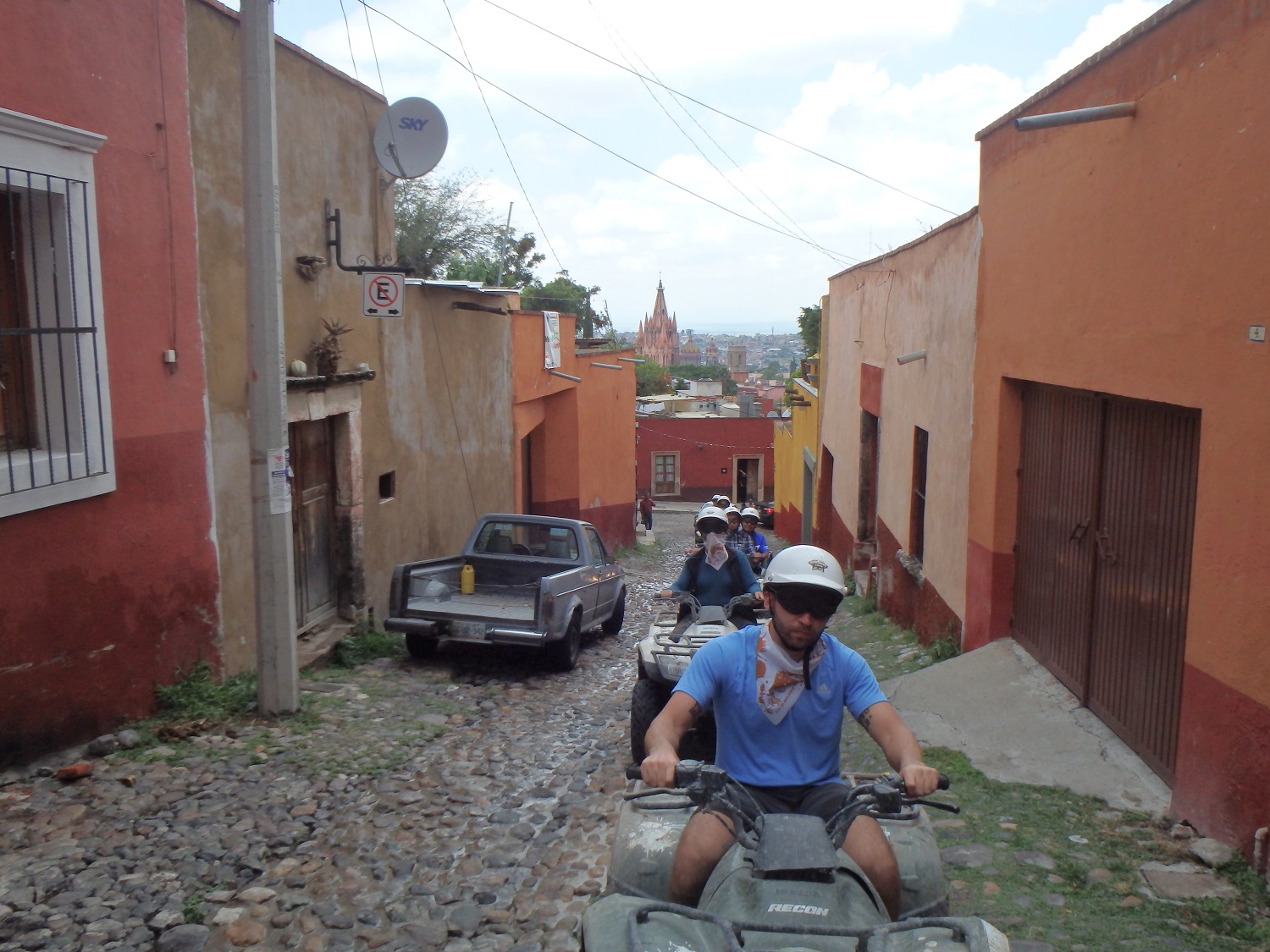 The next day, we headed back to the city of Guanajuato where I would have my chance to prove myself repelling. This time, we went to one of the mountains near the city center of Guanajuato where we hiked for about 30 minutes (pretty ruthless hiking actually) to our repel point.
I truly hate heights. I'm not scared of many things, but heights is definitely one of them. People were asking me if I was scared as I harnessed up, but I said, "nah". The truth was I just couldn't see over the precipice yet, but when I did, I'm pretty sure I sharted. The below pic of me smiling mind as well be photoshopped as I'm pretty sure it lasted about 2 milliseconds.
Later in the day, we headed back for the hills, on the other side of the city this time, for a downhill mountain bike ride. Mountain biking is one of the adventure activities I'm actually halfway decent at so I was looking forward to it. The scenery on the ride was beautiful and we rode past old silver mines and towns as we made our way back to the city for one last dinner before heading down to Chiapas for the adventure travel conference. Props to Israel for letting me wear his coat!
My trip to the state of Guanajuato was in collaboration with ATMEX, The Tourism Board of Guanajuato, Visit Mexico, Turismo Alternativo en Guanajuato and Coyote Canyon Adventures. A big thanks to all of the aforementioned parties and everybody else on my trip who made it an awesome and memorable experience! All opinions expressed above are my own.