Last week I got to do one of my favorite things in the world, climb onto a motorcycle and cruise around for an entire day. I linked up with Matt Karsten from Expert Vagabond.com and Evelina from Earth Wanderess.com and we rented some pretty bad ass Harleys just south of Playa Del Carmen, Mexico with plans to ride down to the beautiful Mayan Ruins of Coba.
We started our journey at Harley Adventures where the owner Eikka suited us up with our bikes and helped fill us in on our planned route. I was on a Sporster Iron 883, one of my favorite bikes because it's powerful but on a smaller frame, so easier to maneuver. Matt was on a beast Heritage Softail, complete with studded saddle bags and a backrest for lucky Evelina.
The total ride was about 170 km there and back. The roads in this part of Mexico are very well maintained and we didn't see any dogs laying in the middle of the road, reckless truck drivers, etc. We had a lot of fun and stopped a couple times to make a funny Snapchat for Matt and take some great photos.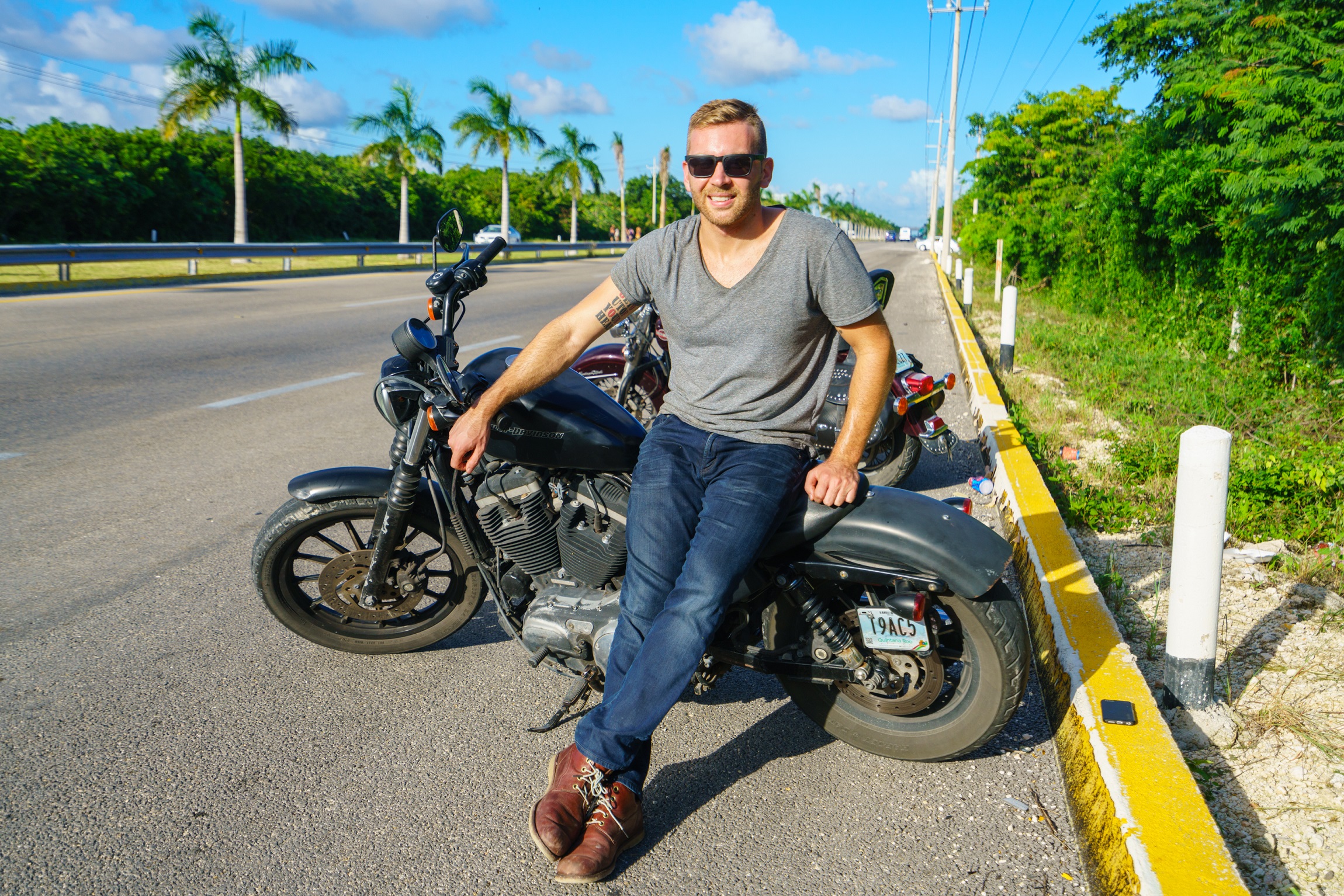 The first part of our motorcycle road trip in Mexico took us down the federal highway until we reached Tulum, which is a small town famous for its Mayan ruins right on the ocean. Here, we banged a right and began our trip inland through the jungle.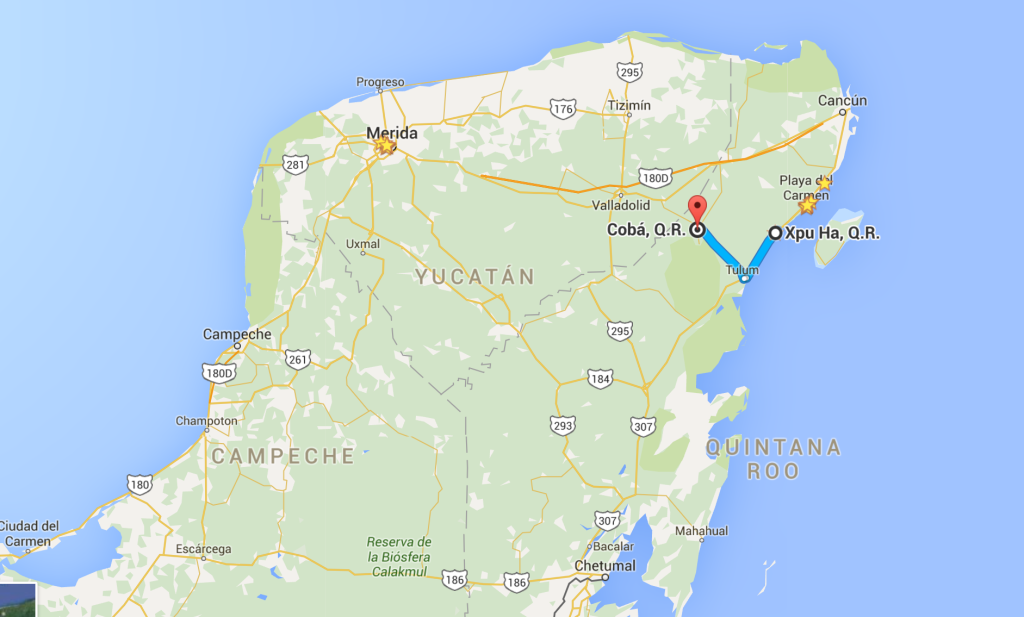 The road was great and we got to pass through a couple small rural towns where the friendly people smiled as we rumbled passed.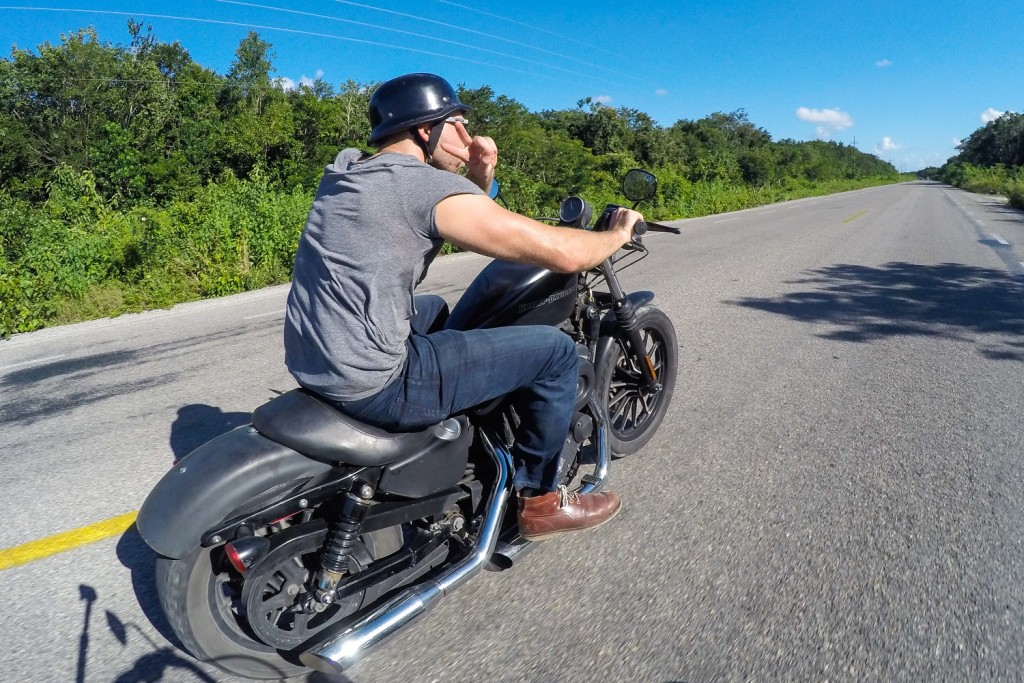 When we reached the entrance to Coba, we pulled over, parked our bikes and started a 1.5 km hike through a shaded trail into the forest.
About 15 minutes into our walk, we began to start seeing Mayan ruins pop up all around us, some excavated, some still completely covered in vegetation and trees. I found this carved-skull stone in the middle of the ancient ball court which I thought was pretty cool.
We walked a little bit further and then, boom! we reached the foot of the main temple.
Coba was an ancient Mayan city that was predominantly built between 500-900 AD. At its peak, it had a population of 50,000 people and spanned tens of km. Coba is one of the only Mayan sites in the world (Mayan civilization spanned most of southern Mexico and Central America) where you can still climb to the top of the main temple, a pretty scary undertaking given how steep and slippery the steps are.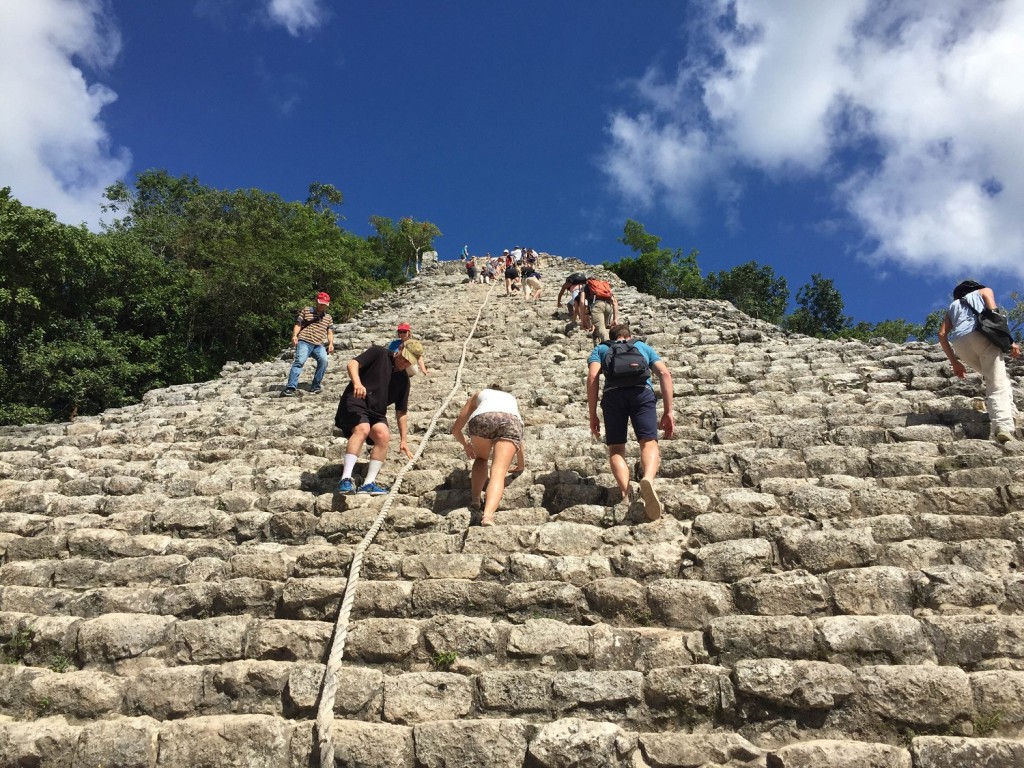 We all climbed to the top and were rewarded with some fantastic vistas over the paper-flat region as well as some much needed shade!
We opted to take a bicycle taxi back to the entrance gate which cost 50 pesos (~$3) and was definitely a good idea. There is a restaurant just outside the entrance to the park and next to the parking lot that makes fantastic food, highly recommended if you make it to Coba.
After lunch, we hopped back on our hogs and b-lined back to Harley Adventures. Eikka was waiting for us and made us take our shirts off for one last shot (you know we were all about it anyways).
If you're looking to do a motorcycle road trip in Mexico, the Yucatan is a great place to go as the weather is normally good, the roads are great, and there are lots of cool things to see even if its for a half day ride, few days, and even weeks! Eikka has a bunch of bikes and the best prices I've ever seen for Harley rentals in Mexico, and anywhere in the world for that matter.