On the second full day of my motorcycle road trip in Mexico, I was still in beautiful Hidalgo state and lucky enough to have continued amazing weather after almost a month of overcast skies in Mexico City (it's only about an hour and a half away).
After a delicious traditional breakfast in the town center of colonial Huasca of quesadillas de hongos (some sort of fungus), we were off to our first activity with HGO Adventures, just outside the small town of Mineral del Chico. I've actually been having trouble getting myself to write about the following, as I'm embarrassed about how major of a pu*** I was. I've always known that I'm scared of heights, but I've been able to get over it every time I had to deal by the fact I never wanted to seem like a complete wuss. Well, this time my friends, I bitched out real hard…
If you don't know what Via Farrata is, it's basically the scariest thing in the world. Imagine an obstacle course on the sheer rock face of a mountain. All you have on is a harness with two short ropes with caribeaners on the end in which you attempt to navigate slippery rocks, cold metal handles, rope bridges and many more petrifying "tests" of your will and physical fitness, all while staring straight down 300 feet to your death. If you're an adrenaline junkie, then you will 100% have a blast. If you're scared of heights, then don't dare try this.
I made it about halfway across the 3 hour course when I told my guide and reps from the tourism board that I have to take the emergency exit out as I'm miserable. I've never babied out of anything before in my life, but for me, it was just too intense. The below smile lasted .01 milliseconds. I have to say though that the HGO Adventures operation is extremely professional, our guide was fantastic and all the installations seemed every well maintained, but this stuff just isn't for me.
At the point on the course that I pealed off, the views were stunning, funny, I didn't notice them when I was fighting for my life…
After the Via Faratta experience, we headed to the Mina San Antonio, or San Antonio Mine. I had been to a lot of mines/caves recently, but this one was actually really cool. The entrance was tiny and the inside was pretty eerie. Our guide was really knowledgable about the history of the mine, the mineral formations inside, etc. He even turned off the lights and let us try and navigate our way in the pitch dark for about 100 meters. Let's just say I would never have wanted to be a miner 200 years ago when my lantern ran out of gas…
After the mine, we headed into the beautiful colonial mining town of Mineral Del Chico. The surrounding scenery was stunning and the town had a relaxed vibe but was very well maintained and interesting for a short stroll around.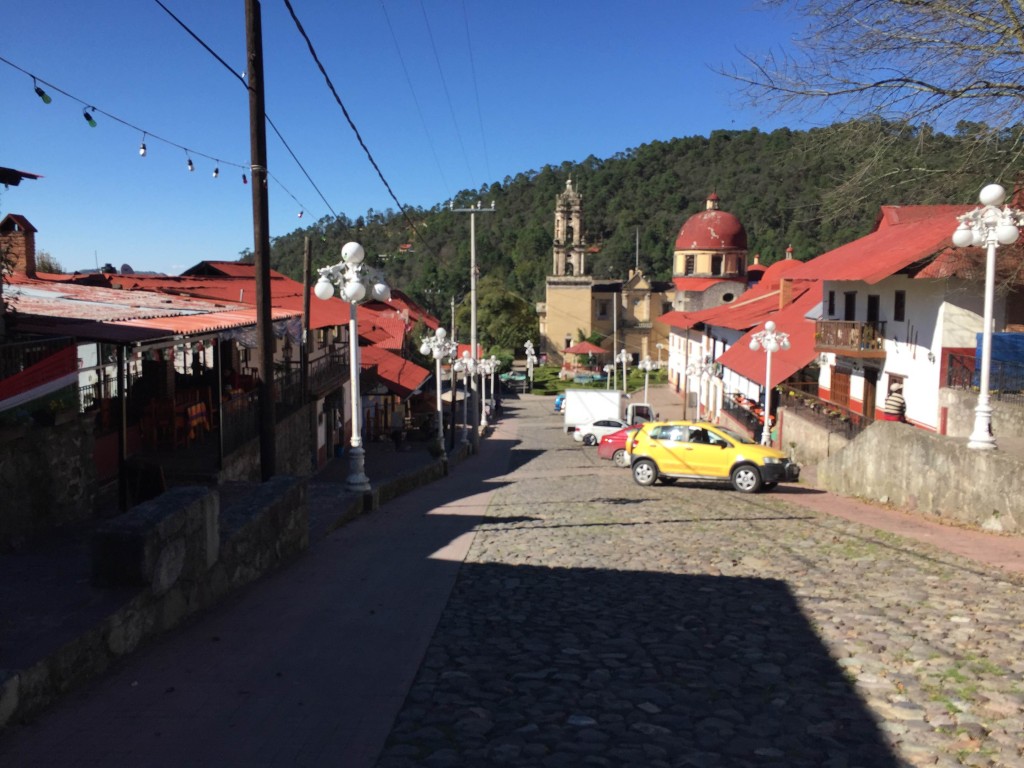 We headed to La Trucha Grilla, a restaurant in the center of town. The chef prepared a special meal for us and everything was delicious. This region of Hidalgo is actually famous for trout as they farm them and you can find the fish on a menu almost everywhere.
After lunch, we headed to have a tachuela, a extra strong aperitif that is famous in Mineral del Chico as it's only served there. After my Via Farrata experience, I decided it best to have two.
With the sun on its way down, we made our way back to the capital of Hidalgo state, Pachuca, where I would be spending the night before heading to Puebla the following morning. It was a whirlwind of a day, but all in all, a pleasurable one. How can you not have a good time in a place this beautiful?
My trip to the State of Hidalgo, Mexico was in collaboration with Tourism Board of Hidalgo, Ride MB. A big thanks to the aforementioned parties and everybody else on my trip who made it an awesome and memorable experience! All opinions expressed above are my own.