If you haven't noticed yet, I love Mexico. It's one of the only places in the world I truly feel a connection with beyond the visual. From its food, to the amazing people to the almost unfathomable variability of landscapes and unique things to experience, Mexico is an unparalleled country in my opinion (and I get around…in a good way?)
So after spending the last couple of months primarily based in Mexico City, I started to get the itch for a road trip, and on my favorite mode of transportation, motorcycle!
When I first told people like my mom, friends, etc., the initial reaction from most was, "Are you F****** crazy?!". "What if you get kidnapped?", "Aren't the roads just dirt paths?", "what if you crash?", "did you learn how to ride a motorcycle in Mexico City?"
All of the above are acceptable reactions if  you've never been to Mexico (I get it), but the truth is, major highways are just as good if not better than in the US, signage is well-marked and there are gas stations everywhere. And, I wasn't planning on doing a tour tracing the US/Mexico border (i.e. hell)…
So, after making up my mind, I decided to come up with more of a meaningful ride than just a California cruise. I wanted to help promote the parts of the country I've come to love that are much less known to international tourists (while still being safe of course). Everyone has heard of Cancun, Acapulco, Mexico City and Los Cabos, but have you ever heard of the states of Hidalgo, Tlaxcala (smallest in Mexico), Puebla and Morelos? Chances are probably not. After a little emailing around, I was able to forge a couple partnerships with a few of the aforementioned tourism boards, a Harley rental service called Ride MB and a few local hotels/tourism providers to show you the Mexico you've probably never seen, and all overland!
Day 1
On Oct 1st, I left my apartment in the Roma Norte neighborhood of Mexico city, hopped into an Uber and was at the office/garage of Ride MB within 20 minutes. Jorge, the store manager sorted me out with my bike, a Harley Davidson Sportster Superlow, helped me attach my bookbag to the back of the bike, and boom! I was out of the city like a bat out of hell (well, not that fast) and headed to my first stop, Mineral del Monte, a small colonial mining town in the mountains of the state of Hidalgo just outside the capital city of Pachuca. The ride was only about an hour and half ride on a good highway.
After linking up with my local guides from the Hidalgo Tourism Board, the awesome Gloria and Humberto, I parked my bike at Gloria's uncle's house and we headed for a snack. We walked through the beautiful streets of Mineral del Monte until we made it to the main square.

I of course was expecting to be eating something uniquely Mexican, but what Mineral del Monte is famous for is actually something not from there at all. Hell, not even from the same continent! What we were en route to have is something I actually love, pastes! If you don't know what a paste (pronounced pah-stay in English) is, it's basically the English version of an empanada. Why on earth is this town in the middle of the mountains in Mexico famous for pastes and something traditionally British? Mining believe it or not. About 6% of the TOTAL world's silver mined in the last 500 years came right from the mountains around Mineral del Monte.
So, when the British got wind of the riches in the hills of this region, a group of around 300 Cornish miners came across the pond in the 1820s to get bizzay. With them came a lot of important things like new mining equipment and techniques (including safety procedures), soccer (football) believe it or not, architecture (buildings with high-sloping roofs and chimneys) and of course pastes! This region is actually known as "Little Cornwall" and the British influence is still felt today. Soccer was first played in Mexico in Pachuca next to Mineral del Monte and the people of the region are still fiercely proud of this truth.
I had the pleasure of heading to one of the most famous paste factories and restaurants in Mexico, Pastes el Portal. They showed me how they make the pastes from start to finish including the delicious flaky crusts.
Pastes al Portal has many flavors on offer including traditional English recipes as well as some Mexican variations like red and green mole (pronounced mole-a). The paste became a favorite food of Mexican miners as well because of the braid on the outer edge. Miners hands would be filthy while in the mines (understandably), so while "at the office", they could eat their pastes by holding on to the braid and enjoying the main part while discarding the braided part they were holding onto (see below).
After enjoying a few pastes, we headed to one of the coolest places I've ever been, the Mineral del Monte mining museum. I'll be honest, I've seen so many caves and mines recently I wasn't particularly excited to go, but it was very different than my expectations from the architecture (distinctly influenced by the British) to the extremely well done exhibits.
Our tour guide was actually a miner at that exact mine for over 30 years so he knew about everything and could answer any question. Probably the coolest part of the experience was that all the main equipment was still functioning and they turned on the massive shaft crane and some other impressive machines that I would have never expected to see working. Highly recommended if you head to Mineral del Monte.
After the mine, we headed down into the valley below to experience a natural wonder that is also more impressive than I would have imagined, the Prismas Balsalticos (The Basalt Prisms). These are natural rock formations created by cascading waters. The prisms are almost all hexagonal in shape and you can enjoy them from above or actually below which is really something surreal.
After the Prismas Balsalticos, we headed even further down into the valley to the Hacienda de Santa Regla, which for hundreds of years, served as a smelting plant for all the silver and gold collected from the mines in the region. There are many layers of history here from the original Spanish ovens (pictured below) to the later British ones installed in the past 175 years. Now, it serves as a hotel, nice restaurant, event venue and of course, living museum.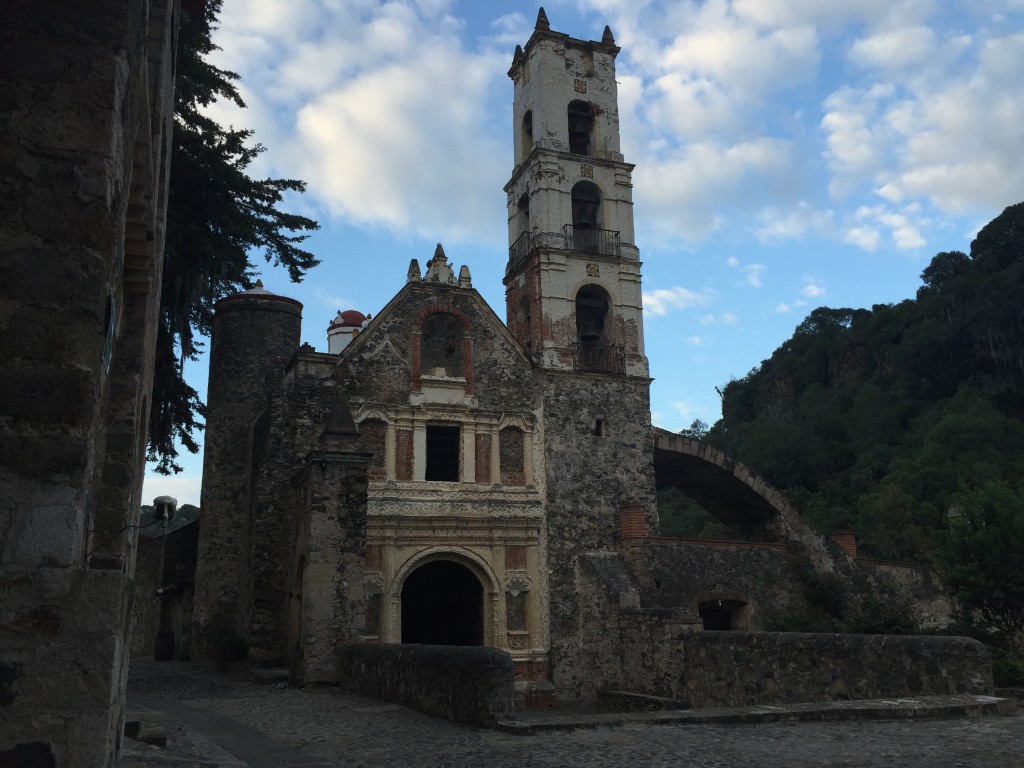 Our last stop on day 1 was our hotel, Hotel Campestre Imperial in Huasca, a "Pubelo Magico" or Magic Town of Mexico. A title the national government bestowed upon it to promote tourism. Huasca was actually the first town to receive the title in 2001 (now there are over 80!).
It was a really nice first day of my trip and jam packed full of interesting things!
My trip to the State of Hidalgo, Mexico was in collaboration with Tourism Board of Hidalgo, Ride MB and Hotel Campestre Imperial. A big thanks to the aforementioned parties and everybody else on my trip who made it an awesome and memorable experience! All opinions expressed above are my own.