I just completed the Mae Hong Son loop, a bad ass 600 km, 4 or 5 day road trip (depending how fast you want to go) in the mountainous province of Mae Hong Son in northwest Thailand.
The route is popular with motorcycle enthusiasts like myself for its beautiful mountain and bucolic scenery, very well-maintained roads, technical passes and of course, nice places to rest for the evenings with cold beers and chill vibes. Most people start in the popular city of Chiang Mai (2nd biggest city in Thailand) as you can fly there easily and find multiple shops to rent motorcycles.
I decided to do the Mae Hong Son loop clockwise (doesn't matter if you want to go the other way) with nightly stops in Mae Sariang, Mae Hong Son, Pai (spent 2 nights) and then back to Chiang Mai.
I rented a Kawasaki ER-6N, a naked roadster version of the 650 Ninja. I've never really ridden more than 10 minutes on a bike closer to the sport end of the motorcycle spectrum, but a friend recommended this one for the ride as it's powerful, versatile, comfortable and nimble enough to to take hairpin turns. It's also a straight-twin engine which means it has two cylinders rather than four. This means it gets a lot better gas mileage (don't want to run out of fuel in the middle of the mountains!). I did one leg of the loop (Chiang Mai < Pai) a couple of years ago on a 125 cc baby motorcycle and it didn't have enough juice to make it up the steep inclines going more than 10 mph (felt like the moped in Dumb and Dumber…).
So this time, I thought I'd step my game up a bit. I rented my motorbike at Tony's Big Bikes and I can definitely recommend them. Owners are Brits, know the bikes well, actually care about maintenance and have good prices. I paid 1,000 baht per day for my motorcycle (including helmet).  I asked if if they thought the back tire was a bit worn out and one of the owners took a look and said, "you know what mate, you're right", and he had his employee switch it out for a brand new Pirelli on the spot. They also answer emails promptly.
I left Chiang Mai on a Monday morning around 11:30 AM. Because it's December, the temperatures in this part of the country are much cooler than the summer months. The days are warm but the nights get downright cold, especially up in the mountains. My plan was to ride up to the top of the tallest mountain in Thailand, Doi Inthanon, on the way to my first stop Mae Sariang. When I reached the entrance gate to the mountain, about an hour ride from Chiang Mai, the staff told me it was another 40 km to the summit! I made an executive decision to not do it as I still had another 2.5 hours to go and I'm happy I didn't as it would have been dark by the time I made it to Mae Sariang.
The first leg of the ride was a good warm up. The first hour and a half was basically highway riding, but then I entered the foothills of the mountains and then full on 180 degree switchback turns as I started climbing my way into the colorful peaks. It was sort of tropical, alpine Autumn as the leaves were falling from the trees and the mountains in the distance looked gently brushed in amber, red and yellow hues.
The distance between Chiang Mai and Mae Sariang is about 190 km and is the longest leg of the journey, which is why I wanted to get it out of the way first, i.e. doing the loop clockwise. There are some nice things to see en route to Mae Sariang, notably a few waterfalls near the base of Doi Inthanon which make a good alternative to not going up to the summit if you're tight on time and/or don't want to ride for 5 hours.
I arrived in Mae Sariang about 4:30 PM. Mae Sariang is a small town located in a valley less than 10 miles from the border with Myanmar. It's a pretty quaint place and there are a handful of guesthouses along the river from super budget to higher-end places. I stayed at one for only 300 baht per night ($9) and I had my own room, air conditioning (which I definitely didn't need), hot water and a private bathroom. It looked right out on to the river and was very quiet (forget the name but directly across from Northwest Guest House). What's great about Mae Sariang is that across the river (pictured below) is a national park so there is no development allowed which offers stunning, untainted views of the mountains in the distance (they're in Myanmar).
I can highly recommend the Sawadee Restaurant and Bar. The owner speaks fantastic English and the food is awesome. Locals and the few expats who live here hang out at Sawadee, and after dinner, people drink some beers, play pool and just hang out. There are a few bars and nice coffee houses on the river road as well. Mae Sariang is an ultra-chill place and I could have stayed for a few more days easily.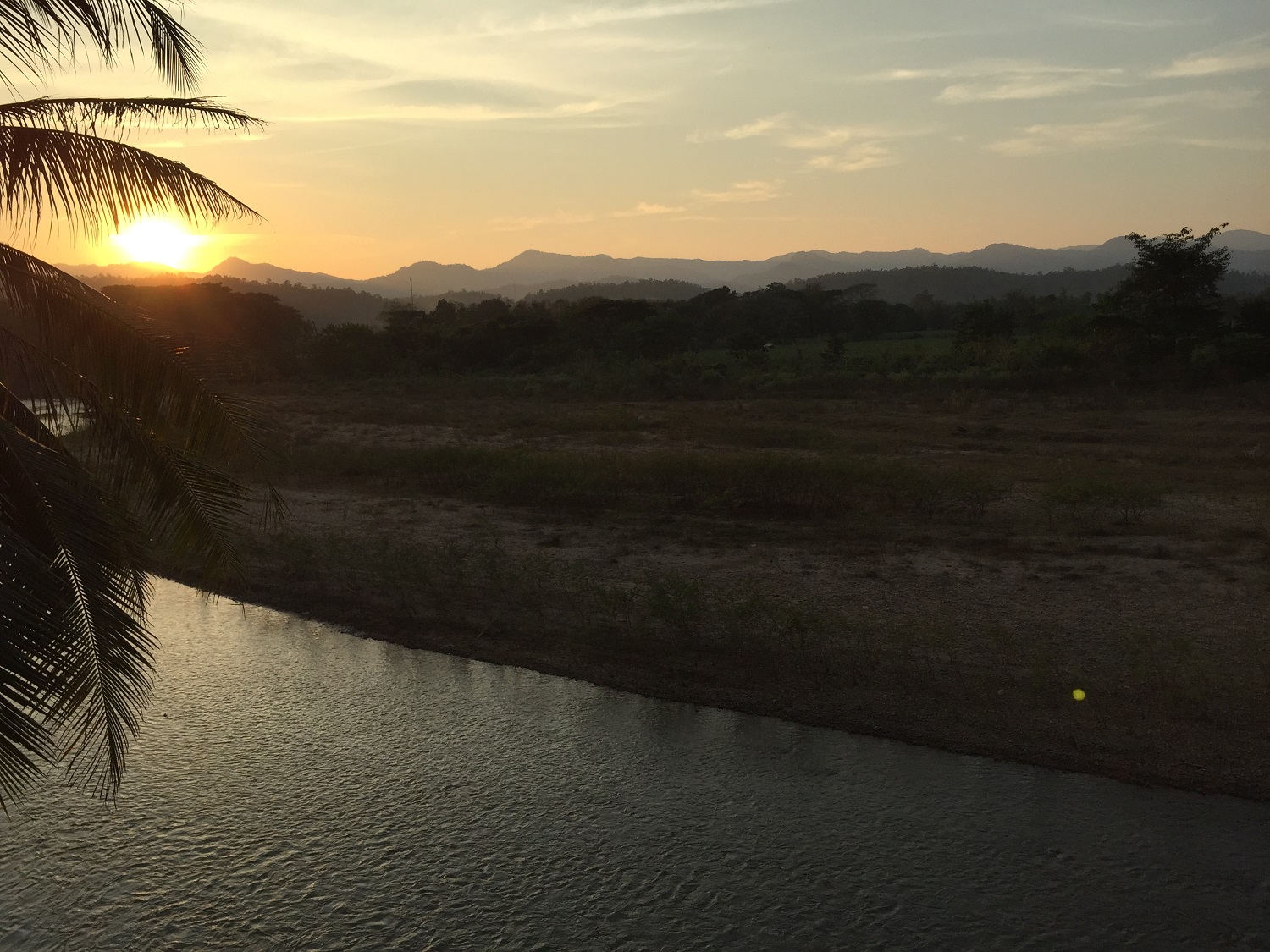 The next day, I woke up around 8, had a leisurely breakfast and suited up for the next leg of my journey, Mae Sariang to the capital of the province, Mae Hong Son. This was my favorite part of the Mae Hong Son Loop in regards to riding. It took about 2.5 hours of continuous road time plus stops, but there was not much traffic at all and the roads were good and the scenery was stunning.
In the mid-afternoon, I rolled into Mae Hong Son. The largest "city" in the entire region which has a population just over 6,000. It is very quaint, clean and beautiful as it rests cradled in a round, verdant valley.
You can actually fly to Mae Hong Son from Chiang Mai and the view from a Wat Phrathat shows how big the airport is compared to the town! There are only a couple flights a day, but it makes Mae Hong Son very accessible from Chiang Mai if you plan to do some hiking, visit the local hill tribes or check out one of the other natural attractions in the vicinity.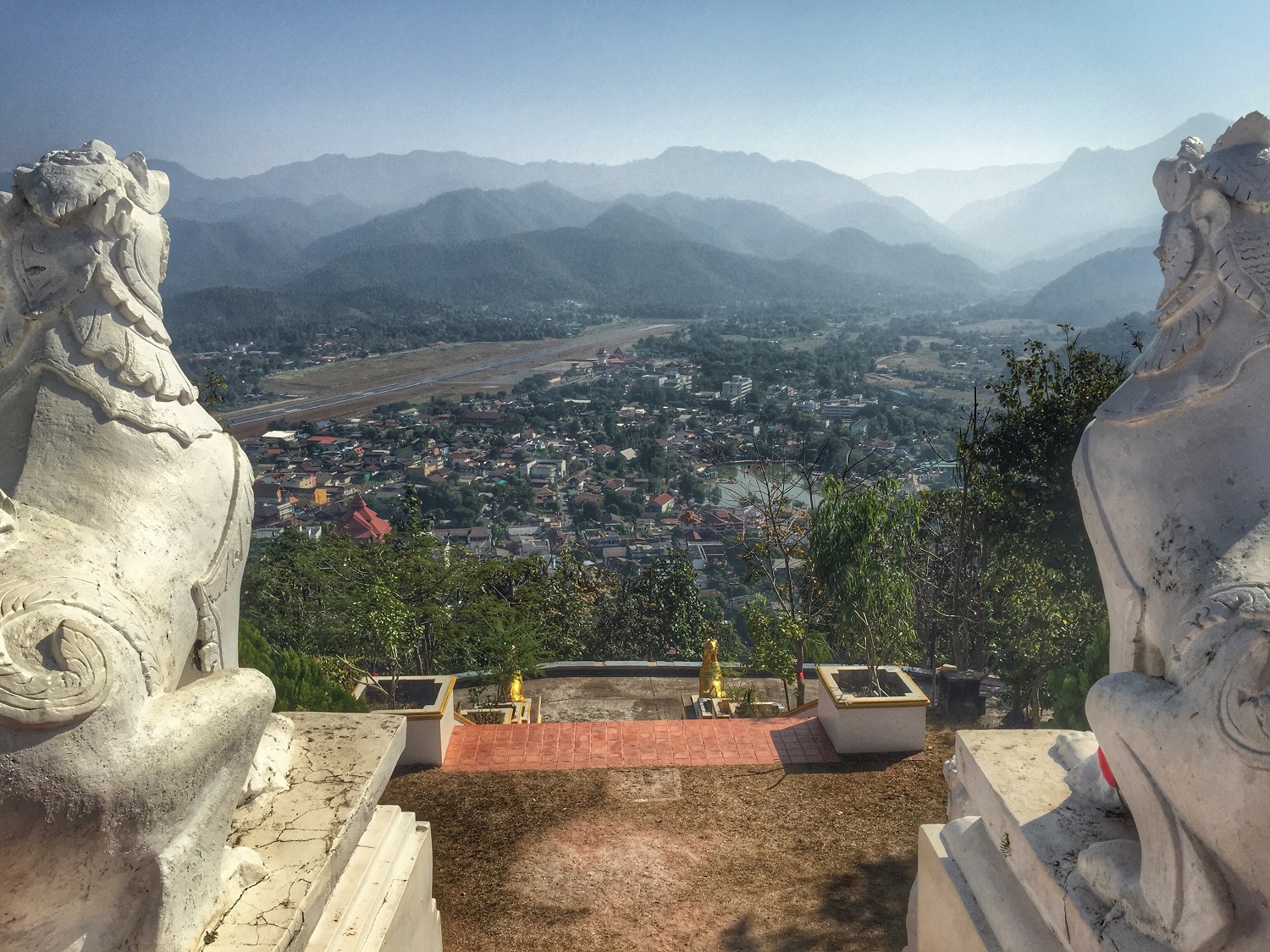 The heart of Mae Hong Son is a small lake which has a nice temple and also houses the night market which runs every night. You will most likely be dining at the night market if you stay overnight as both locals and tourists seem to only head there. The food is great and there are a couple of small bars right there as well to have a beer afterwords and enjoy the cool evening.
If you want to have another libation after your relaxing lakeside drink, check out Crossroads up the road at the corner of 108 and Singha Nat Bamrung Road. It's got a cool hipster vibe with old vintage appliances and the people that work there are friendly. They also have a few nice cats that are happy enough to hop into your lap for a pat as well.
Most guest houses are on the ring road surrounding the lake, but I chose one a couple blocks away called P.L.P Guest House. The owner is a very nice Thai lady who speaks enough English and the rooms are clean, have good Wi-Fi, AC if need be, and your own bathroom. Paid 500 baht per night. The owner also owns a nice coffee shop across the street which has good food too for cheap (khunlum praphat 3 alley between siri mongkol and route 108).
The next morning I set out around 11 AM to make the trip between Mae Hong Son and the last stop on my trip, Pai. This is the shortest leg and was just over 100 km. I climbed through some pretty high mountains and the roads were pretty technical, but it was still a lot of fun.
As I pulled into Pai mid-afternoon, I was a little bit disheartened to see how much new development there had been since the last time I was here just 2 years ago. But, with the amount of publicity that media and travel bloggers like myself have been giving it in recent years, it was bound to happen.
Pai is a small town located in a beautiful flat valley surrounded by green mountains. It has been a hippie/rasta enclave for the past 25 years and now has grown into a backpacker mecca with cheap accommodation (which has risen in price recently).
I was there over Christmas (had to be somewhere!) so the prices were very inflated. I paid 900 baht per night for my own bungalow in a jungle setting (which by western standards is still dirt cheap) that had a private deck with hammock, queen size bed, air conditioning (didn't need that) and a hot water shower. Wi-Fi was also surprisingly good. The place had a nice pool too. It's called the Chang Pai by John Bamboo Hut Resort (WTF!) and is just outside of town (3 minutes motorbike ride). You can rent a motorbike for 100 baht per day at the hotel just below Chang Pai. I suggest you stay outside of town to avoid any noise from the bars and drunken backpackers that can go late into the night. Also, what's the point in being in a place like Pai if you're not enjoying the nature?
There are a handful of cool things to do in Pai like hike Pai Canyon, go waterfall hopping or just lounge at the local pool club, Fluid (best place in Pai). There are countless good restaurants and the night market is big and chock full of good food stalls offering western treats like pesto flat breads to local Thai delicacies.
After spending a couple of days in Pai chillen out hard, it was time for my last ride, Pai back to Chiang Mai. This leg of the journey takes about 2 hours, but in my opinion, is the worst part of the ride. The road is very busy between Chiang Mai and Pai and there are some of the sharpest turns you can imagine. If you're on a motorcycle, I'd either leave early or go mid-week (did it on a Saturday). But while the driving situation is a little more involved, there is some of the most beautiful scenery of the entire ride, so take the time to stop and enjoy the mountain vistas.
When I got back to Chiang Mai, I returned my bike at Tony's, unscathed, picked up my suitcase and walked out of the  shop with a big smile on my face. I had been wanting to ride the Mae Hong Son Loop for over 3 years now. Check!
Here are some additional tips if you want to ride the Mae Hong Son Loop on a motorcycle:
1. Make sure you ride in pants, shoes that cover your ankles, a jacket fit for a crash god forbid it happens (thick canvas, motorcycle jacket, etc.) riding gloves and a full-faced helmet.
2. Make sure you bring a poncho. The weather is unpredictable in the mountains and rain storms can come out of nowhere. I went during dry season (winter months) and had not one day of rain. I suggest you also bring a plastic bag that can cover your bag if need be.
3. It is often foggy/smokey early in the morning, but it lifts up by around 10:30-11:00 AM so I'd leave after that every day.
4. Don't go too fast around turns as Thai drivers often ride in both lanes. There are also stray dogs, cattle and other ridiculous things in the road that you don't know about until you turn and have only seconds to react.
5. Ride with a full tank always. You never know if you want to go check out something along the way to your next stopping point. You obviously also don't want to run out of gas in the middle of nowhere with towns 50 km apart from each other.
6. Have fun!
Have you ridden the Mae Hong Son Loop on a motorcycle? Have any additional tips or suggestions?