When I travel, there are a few things I really enjoy doing because I'm halfway decent at them (who likes doing stuff they suck at?). Mountain biking, riding motorcycles and surfing (ok i'm not that good at surfing yet, but I'm working on it).
After being in Romania now for almost a month, I haven't ridden a hog for a long time, and every time I hear one screaming down the streets of Bucharest, I get nostalgic (and think what a douche bag). I decided to stay in Bucharest for a few weeks because my friend from Denmark headed home for a little while and offered to let me take over his sweet apt in the city center while he was gone. That being the case, you can only work and walk around and look at old buildings for so many days, so I decided to do a Google search for, Motorcycle rental in Romania, and I found Rent for Ride. I emailed a bit back and forth with the owner, Cristian, and we organized a day to go for a ride. He was very responsive and spoke good English, and when I showed up at his garage, he was ready to go with two sweet BMW motorcycles and full gear. He even had a Wi-Fi router on his bike which was nice on breaks to keep up with my real life and emails, (that actually was the worst part of the trip…).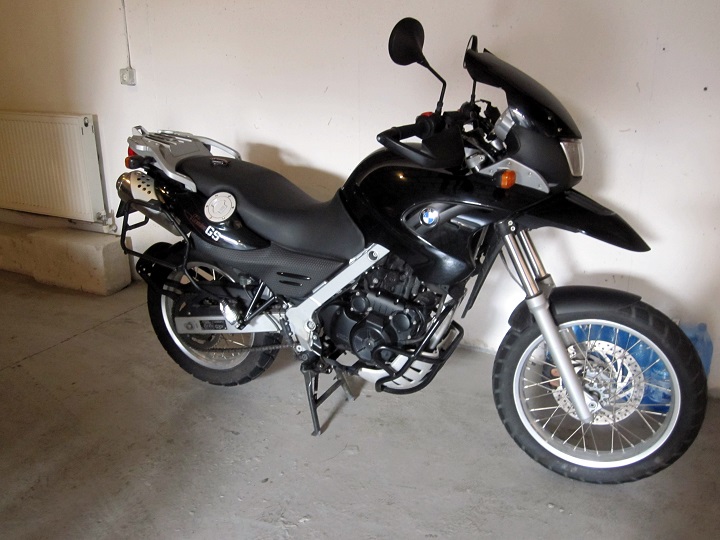 We had a pretty serious route planned out that called for almost 600 km of riding in 1 day (370+ miles) (almost 12 hours!). We started out in the heart of Bucharest, and while I know how to ride, I was a little nervous on a new bike and in a crazy city center, but we managed to get out pretty quickly (it was 7 AM).
Our first leg took us on about 100 km of flat, straight highway to the small town of Curtea de Arges where the famed Transfagarasan Highway (don't worry I can't say it either) starts. We stopped to have a coffee before heading north towards the Carpathian Mountains where the road is composed of some pretty treacherous turns (and even worse cliffs!). We suited back up and entered the Carpathian foothills which were extremely beautiful.
As we began to climb and the  road started to get more twisty, we reached a pretty impressive dam (the Vidraru Dam). We rode over it and then began a series of pretty technical twists and turns as they followed lake Vidraru (artificial lake created as a result of the dam).
After reaching the north side of the lake, the foothills began to give way to the massive, jagged peaks of the Carpathians.
We climbed and climbed, and the temperature began to plummet as we reached the impressive peaks (there was snow on the ground in some places). When we stopped at the end of the pass right before a tunnel at the summit, the view was unbelievable. (click the panoramic to expand)

Our next leg brought us through the tunnel tothe mountains to the other side (actually the Transylvania region).
We stopped for lunch before heading down the other side of the Carpathians, even crazier than the first!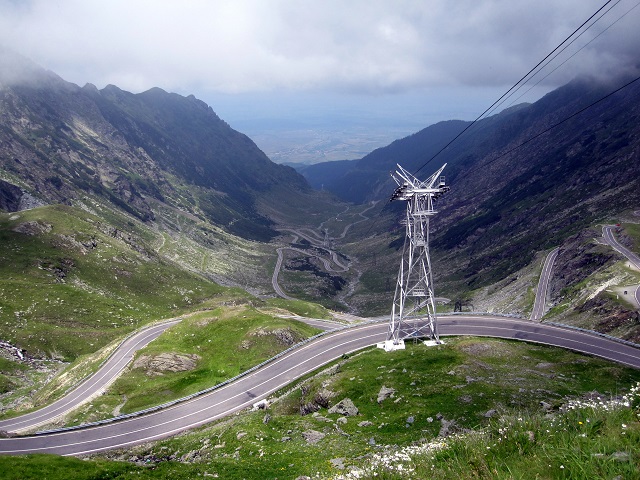 We rode for about 45 minutes until finally reaching the bottom of the mountains where the ground flattened out (my arms were burning after the ride!). We had another nice cruise through some small villages until we met up with Carpathians again at the southern end of the chain. We climbed for about 25 minutes until we came to a crest with an impressive view over the medieval city of Brasov.
We had another much earned coffee  (wish it was a beer) and chilled out in the beautiful city center for a bit until the last ass-burning (literally, my ass was killing me) 160 km shot back to Bucharest.
All in all it was a great day. Cristian was a great guide who went at a good pace and knew cool stuff to see. If you've never ridden a motorcycle, it's really an amazing way to get around and see places, all while having fun in the process.
Here's a little video Cristian shot of me and part of the ride (don't worry he had an iphone holder stuck to his windshield). Watch me almost hit that dude on the bridge too!