By: Susanne Richards
While I usually like to leave my vacations fairly open-ended in terms of activities, I arrived at my dream destination of Maui with a few experiences in mind. At the top of the list was an early-morning trip to the Haleakala summit to watch the famous Maui sunrise!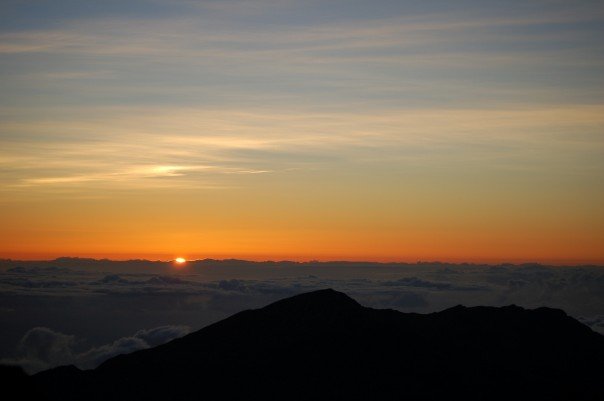 Determined not to miss the big moment, my boyfriend and I dragged ourselves out of bed a 2:45 a.m. and headed for the mountain. (The drive from our Hawaii villa rental in Lahaina to the nearly 10,000 foot peak took about 2 hours.) Be prepared for some fairly white-knuckle driving conditions – the Haleakala Crater Road is essentially one long zigzag!
As it turns out, we arrived with plenty of time to spare, nearly an hour in fact. We were happy to have packed a couple of warm sweaters at our concierge's suggestion – the mountain top is really quite frosty – especially before sunrise! We had time to snack on the breakfast we had packed as we waited for the sun to come up.
As the sky began to brighten, more and more travelers joined us near the visitors' center. When the sun finally peaked out above the clouds the entire horizon turned orange – a beautiful sight against the mountains. Even on a cloudy day, the view from the mountaintop was spectacular – a bit like looking down on the clouds from an airplane, but with 360° views and fresh mountain air!
While we opted to take our rental car up, there are additional options for active travellers. On the morning we visited Haleakala, a cycling tour was dropped off just before dawn. After taking in the sunrise, the group strapped on their helmets and jackets before cycling down the mountain.
We saw so many beautiful things on our trip to Maui, but our early morning trip to Haleakala was certainly one of the most memorable. Next time you're in Maui I hope you have the chance to experience it for yourself – just remember to dress warmly and fill up your gas tank!
About Susanne Richards: Susanne writes about her travel for Luxury Retreats. A serious beach-worshipper, her favorite destinations are the Hawaiian and Caribbean islands.