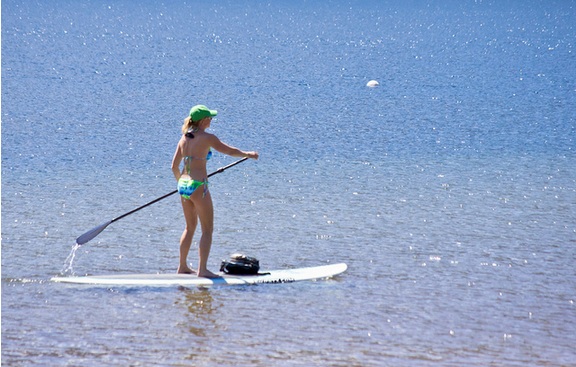 While Miami Beach might not be known for its traditional surfing as the Bahamas break the big curlers before they reach the shore, SUP, or Stand Up Paddle Boarding makes a great alternative to satiate the urge to conquer the water on two feet. Have no idea what stand up paddle boarding is? Read on my friends!
With it's roots in Hawaii, Stand up paddle boarding was  once an ancient form of surfing, but now many surfers enjoy it as fun activity when the swell is a bit short of perfect, as well those looking for a little waterside workout. You will use every muscle in your body between balancing and paddling, trust me!
Miami has become a hub for paddle boarding, and at any given time you can see people riding in the ocean, intercoastal  waterway and bay especially where there are no waves to knock you over. On days when there are is actually a swell, you will see expert riders paddling and riding the waves on their boards, it's a pretty impressive sight.
The best places to learn how to ride a SUP Board on Miami Beach is at Maurice Gibb Memorial Park right at the corner of the Venetian Causeway and Purdy Avenue. There is a dock and boat launch there that you can wade into the water slowly. That and it's on on the bay so there are way less waves than on the ocean side.
If you're ready to take on the ocean, then there are two good spots to go paddle boarding on Miami beach, at 1st and 73rd street as both locations have surf shops that you can rent boards at for the day. You can also get lessons in both spots if you'd like a little "formal" education before trying your hand.
Paddle Boarding is growing in popularity rapidly for obvious reasons, it's fun, good for you and almost anyone can do it after a little practice. If you've never tried, give it a shot next time you have the chance!