It's hard to say why I like London markets so much. They are just markets, you can hang out there, meet with friends, have some food and drinks. For the last two years, every time when someone wants to meet with me on the weekend, I would go for a default option: "Hey do you wanna just come to Brick Lane?" So if you pass by London make sure to visit one of the markets because they are great. As I said, I don't know why, you have to see for yourself.
So which market should you go to? There are so many.
The obvious one would be Camden market. It is a well-known London landmark, it attracts tourists and punks. There is plenty of stalls if you are into gifts, clothes and everything weird or arty. Summertime is great, because you can sit at the terrace of Camden Lock or walk along the canal to Little Venice or London Zoo in Regents Parks. There are food stalls where you would usually find me, eating greasy Chinese or this time of the year drinking mulled wine with friends from North London who are too lazy to venture to Brick lane.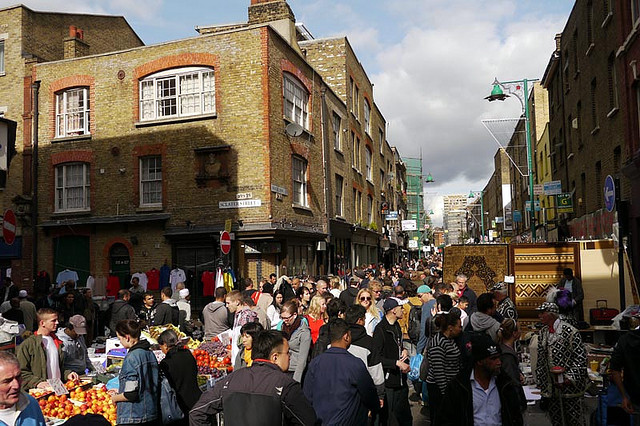 I love Brick lane at any time of the day. Early sunny mornings when I walk home from nightly escapades, drop by the 24 h bagel shop to get a salmon and cream cheese. (I used to live round the corner.) Evenings when drinking starts and dancing begins. But enough of that, I'm here to talk about Sunday mornings when the market starts. Enter one of the warehouses for clothes, jewelery and arty bits or drop by the food halls. Pick a country and it will have a little tasty stall there, get your food and go outside to eat it. Everything costs around a fiver. If you walk up the road, there are countless curry restaurants. But on Sunday, walk down and the market continues along the streets. Depending on a Sunday, there are street performers, the famous Luis plays there (He is not famous, my friend is in love with him so we all know him, but I don't think anybody else pays attention). I don't know what it is, but every Sunday spring or winter I would meet friends and walk around there.
I deliberately say spring and winter because we spend summers around Broadway market. It is a small food and veg market on a charming bumpy road with artisan cafes on each side. Because there is no tube, it's more local and less famous than Brick lane. It is just off London Fields so you're best off getting some food and having a picnic in the park. And while you're there, you must go to the best swimming pool in London. London Fields Lido is 50 meters long, outdoor and heated. Gosh, I love East London.
Last little market I decided to include is Goodge place market. It is nothing impressive but I used to go there every day so would be very unfair not to mention it. It is only 4-5 stalls on a tiny square near Goodge street. Perfect for lunches if you work in central London, they have burritos, Thai, falafel and some veggie salads. In spring and summer, me and my burrito-obsessed colleague would get lunch from there and picnic in Crabtree Park. (Ok I was the obsessed one, she would usually go for different curries) This funny little park is as tiny as the market. It doesn't suit offices and restaurants in the middle of Tottenham Court Road and we love it for that.
I love London markets and hope I convinced you to put them on your agenda. No matter what time of the year, they are great. Keep your fingers crossed it's sunny and go with an empty stomach!
This was a guest post from Sonia Waszkowiak of Have You Met Sonia, a blog about her life in London and travels abroad.