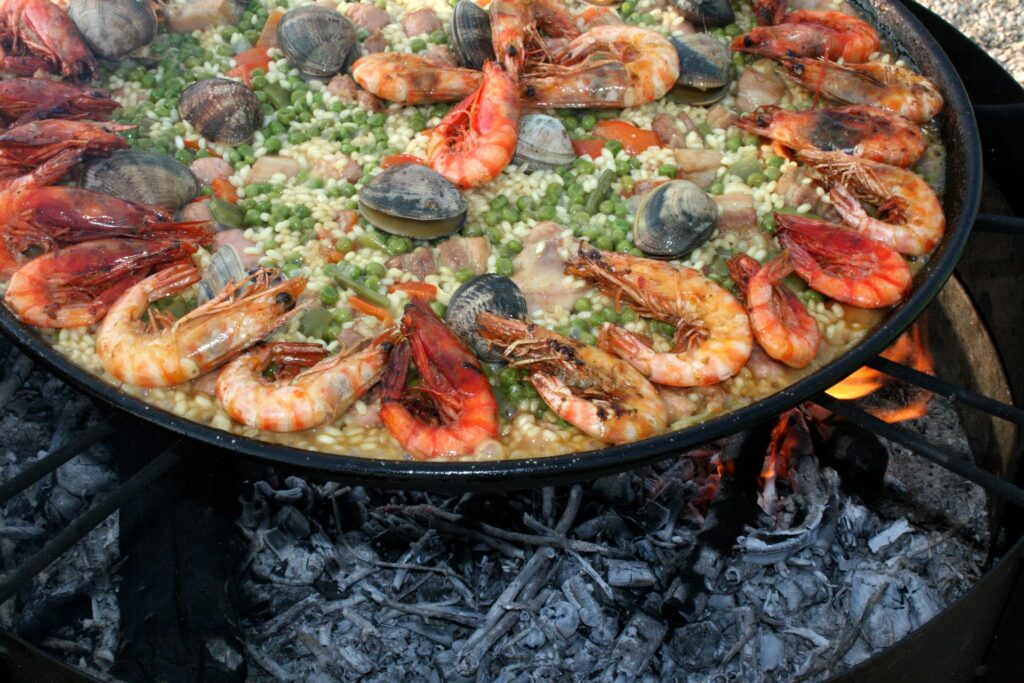 Spanish cuisine arrived onto the global scene a little later than its European counterparts Italy and France, which are both considered world leaders in the culinary arts. In recent decades however Spanish food has become increasingly popular and this rustic style of both preparing food and eating it, is very much in-demand around the world. That essence of homemade dishes does work in a restaurant setting, but it is much better enjoyed at home, with family. 
With this in mind we have some mouth watering Spanish meals which you can prepare at home. The ingredients are simple and no matter how skilled you may be in the kitchen, there is nothing to stop you from whipping up something incredibly delicious and very Spanish food at home. 
Paella Valenciana
We will start with what is widely considered as the most famous of all Spanish dishes, Paella Valenciana. Historically this one-pot meal comes in two varieties, one of rabbit and chicken and the other with seafood. These days the paella which we so often find is something of a hybrid of all sorts of styles, but the original is certainly the easiest to prepare. Seafood paella really gives you carte blanche to include all manner of ingredients from squid rings to shrimp, mussels, white fish and much more. For the rabbit and chicken option you could interchange the rabbit for something with a gamey flavor, although some prefer to simply add chorizo to the shredded chicken. If you cannot find paella rice then arborio works very well, and when cooking use fish stock for the seafood option and chicken stock for the meat variety. Garden peas and finely sliced onion can be added to the rice and always remember a pinch of saffron which gives the rice its yellow color and fragrant flavor. 
Gazpacho Soup 
A perfect starter to any Spanish feast is the Andalusian gazpacho soup, a tomato-based dish which is served cold. The soup is very simple to prepare and all you will need are ripe tomatoes, cucumber, green bell peppers, bread, red onion, garlic and olive oil. Additionally you could add some sherry vinegar if you already have some in the cupboard. Finely chop the onion, pepper, cucumber and tomatoes and blend together on a slow pulse. Once the texture begins to break down, add olive oil, garlic and season with salt, pepper and cumin. Blend the mixture until it becomes liquid, plate up and place in the fridge. Crusty bread is placed in the soup upon serving. 
Spanish Tortilla 
The authentic Spanish tortilla is usually made with nothing more than potatoes, eggs and some seasoning, and was often eaten by the lower classes as they used up items in the pantry. In the modern day however there are many takes on the Spanish tortilla, and some exciting flavors can be added to really give the dish a lift. For a more exciting option add some chorizo, red peppers and finely chopped onion to the tortilla. You may need to have a couple of tries at this dish in order to get the consistency just right. 
Migas 
This is another dish which grew from the lower classes, which has been given a makeover in the modern world. Traditionally migas were crumbs from stale bread mixed up with unused meat and plenty of olive oil in rustic kitchens throughout the country. To recreate this dish in a more fanciful manner, get some good quality crusty bread, some bacon lardons and chorizo, along with onions, garlic and some yellow peppers. Cook each ingredient individually and then add it all into a single pot with a touch of chicken stock. Heat through until the bread soaks up the flavors and then enjoy. 
Patatas Bravas
A mainstay on the menu of every tapas restaurant in the world are patatas bravas, a simple and delightful accompaniment to a meal, or a great dish on its own. The Spanish kitchen isn't full of spice, but this is one dish which does offer a little touch of fire. The potatoes are cubed, par-boiled and then tossed in paprika before being fried. The fire of the dish comes from the spicy sauce, which is made using a simple tomato-sauce base, with chili flakes added. To offset that heat of the sauce, a basic garlic aioli or mayonnaise can be added to the dish. The potatoes taste great and they are elevated when they are dipped in either of the sauces, or both if you're feeling a little crazy. 
Albondigas 
Whilst many consider meatballs as being an Italian dish they are also extremely popular throughout Spain and feature in many tapas restaurants. Spanish meatballs often feature rice in the mixture as well as a number of seafood options, with squid being a common choice. The meatballs are usually served on small plates with a tomato sauce. Some variations of this dish also include using almond sauce instead of tomato, which goes really well with the seafood. 
Leche Frita 
If you are looking for a great dessert to finish off your Spanish meal this is a good option, which is very easy to prepare. Leche frita literally means fried milk, which may not be something you've considered doing previously. To prepare this dessert simply whisk up milk, egg yolks and flour and leave the mixture to chill. When the time comes for dessert, take out the mixture and coat in breadcrumbs before frying. As odd as this dish may sound, it tastes absolutely delicious and is the perfect way to finish off your feast. 
All of these dishes can be made as main meals or you could look to include a selection of them on a smaller scale, served up as the Spanish would in a tapas format. Most importantly of course is to ensure that you have a nice bottle of Rioja or Tempranillo to perfectly compliment this collection of flavors, and maybe even a sherry to finish off with. Let us know how you get on with these sumptuous Spanish offerings.