When people travel to England, it's usually synonymous with one destination, London Town. Why? Same reason people go to NYC; it's a travel hub, has more to do and experience than one human being can tackle in a few days, and because it's just cool, but, when the urban life has chewed you up and spit you out, it's time for a little fun in the sun (when there is any) in England's most famous beach town, Brighton!
Once a sleepy fishing village, Brighton first started gaining a little steam when one intelligent Dr Richard Russell began prescribing his sea water for both consumption and bathing to his patients. He built a large house for himself and his patients in 1753 and the people started lining up! It wasn't until the 1840's though that Brighton started to boom when it was connected to London by rail, much like many cities in both England and the USA.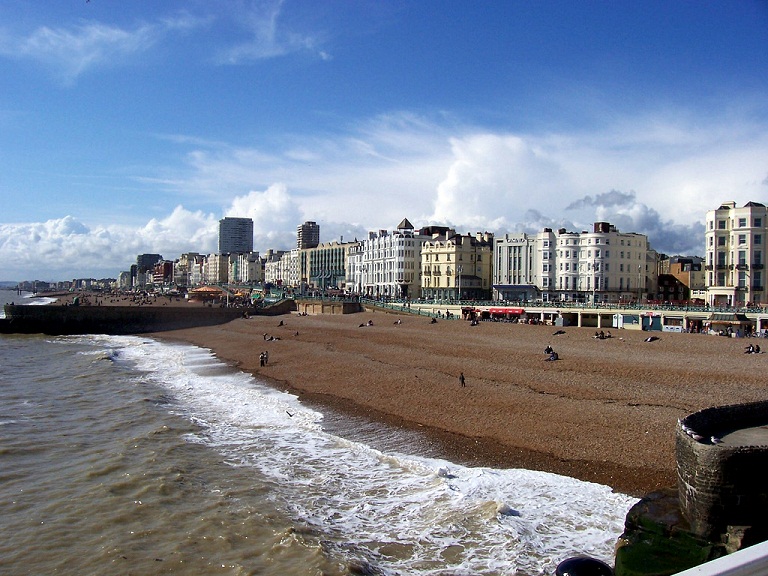 Today, Brighton offers everything London does, but concentrated which makes it an amazing place for a little vacation as the beach, delicious restaurants, boutique shopping,  and poppin' nightlife are all within a stone's throw of each other. Combine a large gay community, socialites brushing shoulders with celebs, and countless bars and clubs and you have the mixture for some epic partying, and it definitely goes off. The beach in Brighton is actually pretty nice, so it's definitely worth lounging and soaking up a bit of sun if you can.There are a few hostels in Brighton as well as many small hotels that are affordable to spend a few nights, but make sure you book early as the summer months fill up fast.
There are a few sites to occupy a day or two like the first electric railroad, the Royal Palace, The Brighton Museum and Gallery and St. James Street (the gateway to the LGBT neighborhood).
Brighton is easy to get to from London via the train and there are two stations that serve it, Victoria and London Bridge with the trip only taking about an hour. You can also opt for the bus which is a little cheaper, but traffic can be a mess. Since Brighton is close to London, you can fly into Gatwick and take a direct train in as little as 25 minutes as well!
Consider Brighton next time you plan to head to England, and especially London for a nice little vacation from your vacation.