The first stop on my 6 week Euro Trip started in Frankfurt, Germany. Why in the world did I choose this place of all places to start? A $350 direct flight from Fort Lauderdale is the reason why, so I figured why not just get to Europe as cheaply as possible and then worry about where to go.
After an uneventful flight and rapid passing through immigration at Frankfurt International Airport which was a breeze, I was on the subway rounding a bend on the Main (pronounced Mine) River when the city skyline came into view. Yes, you read right, I said skyline. If you've ever been to Europe, part of the allure is the low-rise beautiful architecture that dominates 99% of every cityscape. Nowadays, mega cities like London and Paris have business districts with skyscrapers, but they are not located in the city center. Frankfurt is different.
Like in many German cities (and Europe for that matter), WWII was not kind. Germany basically got leveled and Frankfurt didn't escape this fate. Post 1945, the entire city had to be rebuilt, so there are very few buildings left that are in fact "historic". This is what made a city center punctuated by sky scrapers a possibility. It was definitely an interesting sight.
Frankfurt has the 3rd largest airport in all of Europe behind Heathrow in London and Charles de Gaulle in Paris. This means there are a lot of people popping in for the day on long layovers or for a night or two max, and the city takes advantage of this.
There are a crazy amount of shopping options and malls (they take up a big chunk of the city center), as western brand-crazed Asians mill around in packs with arms full to the pits with bags as well as every other type of foreigner you can imagine. Frankfurt is actually the most diverse city in Germany with a permanent total population of  25% immigrants and 40% foreign born citizens. It adds quite an international air to the city which was nice.
The next thing you'll notice about Frankfurt is how orderly and clean it is. There is barely any trash anywhere, the tree-lined streets and sidewalks are in great condition and the well-marked bike lanes and green space are inescapably pleasant.
You won't see a German even thinking about J-walking either, even without a car in sight. If you decide to break the law of the land, expect an old German woman to scold you (trust me, it's not a pleasant experience…NEIN, NEIN, NEIN!)
My first day I decided to take a walking tour which I like to do on my first day anywhere. While I'm rarely wowed on them, I think they are a great way to gain some local insight, learn some local history and see where I want to check out later.
The tour I took cost me 12 Euro (around 15 dollars) and lasted almost 4 hours. While it was long, we saw a lot and it was pretty interesting/depressing. Depressing because if you walk into the main square in the "old town", Römer Square, you'll understand. At first glance, it appears like your quintessential historic German square. Tall wooden-framed buildings, plenty of street cafes and smiling street performers. But, this is actually a facade. Well, it's more than that, it's a complete rebuild. This area was completely blown away in WWII, and all the buildings you see now are either new or reproductions. But, ignorance is bliss and they are still nice to go see and enjoy, and they are so well done, I would have never known if the tour guide didn't tell me.

Only one building in the square survived the bombing and ensuing fires. How did this building make it you ask? Well German fire fighters kept water spraying on it continuously. No, it wasn't because all the windows were filled with busty Heidi-looking blondes in white T-shirts, but during the war, the street the house is on was an escape route to the river for citizens. If the building fell, it would block the path of fleeing people when air raid sirens went off. The cool thing is that people still live in the upper floors!
If there is one thing that Frankfurt is known for, it's not the "frankfurter", it's business. The European Central Bank is located in Frankfurt and it's a thriving business hub for the country and the world for that matter. On the tour, we walked by the Frankfurt Stock Exchange which interestingly has not only a bull statue out front like the one on Wall Street, but also a Bear which shows a lot about the German mindset and understanding of money and the markets. They have a rational outlook about it. You can't have the good without the bad.
As mentioned above, Frankfurt is quite a green city. Like many older European cities, it was once encircled by a large fortified wall. This of course isn't very practical for the growth of a modern city, so many are taken down and replaced with a green space (which forms a green ring around the city). I've seen this in other places like Krakow, Poland as well.
One beautiful example of what Frankfurt looked like before the Allied bombardment in the 1940's was the Old Opera House. It too was leveled, but slowly rebuilt to its former glory and you can now catch musicals, other performances like you know, operas or just admire its impressive facade from the square in front like I did.
One other thing Frankfurt is famous for is Apfelwein. For you heathens that means Apple Wine (I didn't know either, don't worry). It doesn't really taste like wine but more like a light apple cider, except if you have three you feel better than an 8 year old who just peed his pants. Just my luck, the Apfelwein festival was going on in the city center so I went and had my fair share.
After the Apfelwein festival. A friend told me about a rooftop pop-up bar called the Long Island Summer Lounge which was on the top floor of a parking garage with sick views of the skyline. So, I found it on Google Maps with ease and took an elevator up to the top floor of a seemingly normal parking garage and boom! There it was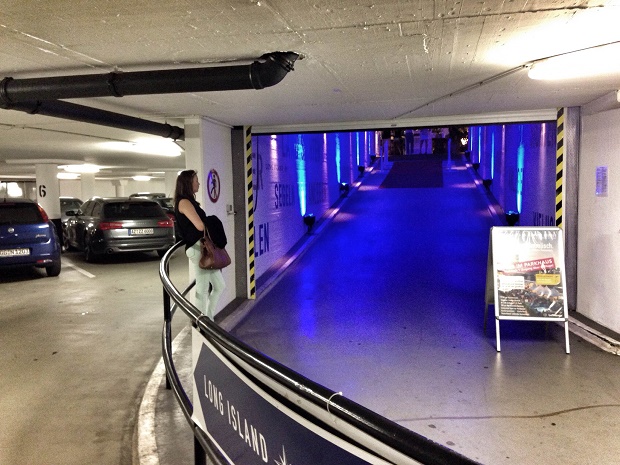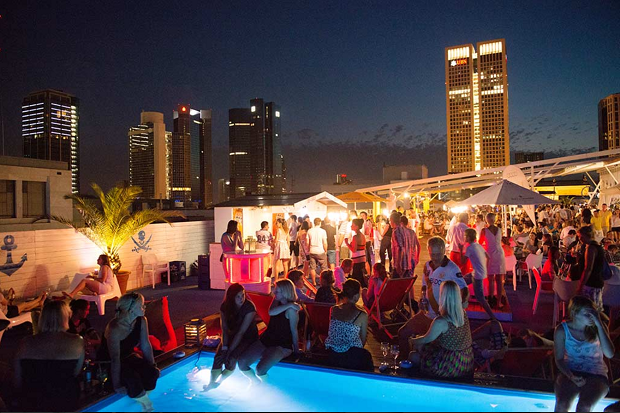 It had a sexy vibe and drinks weren't that unreasonable. If you're in Frankfurt during the summer, I'd definitely check it out.
On my last day in Frankfurt, I changed hotels to The Pure, another property in the Gekko Management portfolio (I stayed at one of their others my first day, Roomers) a block away from the main train station.
This hotel, like Roomers, was well thought out, well-executed and made for the perfect stay. The Pure, while a little bit less high-end than Roomers, was targeting a different market, and probably the one I more fit into. It felt like a high-end hostel with social gathering spaces like a bar and patio with bean bag chairs, but the rooms were spacious, clean, had great Wi-Fi and comfortable beds. This is what I'm looking for these days – my own space, a friendly and easy-breezy vibe, fast Wi-Fi and one thing The Pure killed it on, breakfast.
Their breakfast showcased healthy vegetables, exotic fruits, meats, fresh breads, fresh juices, multiple types of homemade yogurts, eggs, sausage and of course, freshly made-to-order coffee. Oh, and did I mention that it goes until 1 PM?!
Another awesome thing The Pure had on offer was a partnership with Smart electric bicycles which you are able to use for free. I had never ridden one before, so I was very excited. While I thought I wasn't going to have to even move my legs and just ride the thing around like a motor scooter all day, I was at first shocked and then pleased  to discover that the electric motor is really an "assist" and only kicks in while you're pedaling. You have a choice of 4 assist settings depending on how much you want to work or how fast you want to go. I was able to cover a lot of ground on this thing and it was very easy to use and maneuver as it wasn't really that heavy or clunky and rode like a normal bike.
I took the Smart bike across the Main River to Sachsenhausen, another neighborhood of Frankfurt that at one time was its own town, but later got absorbed into the city. You can easily reach it by metro or even foot, and it's famous for its cobblestone streets, apple wine bars and bohemian vibe.  When I went on Saturday afternoon, there was a street festival going on with tons of great food options, shopping and stuff for kids to do.
The majority of the museums are over here as well and I decided to check out the, "Musem of Kommunikation" or, Communication Museum. This one was highly rated and I enjoyed it. They had a large exhibit about how humans have communicated basically from day 1 with all sorts of old antiques, working telegraph systems and a big phone switch box you could play around on. I laughed at the cell phone timeline as I actually saw that progression in my own life. They also had a cool exhibit on how humans and animals perceive beauty which was well done.
While many people would say skip Frankfurt, I definitely think it has plenty of cool things to do for 2-3 days and is worth a visit. It's very easy to reach via bus, car, train and plane which makes it a great place to either start or end a trip in Europe.