Introducción en Español:
Este fue mi tercer viaje a Medellín, Colombia. Para mí, Medellín es una ciudad especial. He escrito este blog para compartir algunos de las razones que Medellín tiene el poder para seducir a cualquier persona que la visite.
I can't believe it either, but I just got back from my 3rd trip to Medellin, Colombia, and the 2nd time in the past 3 months. I don't know what it is about this place, but I just keep going back, and I'm always excited to land at the airport and take in my first breath of the ultra-refreshing mountain air.
I decided to write a post to try and explain why Medellin is awesome and should most definitely be on your next South American itinerary (or at least to justify to myself why the hell I can't stop going!)
1. Medellin is Beautiful
If you're flying from Miami or Fort Lauderdale, you will most likely be scoring a direct flight which will land at Jose Maria Cordova International Airport in the small city of Rio Negro, about 45 minutes drive from central Medellin.
This small airport looks like it was built in the 1950's, but it has been redone on the inside and has plenty of restaurants and shops. Customs is quick and easy, and after you're through, you can walk outside and get into a shared taxi which will drop you off outside the San Diego Mall in the center of Medellin for about $7.50.
The entire drive from the airport, you will be glued to the window as the lush, verdant rolling green hills and mountains are insanely beautiful. The roads are very well maintained and when you reach the valley Medellin is cradled between , you'll be rewarded with an amazing cityscape.
If a city is dubbed, "beautiful" in South America, it's usually a small, quaint colonial one. There are very few large cities in Latin America that are actually atheistically pleasing and not completely over run with snarling traffic. The only one I can really say I've seen that can compare is Buenos Aires and parts of Mexico City believe it or not.
Every time I come to Medellin (first time was in January 2010), the city gets cleaner and cleaner. I feel safer and safer every time I come as well, and the relatively orderly roads, trash-less thoroughfares and minimal homeless people makes it really feel like an emerging world-class city.
Tip: Take one of the Metro Cables which connect to the metro and ride up into the hills for unreal views of the city and street life below. You will see how the lower class Paisas (people from Medellin) live, which I think is important to view. You can get off at any of the stations from the metro cable and wander around a bit without the worry of being mugged. There are plenty of police around. Just don't go too far and don't go at night.
2. Medellin is Cheap
Is Medellin cheap? Put it this way, for the quality of accommodation, infrastructure, food scene, shopping options (countless modern malls) and nightlife, you can't beat the prices in Medellin. I have traveled the world and I can't really compare what you get for what you pay to anywhere else.
I just stayed in a 5-star hotel in an upscale neighborhood of Medellin (Laureles) for four nights, completely raided my mini bar, breakfast included, super fast internet, AND got an hour long massage at the hotel spa for just $350 total. I almost felt like I was robbing them! Here's the view from my hotel room (Inntu Hotel).
Here are some basic prices for what you can expect to pay in Medellin:
Taxi ride across the city: $5-$7
One-way metro ticket: $1
Quality hotel accommodation: $40 – $80/night (much cheaper for a 2 or 3 star hotel/hostel)
Massage: $25-$45/hr
Full meal at a good to nice restaurant: $5 – $15
Beer at a bar: $1-$2
Entrance to a club: FREE ($5-1o for the nicest in the city)
3. The People in Medellin are Awesome
I currently live in Miami and there are a ton of Latin people living here, and a large percentage of them are in fact Colombian. I don't know what it is about the US, but it just seems like when people move here, they assimilate and become less outgoing, less friendly and less fun. When you go to Colombia, especially Medellin, the people are so warm and inviting it's almost unbelievable. People say hi to you in the street, smile, invite you to sit at their table or even to come out and party at night, it's really refreshing.
You'll also notice how polite people are. Everyone gets up for older people on the metro, everyone greets each other by saying, good morning, good afternoon or good evening, and everyone says thank you or "muy amable" meaning, "that was kind of you."
I actually hung out a decent amount with a fellow travel blogger and online entrepreneur, Marcello from Wandering Trader.com. He bought a nice place right next to my hotel in Laureles and he had me and a bunch of his friends over for sushi one night (private sushi chef came!) All of his friends were extremely friendly and interested to talk and have a good time.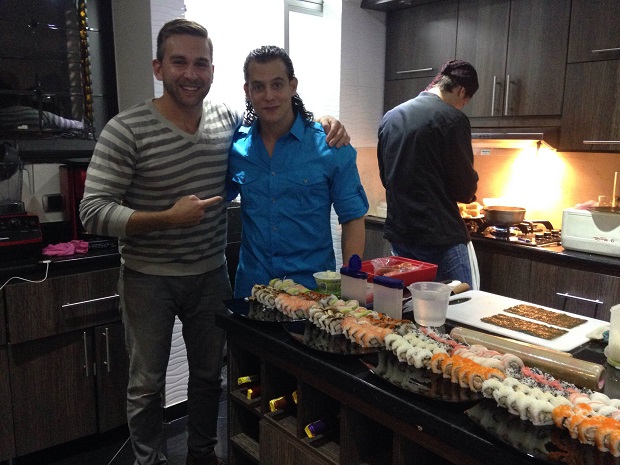 4. Medellin is Alive
Whether it just be interacting with people on the street, enjoying the beautiful outdoors that surround the city, or of course partying it up, Medellin is truly alive. There is a true vibe here. You know it's true by the number of expats that call it home. The nick name of Medellin is even, "The City of Eternal Springtime"! No place dubbed that can be bad.
All in all, Medellin is just one of my favorite cities in the world. Once I"m completely location independent, I can see myself spending a few months living there. It's a great place to work with quality internet and plenty of fun diversion for when it's time to close the laptop.