It's no wonder that Paris is one of the most-visited cities in Europe—in the entire world, really! Rather than rack your brains about who's who or what's what, though, here's a list of places you might find vaut-tout (worthwhile, in French).
Coolest Places To Grab A Drink
Le Café Tournesol & Le Lock Groove
(9 rue de la Gaîté, 14e, Paris)
Acclaimed as one of the best cafés on rue de la Gaïté, Le Café Tournesol is definitely a vibrant and colorful experience to say the least! Its brick interior bumps with soul, funk and electro music, while the outside seating area sits just beneath the towering Tour Montparnasse (there's also plenty of room for larger groups in their back space). Food prices are definitely easy on the 'ol coin-purse, and too delicious to pass up.

(15 rue Roger, 14e, Paris)
If you couldn't tell from the numerous vinyls adorning the entrance, Le Lock Groove is a total rock bar. The kind of place where you'd get caught up in a long chat over which Beatles record was most revolutionary (no pun intended). It's located just off the Rue Daguerre, and is considerably different than Café Tournesol. The interior decoration aids to its old school rock vibe and the food and drinks are affordable.

Great Eats!
Le Mary Celeste & Septime
(1 rue Commines, Paris)
Named after a famous ghost ship, Le Mary Celeste is a new location in the northern Marais. They've got a large variety of oysters from around the world, and other bar snacks like steamed buns and tacos. The innermost bar comfortably seats more than 20, from which you can watch the baristas mixing their concoctions. There's also an 80's rock playlist constantly on rotation.
(80 Rue de Charonne, 75011 Paris, France)
Since its opening three years ago, Septime has been on almost every "must eat in Paris" column, everywhere (and with good reason). This lively landmark is any foodie's playground, but beware: reservations take months to get! It's recommended that you go all the way with the carte blanche, where the chef decides which five courses you get—anything from juicy veal to slow-cooked pork. All of this paired with great music (Hendrix), and even greater wine (made by local producers) makes it well worth the visit.
Shops and Culture
The Broken Arm & Musée Picasso
(12, rue Perrée, 75003 Paris, France)
The Broken Arm is the ideal stop for style, period. The fairly new store provides a substantial variety of all the cool Paris fashions (follow @thebrokenarm on Instagram and see it for yourself!) And in addition to the shopping, they have a café serving coffee masters Solberg and Hansen's finest, plus numerous pastries and baked goods.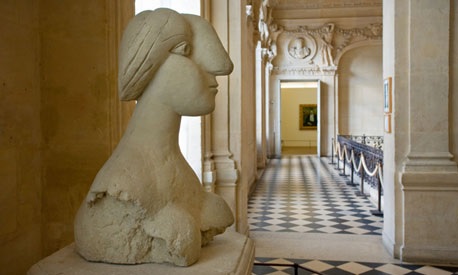 (5 rue de Thorigny, 75003 Paris, France)
Held in a striking baroque mansion (the Hôtel Salé in the Marais) the Musée Picasso is finally re-opening this summer. After being under renovations for nearly three years, the newly expanded museum will showcase more than 500 of Picasso's works over four levels.
Where to Stay
You didn't think we'd give you a list of all these cool places without recommending hotels to stay at, did you? Every great vacation deserves an equally great hotel…or, even better, a boutique hotel.
Here are two quintessentially French boutique hotels we recommend:
Hotel le Petit Paris
(214 Rue Saint Jacques, Paris, 75005)
The Hotel le Petit Paris is all about detail, detail, detail. Conveniently located in the Latin Quarter, this hotel incorporates styles from five different eras: France-Medieval, Louis XV, Napoleon III, the Roaring 20s and the Seventies. All of its twenty rooms are full of carefully selected colors and fabrics to help make your stay even more comfortable. Though deluxe rooms are said to have the best views, we're confident that you'll have more than enough to see no matter which room you choose! 

Hotel Athenee
(19 Rue Caumartin, Paris, 75009)
The word "classy" is embodied when it comes to Hotel Athenee. Deemed "the Greatest Small Palace" by its designer Jacques Garcia, this boutique hotel comes nothing short of luxury. Big cozy couches line the Athenee's Red Bar, where one can enjoy an old-fashioned drink and conversation. There's also a beautiful smoking lounge, covered with dark woods and rich red fabrics. Also, bathrooms in every room come complete with either a luxurious soak tub or a refreshing rain shower.
These are just a couple of our recommended stays for your Paris vacation. Want more selection? You can check out our other boutique hotels here. Bon Voyage!