It seems like a lot of American travel bloggers, or any travel blogger for that matter, are too focused on international travel and neglect their own country of origin (myself included). I semi-proudly hail from the good ole' US of A, and as much as I dip out of my own borders almost any chance I get, I have been focusing a lot more on national travel lately. Including recent trips to Philly , Chi-Town and Nashville, Tennessee.
In the past couple of years, national airfare has been pretty expensive with dumb ass fees for baggage, potato chips and even choosing your seat. The price of gasoline high-fiving 4 dollars a gallon also made road trips not worth it either. But with many of the budget airlines like Southwest and Jet Blue adding forcing competition to old routes, you can find some pretty sick deals to those places closer to home you've always wanted to visit. You can usually find even better deals to locations not on the top-tier list of travelers (think New York, Chicago, Los Angeles, Miami, etc.) like in the south.
Nashville, Tennessee
One city that I wanted to highlight that has plenty to do for a few days stateside is Nashville, Tennessee.
Located in the heartland of America, flights to Nashville are only an hour or two at most from any part of the country. Nashville is known for having short mild winters and hot, humid summers, so the best times to visit are in Spring in Autumn.
Many southern cities in the US struggled to recover after the civil war (1865), but not so much Nashville, as it was always a large trading and business center with its central location and choice position on the Cumberland River. Much of the classical architecture was preserved from the 19th century, and you can see a multitude of historic and preserved buildings throughout the city and surrounding areas.
Nashville is famous for a few things, but probably the most known one is, country music.  It is a hub for country music and blues, and has become a regional center for the arts as well, with a pretty progressive vibe. There are also a lot of rock and alternative bands coming out of Nashville too, including the Ryan Gosling's of rock, the Kings of Leon.
If you want to see why Americans are so damn fat, then you will probably understand after hitting Nashville and enjoying the good ole' home cooked southern soul food. Think Fried Chicken, buttery biscuits, amazing bbq and cold beeers. Perfect for you for a couple of days, horrible for you living there.
Here are a few of the best things to do in Nashville Tennessee:
The Parthenon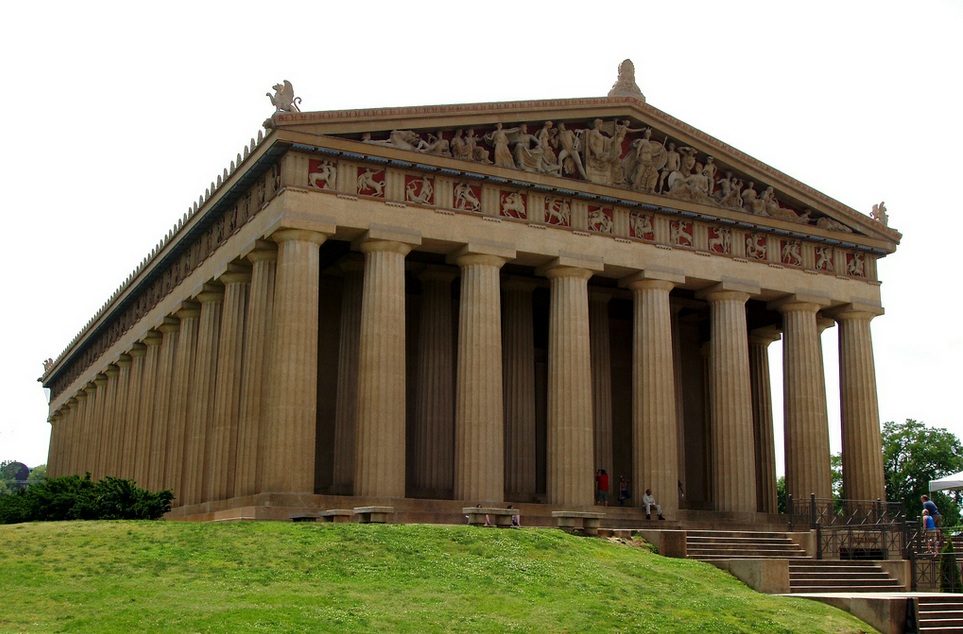 The Parthenon in Nashville is an exact replica of the one in Athens, Greece.  It was built in 1897 for the world's fair held there as Nashville is known as the "Athens of the South".  It even houses a full replica of the statue of Athena built as close to what records exist of the original statue.
Besides being a cool attraction in its own right, the Parthenon also is also an art museum with a collection of works from American artists in the 19th and 20th centuries.
The Country Music Hall of Fame
While not being a huge country music fan myself (my dad weirdly is), there is still plenty of worth while stuff to see and learn about Nashville's heart and soul by visiting this expansive collection of country music history. Modern rock evolved from country anyways so there is history even about your favorite rock legends there as well. Definitely worth a couple hours of milling around.
Nightlife on Broadway
What is any trip anywhere without a night on the town? No trip I want in on, so when in Nashville, do like the Nashvillians do and head to a country bar.  There are a slew of them along Broadway in downtown and most have live bands playing classic country, bluegrass and rockabilly tunes. There is even line dancing…just make sure you drink enough to forget you tried it. Some popular places are The Stage, Bluegrass Inn and Tootsie's Orchid Lounge.
Ever been to Nashville, what else is worth seeing/doing?