So after spending a few days with my family for a cousin's Bat Mitzvah out in the burbs of Chicago (I really am not as religious, ((or at all for that matter)) as I make it seem on this thing) and decided I should check out the city for a few days.  And dats just what I did!
Day 1 
I took a train into the city from 20 miles out and my old roomate from college, Aaron, picked me up downtown and took me back to his place in the Lincoln Park neighborhood (really nice by the way).
He showed me around a bit and then we went with some of his friends to have deep dish pizza at a famous place called Giordano's (located at 730 N Rush St, Chicago, Illinois).  If you're not familiar with deep dish pizza, it's basically a pizza cake with multiple layers, diarrhea-producing amounts of cheese and a fresh flaky baked crust.  It was pretty legit.  We then proceeded to a local drinking hole and played life sized Jenga, of course I'm the one who toppled the tower, but it was a lot of fun none the less.
Day 2
My second day (Monday) I left Aaron's place and went to the Getaway Hostel in Lincoln Park.  They graciously offered to put me up for a couple days.  I can honestly say it was one of the best hostels I've ever stayed the world over (Americans do everything right, fuck yea).  It felt more in between a hostel and a boutique hotel which is more my speed these days anyways.  I had my own private room with a bathroom which was immaculately clean.  The common areas were great, they had free breakfast and they organized a couple awesome nights out to a classic blues bar and an Irish pub.  I can 100% reccomend you stay there if you go to Chicago.
After I checked in, I headed back downtown and went to check out the Field Museum (it was raining).  It was pretty cool but your pretty standard national history museum.  They did have a pretty cool exhibit on Genghis Khan though.  He was a pretty ruthless dude and some ridiculously high percentage of people have DNA that stems back to his overly sexually active ween as he screwed his way across Asia and Europe.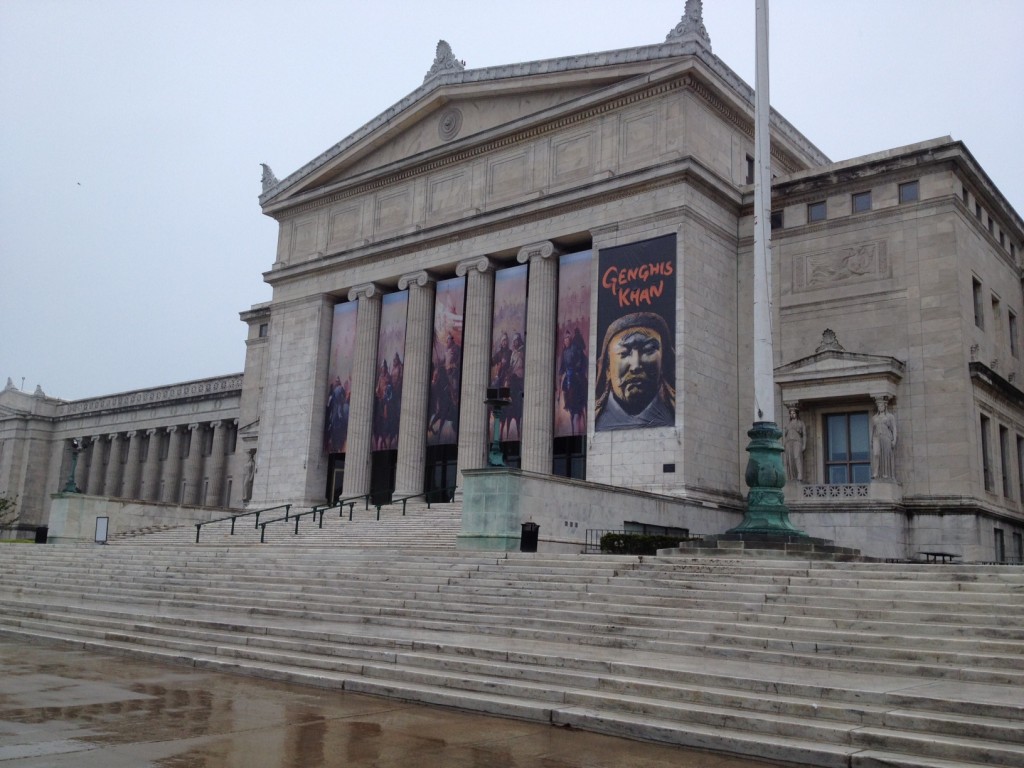 At night, I went to Kingston Mines (located at 2548 North Halsted Street, Chicago, IL) which is a famous blues bar.  They had a couple awesome bands that played until 3 AM and would switch off between two stages to ensure there was live music the whole time.  I highly recommend you check it out.
Day 3
Finally awaking to sunshine after a few dreary ass days, I told my hangover to F off, slipped on my jeans, put on my 30 cent sunglasses I got at my cousin's Bat Mitzvah and hit the streets.
I heard the architecture boat tour was worthwhile so I took the metro downtown and headed to the river where they all dock.  I dropped about 40 bucks for the hour and a half tour, but there are cheaper "unofficial" ones that would have probably been fine.
I have to say, the architecture in Chicago is truly impressive, and there are many beautiful examples of various styles from the past 125 years, from stout stone art deco towers to shimmering modern sky scrapers.
After the boat tour, I headed to famous Millennium Park to check out "The Bean".  I've seen a million people with pictures in front of it and was never too impressed, but in person, it really is something cool.  Check out my pics of it.
The last stop on my Day 3 adventure was the Lincoln Park Zoo.  It's located just a few minutes walk fom the Getaway Hostel and it's actually free (nice after the 40 dollar boat tour).  The zoo is really well kept and they have a lot of monkeys which I could sit and watch for hours.  Check out these two.
While the zoo was nice, the Big Cat room was kind of depressing.  They were all kept in pretty small cages and it looked like something out of the circus.  They were all pacing around and screaming.  Check out this Lynx, I thought it was a monkey when I first heard it.
Here's  a pretty nice view of downtown from the zoo as well.
Chicago in Conclusion
I have to say that I had a really good time in Chicago.  It's a very nice city and has plenty to do for a week of sight seeing.  There is great food, good nightlife, plenty of public parks, good public transportation and I'd highly recommend making a visit there if you're in the mid-west.