When it comes to golfing, some of us just don't have the patience, skill or interest to take four hours out of our lives to walk around a massive course, lugging around heavy clubs in the beating hot sun. A regular day out on the links can be mitigated by a cooler full of cold ones, but sometimes you just need a little more stimulation. Check out three of the coolest golf courses in the world that might actually get you out on the green more often than not.
La Jenny Golf Resort
La Jenny resort located on the west coast of France near Bordeaux is the only "naturist" golf resort in the world. Finally be one with nature while you get to shake your bal…, I mean hit your ball as far as the eyes can see.
La Jenny offers guests 6 holes including par 2s, 3s and 4s for your golfing pleasure, and there are only a few rules including nudity is mandatory and NO SEXUAL BEHAVIOR,, that's what having drinks in the clubhouse afterwards is for.
The Legend Golf Resort
If you find yourself in South Africa, the Entabeni Safari Conservancy offers multiple activities to enjoy in the great outdoors, but one of their biggest draws is the Legend Golf Resort with a very special hole, dubbed the , "19th hole".
The 19th hole is only a par 3, but…you've got to take a helicopter to the tee! Perched near the top of the Hangslip mountain is where you hit from, and almost straight down to the green almost half a mile straight down.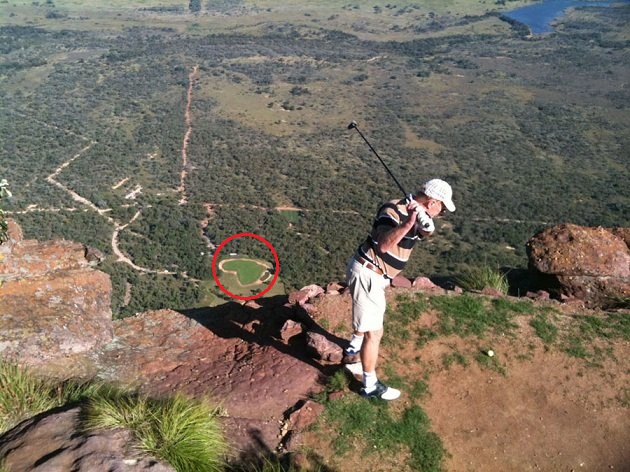 U.S. Army Camp Bonifas in South Korea
Chances are if you find yourself at the U.S. Army Camp Bonifas on the border between South and North Korea, you've either done something very wrong, or you're a soldier stationed there. Longing for the links, the U.S. Army decided to give our good ole' boys a place to hit a few at, and they designed a one hole, 192 yard par-3 hole, that just happens to be located in the demilitarized zone between South and North Korea.
Where else can you tee off that it's required to be armed at all times and there are hostile soldiers spying on you with binoculars?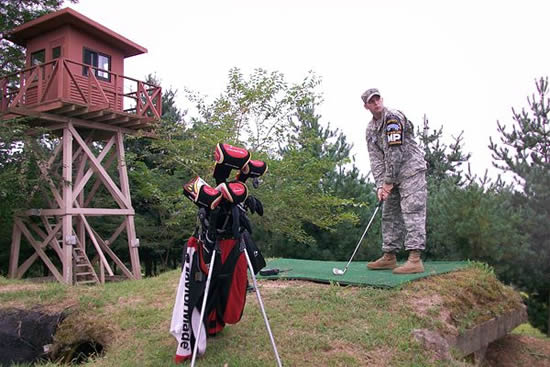 As you can see, golf doesn't have to be all plaid shorts and upright pinkeys. If you'd like to find the right adventure out on the course for you, check golf weekends with yourgolftravel.com. And hey, if you choose La Jenny, you won't even need to pack your clothes!