Like the other Mexico City neighborhoods I've profiled like Roma Norte, Condesa, Polanco and Juarez, Villa Coyoacán (often referred to as the historic center) has a definite personality which makes it stand apart from the rest.  In this case, the vibe is similar to that of Colonia Roma Norte in terms of its quirky and intellectual tendencies blended with the independent character that comes from the area's history as a village separate from the larger city that now surrounds it. Coyoacán dates back to the early 16th century when it was established as the first capital of New Spain, and it remained a separate community well into the 20th century. Villa Coyoacán is located in the larger Delegación Coyoacán, an area that encompasses several other colonias, including La Concepción, Santa Catarina, Del Carmen and other traditional neighborhoods. On the whole, the area is home to many of the city's important educational and cultural landmarks, including the main campus of the UNAM (largest university in Mexico), the Casa Azul (Frida Kahlo's childhood home) the Leon Trotsky Museum, and the Parish of San Juan Bautista church dating back to 1552. The entire Coyoacán area has a reputation for being one of the best places to live, not only in the city, but in the country as whole, based on a whole range of indicators including safety, literacy and education, employment and general quality of life.
With a history going back almost 500 years, it's not surprising that Villa Coyoacán is noted for its cobblestone streets, small parks and plazas, colonial mansions, churches and other historic buildings.  Although located within the sprawling urban center that is Mexico City, Coyoacán and especially the historical center has managed to keep a small town feel. Unlike many other areas in the city, the largely residential neighborhood has many single family homes rather than high-density apartment buildings, and the area is known as quiet and peaceful. Prices in the area are increasing in part due to the effective promotion of the historic center as a premier tourist destination in the city.  While some businesses in the area have been there for decades, recent years have witnessed an influx of new businesses to serve the tourist industry, resulting in community activism by residents who fear being "squeezed out" of the area.
The historic center has become a very popular weekend destination for Chilangos (that is, residents of the city). The core of the neighborhood is organized around two plazas, Plaza Hidalgo and Plaza de Centenario. On weekends, these plazas come alive with vendors, buskers and street performers, and special events that attract people from all over the city. The many restaurants, cafes, bookstores and cantinas are great places to enjoy the scenery and to people watch. There are numerous markets, bazaars and galleries where the work of local and indigenous artists can be seen and purchased.  Outside of the historical center, there are many museums and galleries featuring the work of some of Mexico's most iconic artists including Diego Rivera and Frida Kahlo.  One of the most popular sites in the area is the Viveros de Coyoacán, which is a plant nursery for trees used in reforestation projects with large sections open to the public – the Viveros is a green space that is very popular with residents as a way to escape the bustle of the city.
Here is what Coyoacán looks like: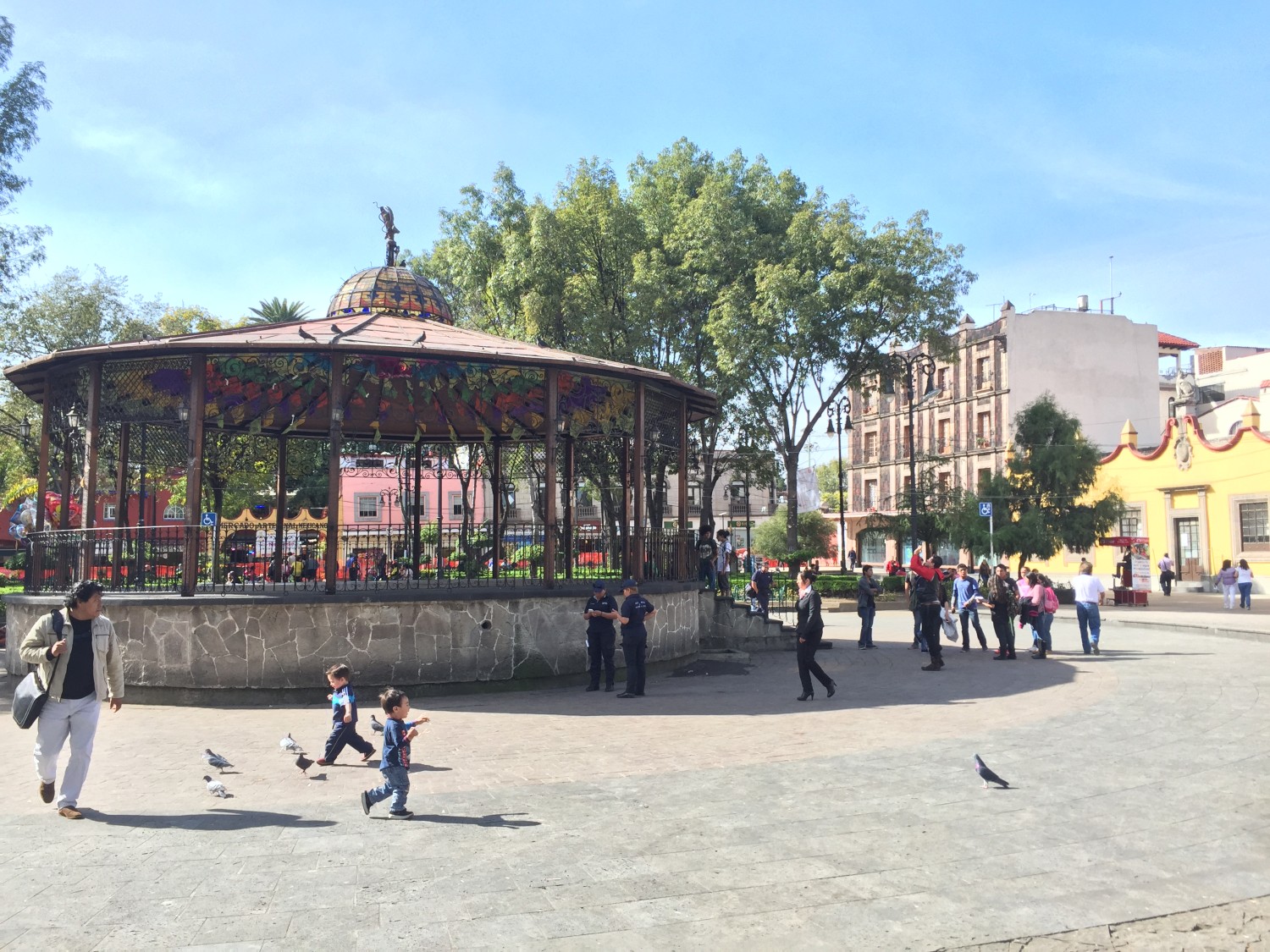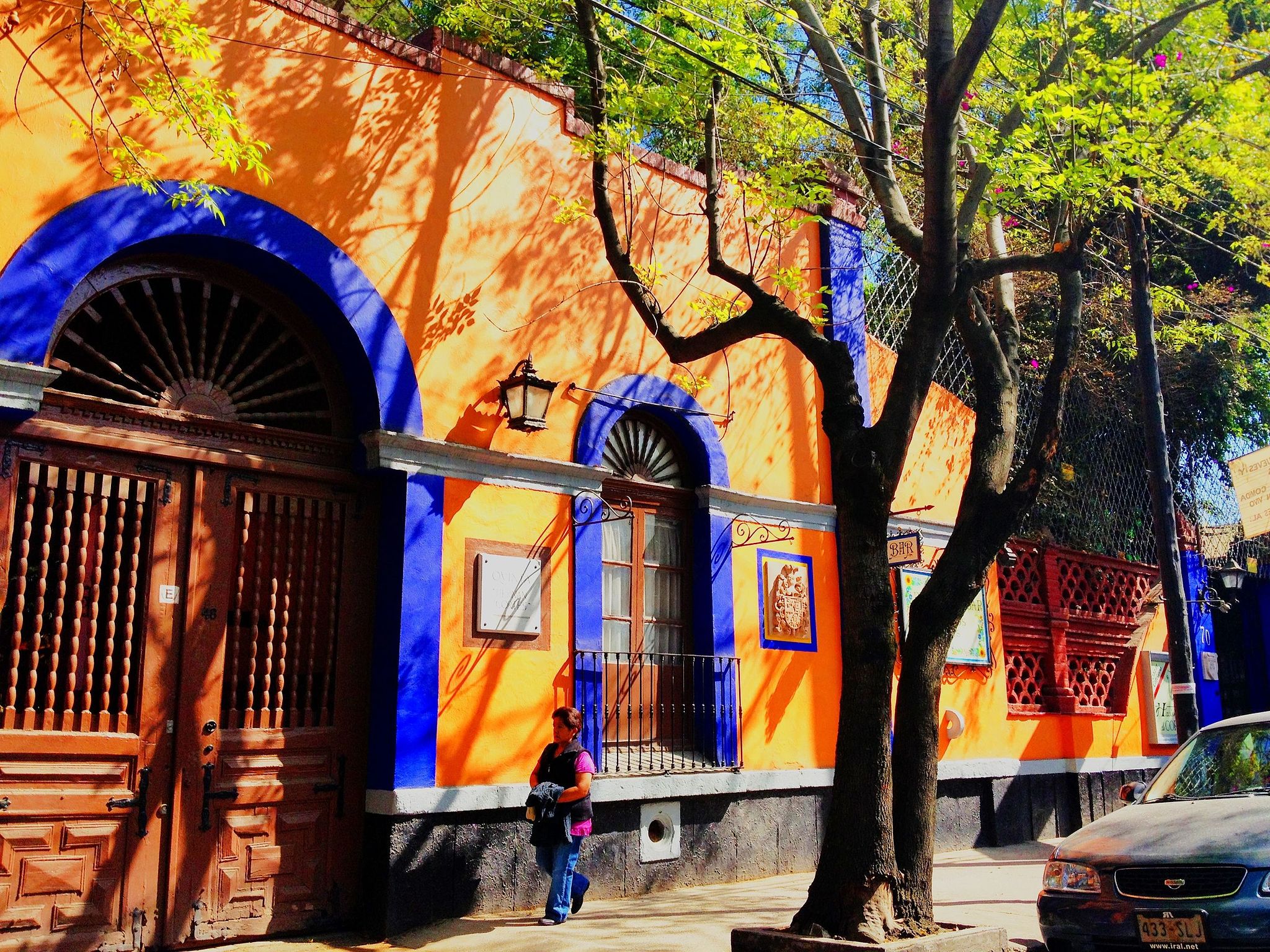 Where is Coyoacan?
Delegación Coyoacán is located in the south of the city, to the east of Avenida Insurgentes and almost directly south of Roma Norte. The historic center of Coyoacan, Villa Coyoacán, is made up of almost 30 blocks running from north to south on either side of Felipe Carmillo Puerto between Cuauhtémoc on the north and Av Miguel Angel de Quevedo on the south. Although officially the area extends as far south as the Estadio Azteca, as far west as the Estadio Olimpico, and almost to Xochimilco in the east, people generally think of a much smaller area when they think of Coyaocán. This smaller area is bound on the south by Av Miguel Angel de Quevedo, Av Rio Churubusco in the north, Av Universidad to the west and Av Division del Nte to the east.
In terms of travel time, it is not practical to walk to Coyoacán from most other parts of the city – it is possible of course, but will take about 2 hours from the center of Condesa, 2.5 hours from Polanco, and 2.5 hours from the Zócalo in the historic center using direct routes which tend not to be pedestrian-friendly.
Transportation in Coyoacán
Public Transportation – Unfortunately, the area is not especially well-served by public transit.  On the western and eastern edges of the smaller Coyoacán area, there are several stations on line 3 to the west (Coyoacán, Viveros, Miguel Angel de Quevedo) and on line 2 to the east (General Anaya).  However, be prepared to walk up to a half hour from any of these stations into the center of the area, or to take a bus which can take 20 minutes or more. The area is very safe and generally walkable if you have the time and want to explore.  In the larger Coyoacán area, be sure to check transportation schedules – in some areas, as around the UNAM, bus service stops relatively early and you may find yourself stranded.
Ecobici, Carrot Car and Econduce – Although the popular bike-sharing program continues to expand throughout the city, Ecobici hasn't yet made it as far south as Coyoacán.  That said, it does get close, coming to Av Rio Churubusco. Econduce, the poplar scooter share program, is also not yet available in Coyoacán. However, there is one Carrot car location in the area, on Moctezuma close to the plazas.
Uber – Always a good option for transportation in Mexico City, using Uber in Coyoacan is especially attractive given the lack of public transportation or vehicle/bike sharing options.  Using Uber in Mexico City is easy, safe, and affordable. In fact, if you have never tried Uber, go here and sign up and your first ride is on me! https://www.uber.com/invite/jeremya15, or just use the code "jeremya15" when signing up.
Taxis – Because this is a busy tourist area, you will have no trouble finding official taxi stands in the most popular zones in the area. However, because the area is largely residential, you may find that away from the busy central areas, it becomes more difficult. If you are relying on taxis for transportation – especially between Coyoacán and other areas, and especially at night – be sure that you have identified the location of taxi sitios in advance.
The Best Restaurants in Coyoacán
La Barraca Valenciana: Av Centenario 91 – For Spanish dining in the heart of Coyoacán, you can't go wrong with this neighborhood favorite. However, it is most famous for its tortas – Mexico's answer to the sandwich.  Try the bacalao (salted cod)!
El Morral: Ignacio Allende 2 – This Mexican restaurant offers traditional dishes in an old-fashioned space.  Popular with families, this is a great place to start your day in the historic center, or to grab a bite after a morning at the Frida Kahlo Museum which is only a few blocks away.
Corazón de Maguey: Av Centenario 9 – Overlooking the Jardín Centenario, this busy restaurant serves Oaxacan specialties to be accompanied by one of the many mezcals on the menu.
La Talavera: Gómex Farias 117 – This well-known spot is a favorite with diners looking for traditionally prepared Mexican dishes.
Taro: Av Universidad 1861 – Located on the western edge of the smaller Coyoacán area, this unpretentious restaurant serves traditional Japanese fare.  This is not a place where you will find 50 different kinds of rolls; sushi and sashimi, typical Japanese salads, soups (including udon and soba) and teppanyaki dominate the menu.
Los Danzantes: Jardín Centenario – Located right on the plaza in the heart of the most touristy zone of Coyoacán, this neighborhood institution has managed not to become a touristy spot over its 20 years.  Many Oaxacan items on the menu – be sure to sample the moles! Or if you are feeling adventurous, try the chapulines (grasshoppers), escamoles (ant eggs) or any of the other seasonally available insects on offer!
The Best Cafes in Coyoacán
Cafe El Jarocho: multiple locations: Cuauhtémoc 134, Av. Centenario 91-b, Av. México 25-C  – A Coyoacan pride and joy, Cafe El Jarocho makes delicious coffees including frozen ones, fresh baked goods and sweets and much more. No trip to Coyoacan is complete without indulging in a treat from Cafe El Jarocho.
Café Negro: Centenario 16 – Tucked a half-block up from the Jardin Centenario, this cozy spot allows you to observe the bustle of the weekend plaza scene in relatively peace.  On offer are teas, lattes, americanos and more – including excellent churros if you have to satisfy a sweet tooth.
La Casa del Pan Paplotl: Av México 25 – This little shop is part café, part (affordable) organic bakery, known especially for its breakfast options. Just a few blocks to the west of Villa Coyoacán, this is a great place to stop before making your way into the busy historic center.
Rafaella: Londres 10 – Not far from the Frida Kahlo Museum, this café has recently expanded and now includes both indoor and outdoor space.  In addition to great coffee, a number of baked goods and lunch items can also be had.
Café Avellaneda: Higuera 40 – This colorful and inexpensive café offers a quiet spot enjoy a coffee made from Mexican regions – Oaxaca, Chiapas ad Veracruz – using sustainable farming methods.
The Best Tacos in Coyoacán
Super Tacos Chupacabra: Av México Coyoacán s/n – This very popular taco spot used to be a street stand and despite its permanent address it serves up some of the best street food in the area.  Garnishes include nopales, fried beans, and a number of delicious salsas. This spot is a favorite place to fuel up before a night out, or to recover after the same! Located on the northwest edge of the area, close to the Coyoacán Metro and the Vivero Coyoacán.
Tostadas de Coyoacán: Ignacio Allende 49 – Located inside the well-known Mercado de Coyoacán on the edge of Villa Coyoacán, this spot is technically not a taco stand but shouldn't be missed for its amazing tostadas served with everything from cochinita pibil to pulpo.  If you really must get a taco fix, there are plenty of stands nearby.
Taquería Aguayo: Aguayo, s/n (a few blocks north of Plaza Hidalgo) – this small taquería has a wide menu of offerings beyond tacos, including excellent flautas.
The Best Nightlife in Coyoacán
Corazón de Maguey: Av Centenario 9 – Already included as a best restaurant, this spot gets a double mention because at night its excellent menu of artisan mescal takes the spot light and this restaurant becomes one of the most popular spots to enjoy the evening.
La Coyoacana: Higuera 14 – This busy cantina is a great place to hang out with a group – on the terrace if you are lucky – to take in traditional snacks, drinks and music provided by mariachis, trio groups, and more.
El Hijo de Cuervo: Jardín Centenario 17 – Part bar, part performance space, this is one of the best places in the entire city to take in live performances of music, theater, and more.
Asha Bar: Victoria 9 – This busy and stylish bar/nightclub is the place to start the night with cocktails and a group of friends, or just as easily is the place to spend the night.  Lights, live music and a casual vibe are part of make this place so popular.
Teatro Bar El Vicio: Madrid 13 – As the name suggests, this unique spot blends bar with cabaret, highlighting performances addressing counter-cultural themes – in keeping with intellectual energy of Coyoacán as a whole.
As you can see, there is a lot going on in Coyoacán, this area is a great place to spend a full day wandering down quiet cobble stone streets, exploring parks and churches, and sampling a wide variety of street food.  Stay the day, have a meal, and enjoy the nightlife in this village in the middle of the always-amazing Mexico City!