The top tourist attractions in Greece are there to remind us of the country's role in shaping politics, sports, philosophy, architecture, theatre, and art. Worldwide, the influence of ancient Greece is beyond impressive and often unnoticed today as it's so entwined into modern day society from democracy to architecture. A trip to Greece will surely be a memorable one, and now a days, things are very affordable compared to past years. Here are 10 of the top tourist attractions in Greece.
#10: Mount Athos
This mountain sits on the easternmost end of the Halkidiki peninsula. It is home to 20 Eastern Orthodox monasteries where more than a thousand monks live. Unfortunately, tourism is controlled in the area and only men are allowed to enter.
#9: Mystras
It was the capital of Peloponnesus during the 14th and 15th centuries and was under the rule of the Byzantine emperor's relatives. Today, what is left of Mystras are ruins from medieval times. The site is located near ancient Sparta and is one of the top tourist attractions in Greece.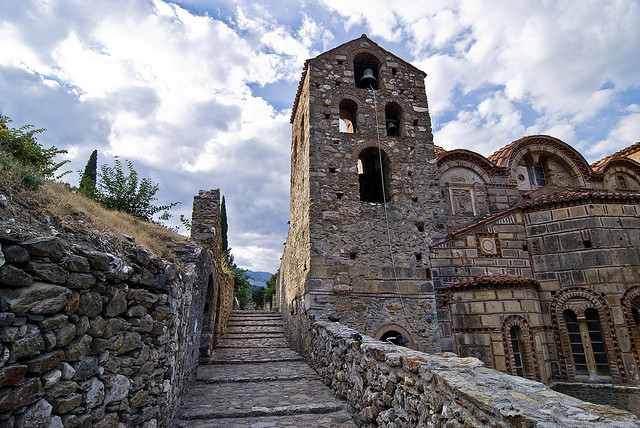 #8: Lindos
This medieval village is comprised of whitewashed buildings and picturesque cobblestone streets. Its acropolis rises above the city and offers amazing views of the coastline and surrounding harbors. Beaches including St. Paul's and Lindos and are within walking distance from the town center. Lindos is definitely one place not to miss on your family holidays to Greece in 2014.
#7: Samariá Gorge
The 10-mile long canyon is located in Crete. It could take up to 7 hours to walk through its entire length but definitely worthwhile if you're up for it. Trails lead through ancient forests with cypresses and pines and then towards vertical cliffs. The long walk ends with the Agia Roumeli mountain range.
#6: Myrtos Beach
Famous for its turquoise blue waters, you can find Myrtos Beach in Kefalonia. The white sand is is adorned by smooth pebbles and showcases steep mountains and cliffs in the backdrop.
#5: Delphi Theatre
Delphi was of religious importance to ancient Greece. It was the site of the oracle of Apollo. You can get a breathtaking view of the ancient city atop the Delphi Theatre, one of the top tourist attractions in Greece. The theatre was built on a hill during the 4th century and could accommodate more than 5,000 spectators.
#4: Meteora
It comprises of six monasteries that are "suspended in air", built on a series of rock pillars. The first of these monasteries dates back to the 14th century.
#3: Mykonos
This metropolis features narrow streets with whitewashed steps. It is known for its nightlife, beaches, and picturesque beauty.
#2: Parthenon
One of the most easily recognizable landmarks in Greece, the Parthenon is located in Athens. It was completed in 432 BC and functioned as a temple, fortress, church, and a mosque.
#1: Santorini
It is perhaps the most picture-worthy place in Greece, especially Fira, its capital. Fira has a combination of Cycladic and Venetian architecture. Even more notable than its architecture are the location of its buildings. In this city, structures are on the edge of 400-meter cliffs. Surely, Santorini is one of the top tourist attractions in Greece and one that most definitely warrants a visit if you make it to the country.
Know of any other great places in Greece not to miss? Share them in the comments!