When it comes to traveling, one of the biggest problems is finding decent accommodation without bursting a budget. I'm currently on a 6 month trip and pretty much refuse to stay in a hostel dorm room anymore. I get a lot of people asking me how I'm able to afford decent hotels every night for months, and today my friends, you have the answers! Here's how I go about booking hotels and saving buco bucks.
1. Decide how long you want to stay in any given place
This is no insider tip, but obviously the longer you stay anywhere, most places will offer you a better rate for staying more than 3 nights, 5 nights, 7 nights, etc. So, if you know how long you'd like to stay somewhere, it will help you bargain a bit when it comes time to negotiate.
2. Decide your budget
When I'm staying anywhere except the US and Eastern Europe, I try and pay $20-35/night in a 2-3 star hotel. In South East Asia, this isn't hard to find, but staying in a bit nicer place usually is about $45-50 a night and I'm usually able to negotiate my price range at one of the more expensive hotels. A site I've used recently which I really love is https://www.staypromo.com – awesome deals and reliable service.
3. Choose no less than 3 hotels that you would be fine with, just above your budget
A good place to find potential hotels in the least biased way possible (the reviews on Booking.com, Hostelworld.com and Agoda.com are more skewed) is on TripAdvisor.com (which is obviously still not as objective as can be, but it's the best you'll find). See how much the aforementioned websites above quote at the hotels you choose for your duration of stay and write them down (make sure there aren't extra fees as well, Agoda doesn't account for service fees or local taxes in the initial quote).  I also like to cross-reference the reviews for any hotel I'm considering on all of the websites to just get more insight. Sometimes, you find gems like, "while the hotel is nice, construction began on a skyscraper last week, don't stay here!".
4. Contact the hotel directly with an email
Now that you know where you want to stay, and how much it "costs"via the booking websites, send the 3+ hotels you've chosen an email and say you're very interested in staying at their hotel for x amount of days, but it's a little outside of your budget. Say you can only spend about 20% less than you saw on the booking websites (feel free to attach a screenshot of the online booking website's quote) and that you'd be happy to leave them a positive review on TripAdvisor if they would be able to work with you on pricing a bit. The truth is, they will almost always say yes.
A few more extra bargaining chips are saying you don't need extra services that hotels often like to tag on to "sweeten" the deal i.e. breakfast (I never wake up early enough to make it), hotel transfer, fruit basket, etc. Also, you can offer to pay in cash which lots of smaller independent hotels are very happy to have instead of a credit card transaction, I wonder why?
Booking .com, Agoda.com, Hotels.com, etc. take large commissions for bookings (usually around 20%!), so hotels would rather extend those discounts directly to you instead of the online booking companies, hell they're making the same amount anyways.
Bonus Tip (just show up!)
If you're traveling to a place like….Da Nang, Vietnam or somewhere else random, chances are any hotel you're interested in will have a room available, always (feel free to call them before hand just to make sure). That being the case, you can write down the address of 2 or 3 hotels you'd be fine with staying at, and instead of emailing your hotel beforehand, just show up and negotiate a price in person. I've been able to negotiate some pretty big savings this way. Just have a print out of the lowest price you found online so you can show you know what you're talking about. Every hotel will have a little sign on their desk with their prices/night, known as the rack rates. They are purposefully inflated to snag non-savvy walk-ins, never go by that price.
There you have it, my tips on how to save on hotel bookings! Here are a few nice hotels I've been able to land for way less than the advertised prices!
Hotel Ruby River in Ho Chi Minh City, Vietnam. Listed at $38/night, negotiated $30/night for 5 nights, 21% discount.

Hemingway's Hotel in Phuket, Thailand. Listed at $35/night, showed up and negotiated $30/night for 3 nights. 15% discount.
Da Vinci Suite in Bangkok, Thailand. Quoted $46/night on Booking.com and walked in and negotiated $32/night. 31% discount!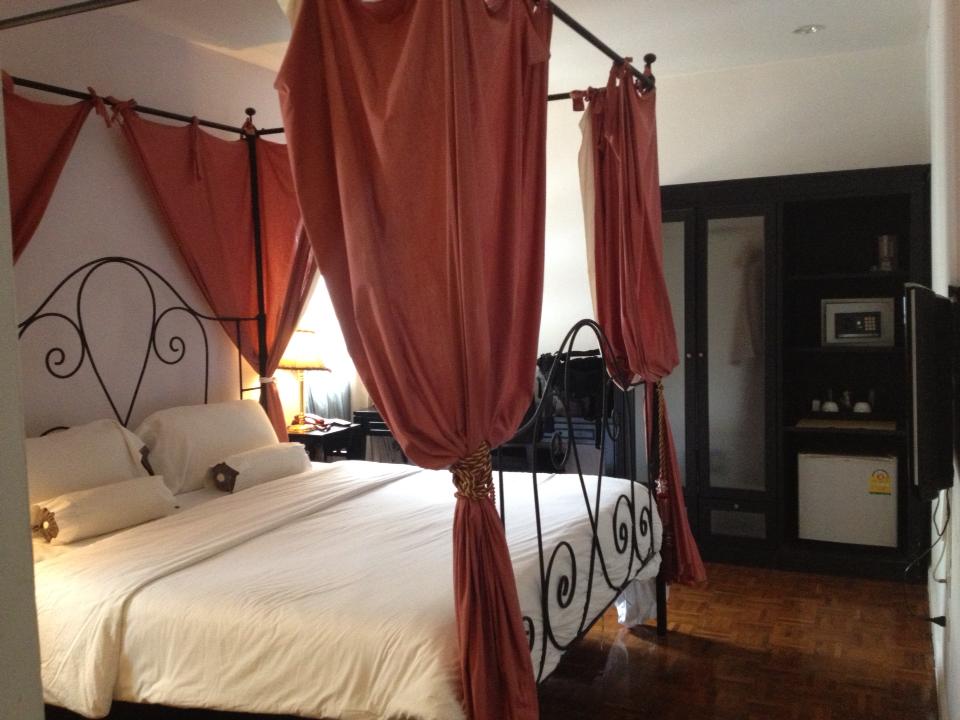 Do you have any tips on how to save on hotel bookings? Let us know!