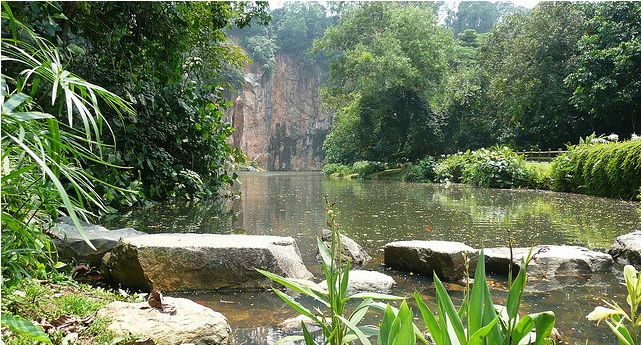 Singapore is truly a nature lover's paradise. Its modern buildings blend seamlessly with nature and this island nation pays a lot of attention to preserving its natural beauty. When holidaying in Singapore, having a credit card is an easy and convenient way of paying for hotel accommodation and shopping. Once this aspect of your holiday has been taken care of, spend time admiring the beautiful and lush parks and nature reserves that Singapore is famous for. One place that holiday goers will truly love and cherish is the famous and popular Bukit Batok Nature Park.
Spread over an area of 36 hectares, Bukit Batok Nature Park has beautiful trails that run through a secondary forest. Some of the trails lead to scenic view points, which can be accessed with the use of stairs. It is one of the best nature parks for bird watching, enjoying the native flora and fauna, picnics and jogging.
The Park is set on an abandoned quarry site and this would explain its name, which means "coughing hills" in English. Today, the quarry is a scenic reflective pool and is the source of a small stream.
History of Bukit Batok Nature Park
The site where the Park is established used to be a quarry for granite in the 1950s. The explosions carried out during the quarrying sounded like coughs, and hence the name of the area and the Park. It was in 1988 that the government decided to develop the abandoned quarry as a nature park to preserve the flora and fauna of the area.
Besides its establishment, there are other important aspects to the Park's history. During the Second World War, the Japanese selected this area along with Lorong Sesuai to build a memorial for their soldiers, who had laid down their life during the war. At that time, it was known as Syonan Chureto. Unfortunately, that memorial no longer exists. However, there are 2 pillars and 120 concrete stairs that lead to the Mediacorp Transmission Centre. At the foot of the stairs, visitors can see a plaque that informs them about this historical fact.
Another important part of Bukit Batok Nature Park's history is the area where the British soldiers surrendered to the Japanese. This incident occurred on 15 February 1942 at Ford Factory. Today, just the front part of the factory building is present, which has been preserved as a historical monument.