Unlike most of the other neighborhoods profiled in this series, Santa María la Ribera isn't especially "trendy" or "cool." While it is considered to be an important architectural and historical neighborhood, it is a bit rough around the edges.  As a result, it tends to be off the beaten path for most tourists or foreigners living in Mexico City who often seek out areas with more fashionable shopping, restaurants and hotels.  While there is much to see, eat and do in this neighborhood, the vibe is quite traditional – Santa María la Ribera feels like a place where people work and live rather than a place where people linger in cafes to people-watch.

Although the colonia was designated a "barrio magico" (along with 20 other colonias including San Angel, Condesa-Roma and the Zona Rosa) in 2011, it has a longer and perhaps still somewhat accurate reputation as a "barrio bravo" – a "tough neighborhood."  Parts of Roma Norte have higher rates of crime than Santa María la Ribera, but the neighborhood's relative proximity to the notoriously crime-ridden streets of Tepito contributes to the "tough 'hood" image, as does the ongoing problem of homelessness in the colonia. That said, Santa María la Ribera is very much a neighborhood in transition and it is well worth exploring. There are a lot of real estate developers coming in building modern apartment buildings as well as fixing dilapidated ones and there is really an air of change.

Like Juarez, Santa María la Ribera was originally a wealthy enclave.  It was established in the late 19th as one of the first planned "modern" colonias outside of the city limits.  It became a popular place for wealthy Mexicans to have country homes, and many of the mansions built in those early days still exist as catalogued buildings.  However, as the city grew the surrounding area became more industrialized and the original wealthy inhabitants were replaced by middle class Mexicans although the area remained dominated by single-family homes and continued to attract artists and intellectuals.  The most significant event affecting the trajectory of Santa María la Ribera was the earthquake in 1985.  The area witnessed a massive influx of new residents from several neighboring working class colonias that had been heavily damaged, and middle class families began to leave the colonia.  There was increased pressure in the area to create affordable housing through the construction of large apartment buildings.  As rents in the area began to fall, it became harder to maintain the historic mansions and buildings in the area, and even today many architecturally significant buildings are derelict and abandoned.  For the next few decades, Santa María la Ribera lived up to its reputation as a barrio bravo – in addition to homelessness and squatting, the area was known for petty crime and drug activity.  However, in recent years the area has started to become transformed as locals and tourists alike rediscover some of the hidden gems in the area.

Probably the most famous landmark in the colonia is the Kiosco Morisco – the Moorish Kiosk.  Due to the Islamic-inspired patterns that decorate the cast-iron structure, many people believe the gazebo was a gift from an Arab Sheik.  However in reality the Kiosco was constructed by a Mexican engineer in the late 19th century to represent Mexico at the New Orleans International Expo.  It was returned to Mexico in 1906 and was moved to Alameda park in the center of Santa María la Ribera in 1910.  Like the neighborhood itself, the Kiosco fell into a state of disrepair over the years, with pieces of the structure being stolen and used to decorate private homes.  However, in 2003 renovation of the Kiosco (and the recovery of many of its pilfered pieces) began and today it is a key feature of the park and the colonia as a whole.

Another must-see landmark in the area is the Vasconcelos Library.  This massive building covers almost 40,000 m2 and is famous for its spectacular architectural features, including floating stacks of books suspended from the ceiling, its steel and glass structure and the overhead "Baleena" sculpture.  Tourists are allowed to use the library, including the musical instrument room and other special collections.

While the Kiosco and the Library are among the most well-known landmarks in the area, there are many others that should not be missed.  Architectural buffs will want to check out the Museo del Instituto de Geología UNAM, which is housed in an imposing art nouveau building as is the Museo Universitario del Chopo which is often referred to as the Crystal Palace. This amazing Art Nouveau structure was built in Germany in the beginning of the 20th century for an art and textile fair. A wealthy businessman bought the building and shipped the whole thing over to be re-erected on its current site in 1905.

Music lovers will find much to admire in the Mercado del Chopo (commonly referred to as "el Chopo") – not only is this a great place to find music and instruments of all kinds, it also attracts the city's goth and alternative community and is the go-to place for leather bondage wear as well as concert T-shirts. And of course, the Alameda park offers a quiet place to stroll under the trees during the week, and all of the bustle that characterizes the city's parks on the weekend.
Here is what Santa María la Ribera looks like: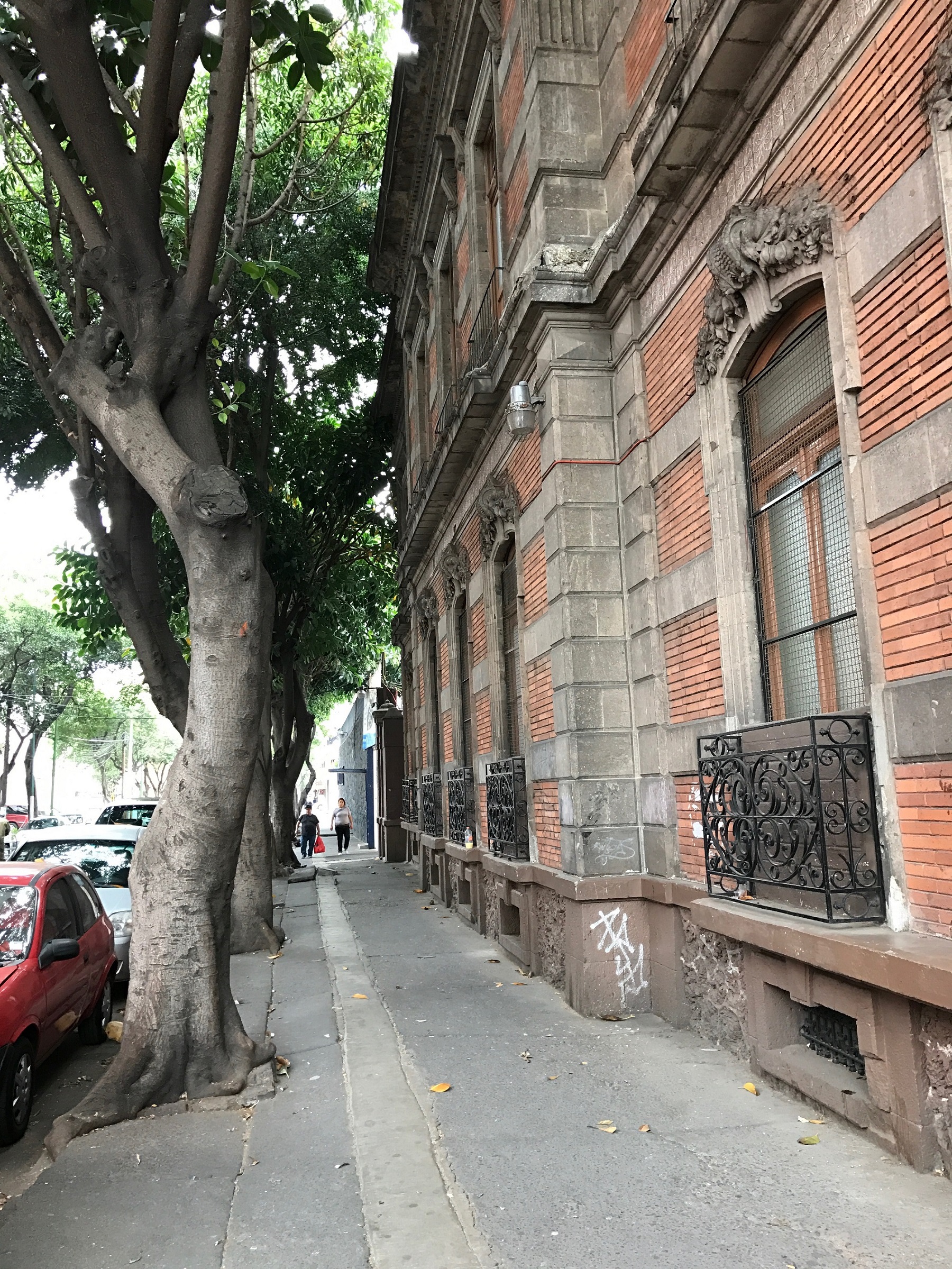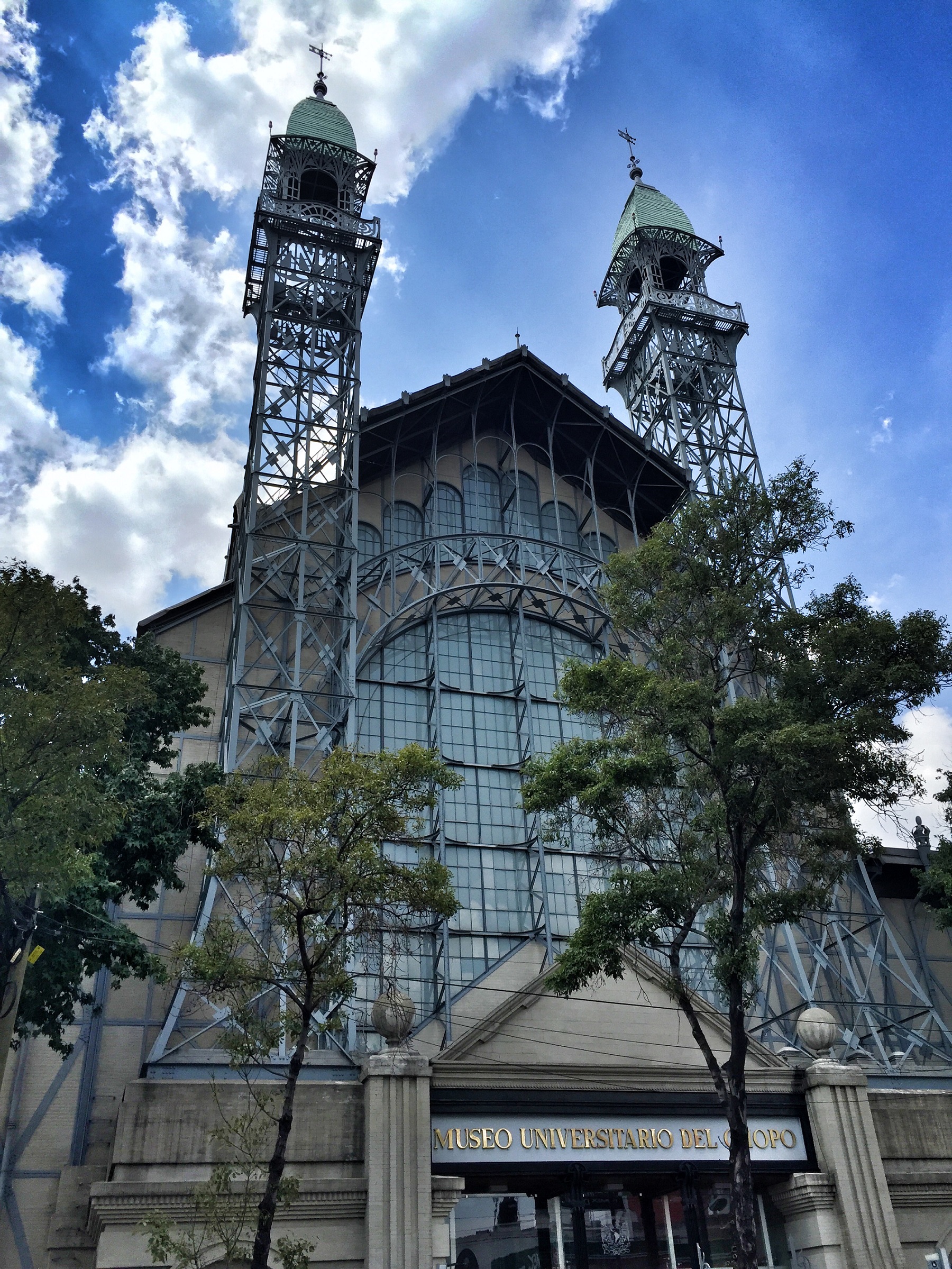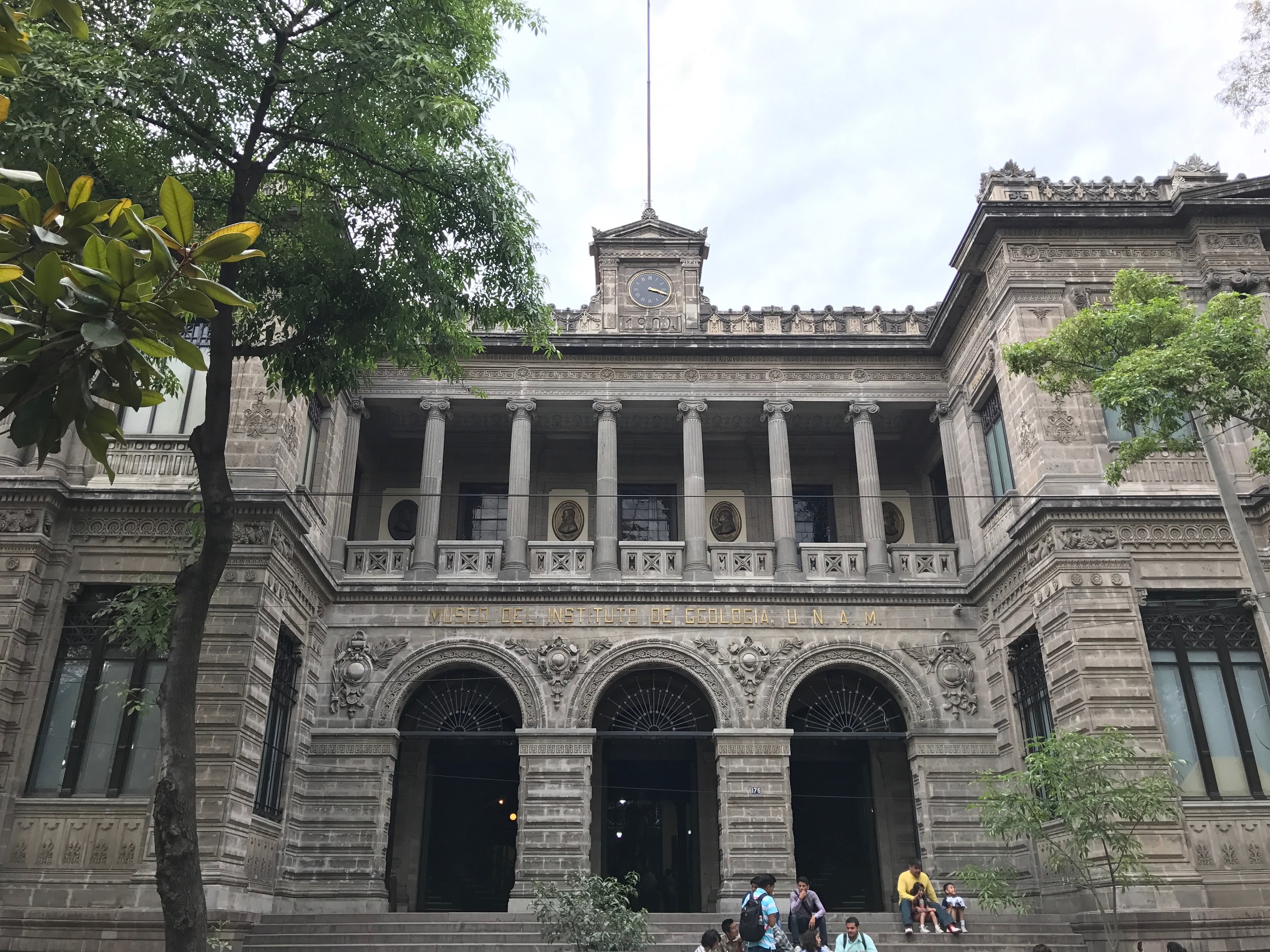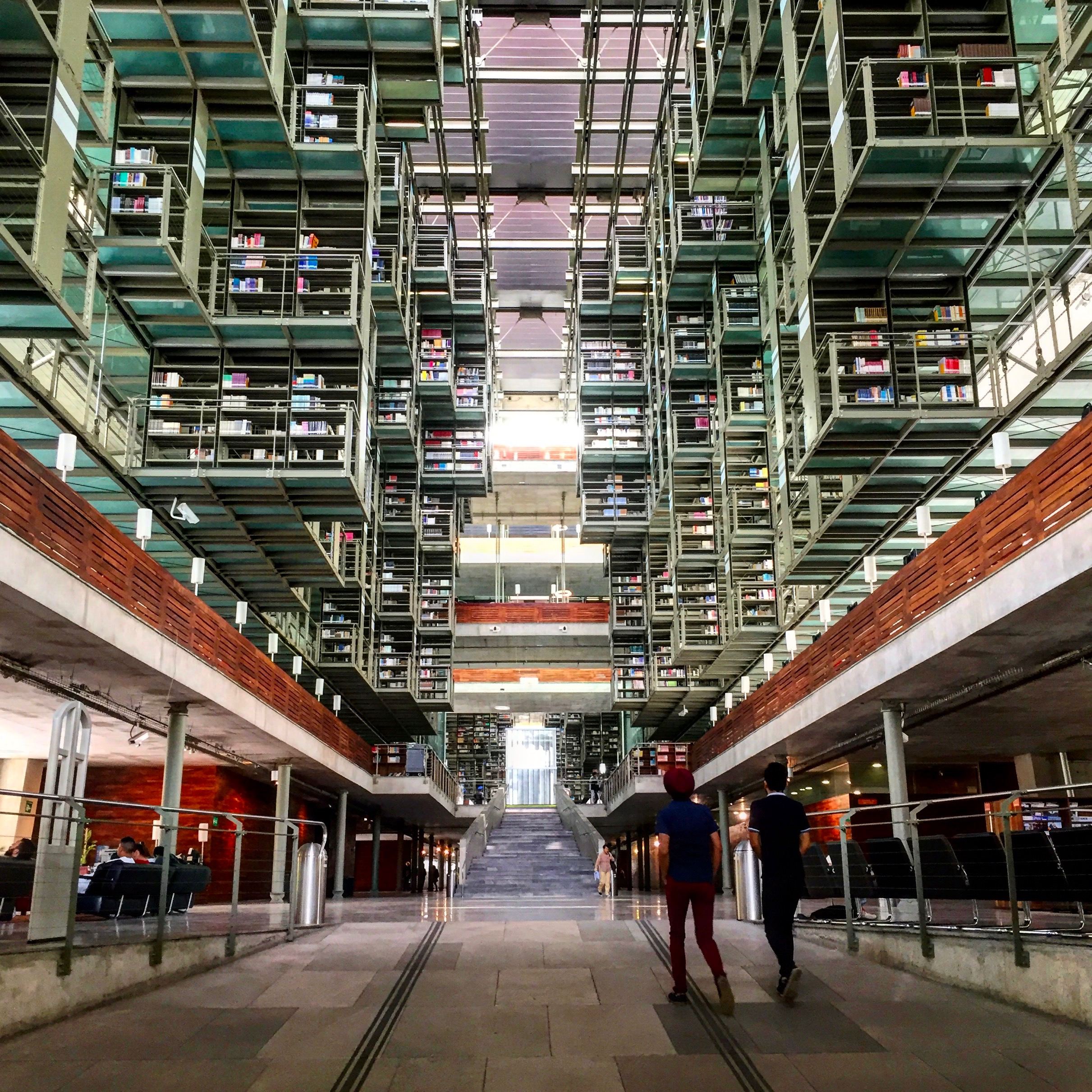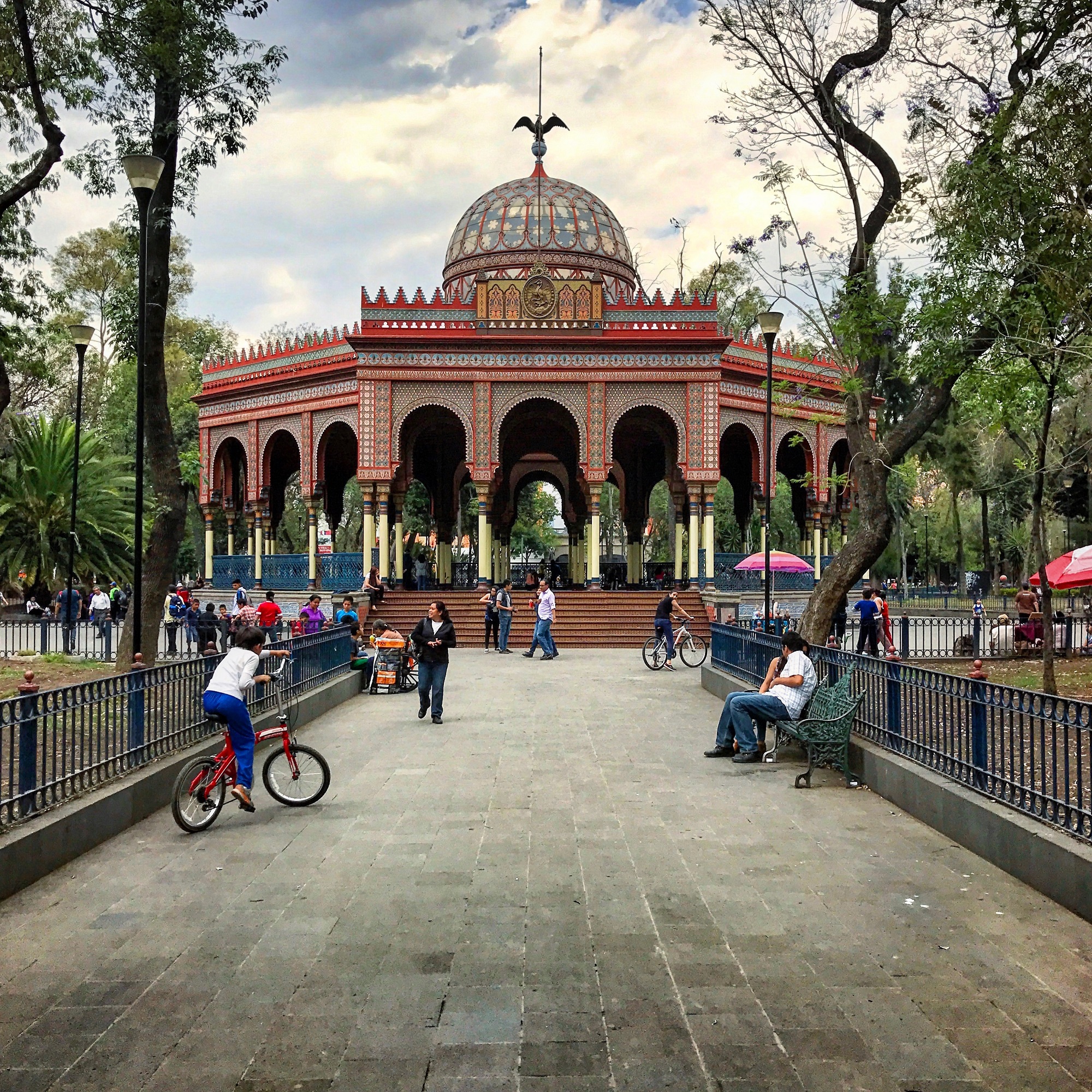 Where is Santa María la Ribera?
Like Juárez, Condesa and Roma Norte, Santa María de Ribera is part of Del. Cuauhtémoc.  It is located north of Juarez (although it is separated from Juarez by Col. San Rafael) and west of Centro.  The borders are quite precisely defined (unusual for Mexico City's colonias), with the north-south boundaries formed by Av. Ricardo Flores Magón and Ribera San Cosme and east-west limits established by Insurgentes Norte and Circuito Interior.  From the landmark Angel of Independence on Reforma, you can walk northeast to the center of Santa María de Ribera in about 40 minutes; it will take you about the same time to walk northwest from the Palacio de Bellas Artes.
Transportation in Santa María la Ribera
Public Transportation
Given its central location, it is not surprising that there are lots of public transportation options.  There are several Line 2 Metro stations on the southern limit of the colonia – San Cosme, Normal and Revolución. Just past the neighborhood's eastern border is the Line B Buenavista station connecting Mexico City with Cuautitlán in the State of Mexico via the Tren Suburbano. It also has easy connections not only to the Insurgentes rapid bus line and three Metrobus routes giving fast access to north-south routes in the city.
Ecobici, Carrot Car and Econduce
Ecobici, Mexico City's bike-share program, does not currently have stations in Santa María la Ribera. That said, there are plenty of stations in the neighboring colonias only a few blocks away. There is a Carrot Car option at Insurgentes and Calle Sor Juana Inés de la Cruz.  Although there are no Econduce stations in the area, if your heart is set on using the scooter-share program you can pick one up at several points along Reforma.
Taxis
As always in Mexico City, taxis are generally easy to find.  However, you should always be sure to find an official "sitio" when using taxis in Mexico – these taxis are a bit more expensive, but they are controlled by a dispatcher who makes note of your journey.  While many people feel completely comfortable using taxis that they hail from the street, these are entirely unregulated and safety may be a concern. Sitios are marked by signs and kiosks, and will most easily be found in front of popular destinations in the area, including busy restaurant zones and landmarks like the museums.  If you can't find a sitio, you will find that restaurants, hotels and other businesses will be happy to call a taxi for you.
Uber
Using Uber in Mexico City is easy, safe and affordable and is a good option for travelling in Santa María la Ribera, especially if you are not familiar with the area.  It is rare that you will have to wait more than a few minutes, even at peak times. If you have never tried Uber, go here and sign up and your first ride is on me! https://www.uber.com/invite/jeremya15, or just use the code "jeremya15" when signing up.
The Best Restaurants in Santa María la Ribera
Kolobok: Salvador Díaz Miron 87 –  Offers a somewhat unexpected taste of Russia in the middle of Mexico City from its menu of traditional eastern European dishes with a Mexican twist, including borscht and chiburekki.
La Oveja Negra: Sabino 215 – This family-owned restaurant has been an area institution since the 1950s and serves up barbacoa by the kilo.  Make sure you have cash on hand as they don't accept cards.
Salon Paris: Torres Bodet 152 – A popular cantina serving up free snacks and affordable drinks, as well as a buffet on the weekends.
Pozoleria La Casa de Toño: Sabino 166 – One of several installations of this always-busy go-to spot for pozole, flautas and sopes.  Definitely go hungry as the portions are generous and delicious!
The Best Cafés in Santa María la Ribera
La Galette, Churros, Crepas y Coffee: Santa Maria la Ribera 112 – The name pretty much says it all.  Eat-in or take out sweets, coffee, Italian sodas and more.
Camino a Comala: Dr. Mariano Azuela 27 – Serving Veracruz coffee, iced green teas along with sweet breads and other baked goods including sandwiches and pizzas.  Known for their attention to careful preparation.
Alebrije: Santa María la Ribera 84 –  This cozy shop takes its name from the fanciful Mexican sculptures and offers a range of coffees and snacks.
Café Alameda: Salvador Díaz Miron 96 – This is a great spot to enjoy a coffee with a view from the terrace overlooking the Alameda Park.
The Best Nightlife in Santa María la Ribera
UTA Bar Paranoid Visions: Insurgentes 134 – Frequented by the "el Chopo" crowd, this Goth-inspired bar features 80s music and a rich visual and cultural experience.
Pulquería la Xochitl: Eligio Ancona – A traditional pulquería offering up a number varieties of this formidable Mexican beverage for the brave-hearted!
La Malquerida: Jaime Torres Bodet 117 – Another excellent choice for pulque, but be warned that the secret is out and they are known to run out of the drink fairly early into the event. Small and cozy, a great place to start the evening.
Bar Papagayo: Amado Nervo 44 – If pulque is not your thing, you can enjoy great cocktails while watching live music at this popular spot.