For thousands of years, libraries have been the center of almost every developed civilization.  These institutions have protected ancient texts, books, manuscripts and important documents. They have served as a place where people can access  information and a safe space were accumulated knowledge is available to any who wishes to enjoy it.
Since the dawn of the Internet, and our ability to put our finger on information in a moment's notice, many local libraries around the world have been sadly closed down. In spite of this, libraries carry too much importance to disappear entirely, and in many cases they have been turned into important buildings in their own architectural right, such as these spectacular offerings from around the world.
José Vasconcelos Library, Mexico City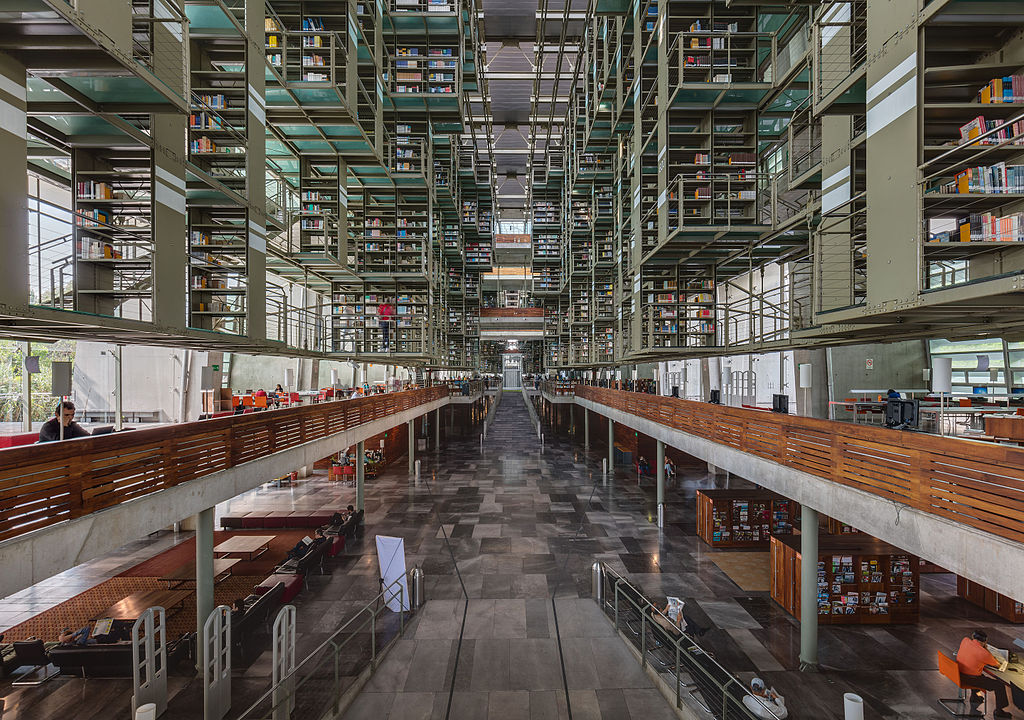 In the center of Mexico City is the beautiful Vasconcelos library, an architectural masterpiece and as much an artistic installation as it is an information center. This building was designed by architect Alberto Kalach, who utilized glass and concrete for the structure. Within the library there are 7 floors of bookshelves, each of which appear as though they are hovering above ground. The library was named after Jose Vasconcelos, a philosopher and politician who ardently promoted reading.
Escorial Library, San Lorenzo de El Escorial, Spain
This library is set in the beating heart of the Royal Site of San Lorenzo de El Escorial, once the home of the Spanish monarch. It was King Philip II who donated all of his personal collection to this library, as well as taking on a mission to acquire hundreds of books on Western European Humanism, from some of the finest libraries around the world. Within this library there are manuscripts from the Ancient Greeks relating to themes such as Arithmetic, Astronomy, Grammar and Dialectics, as well as some priceless illuminated manuscripts from previous Kings and Queens around the world. What makes the library so striking are the stunning frescoes that have been painted onto the ceiling and walls, completed by the Italian-born Renaissance painter Pellegrino Tibaldi. This exquisitely decorated library houses over 40,000 books, and is open to the public for visiting.
The Eye Library, Tianjin, China
This new library in Tianjin, China, is a futuristic and exciting building which seeks to promote both library use, and the accessing of new information via digital methods. The huge structure is designed in all-white and occupies a space of 33,700 square meters. The library is nicknamed 'The Eye' thanks to its lens-shaped atrium  and the Dutch architects who designed it have also added contoured curves around the building, each of which houses the bookshelves.
Strahov Monastery Library, Prague, Czech Republic
This photograph has been taken from inside the Theological Hall inside the Strahov Monastery in Prague, Czech Republic. The library was put in place in 1670 by then-abott Jeroným Hirnheim, who considered this architectural charm to be a gift from God himself. The library has suffered some damage through the years as a result of various conflicts, but thanks to regular reconstruction and care, it still stands today in all its glory. Housing over 200,000 volumes including over 1,500 first edition prints, the Strahov Library owes its fame as much to its high grade literature as it does to its breathtaking architectural glory. The arc ceiling in the Theological Hall is adorned with religious imagery coupled with intricately designed gold and limestone fixings, combining perfectly with the natural wooden structure and the decorations within the hall itself.
Stuttgart City Library, Germany
Stuttgart's principal library is a nine-story building which has been built through the inspiration of the Pantheon of Ancient Rome, and you can clearly see the intention when you stand outside this cubed structure. What is most exciting about this library is that the whole of the interior is set in white, with the idea of offering continuity from floor to floor, what this means is that the only colors you see are the books themselves, almost making them jump off the shelves at you.
Have you been to any of these libraries? What were your thoughts? Let us know in the comments section below, we'd love to hear from you.