Before I accepted the generous press trip offer from the City of Kosice to come visit their little slice of eastern Slovakia, I had virtually no idea it existed. Hell, I was even mixing up Slovakia and Slovenia when I was telling my friends about it.
If you have no idea where Slovakia or surely Kosice is located, open up Google Maps. The country is in central Europe, with borders touching Austria, Hungary, the Czech Republic, Poland and Ukraine. Kosice is the second largest city in the country with a population of around 240,000 people. I've traveled the area enough to know that it wasn't going to be hardcore eastern bloc, but one thing I learned is that the locals refer to the region as "central Europe" and I think this is a much more fitting designation than, "Eastern Europe". Sure there are a few Roma (gypsies) roaming around (as is the case with all of Europe), but Slovakia, along with its neighbors are members of the EU and many of these countries even use the Euro as their currency (including Slovakia).
I arrived to Kosice via Budapest on a small shuttle that took about 3 hours. There are a couple trains daily as well, but direct flights from the few places flying into the local airport are pricey (something they're working on). We took a walking tour on our first day and I was pleasantly surprised. The city more resembled Germany than other places I've been in the area. It's because many of the main architects actually came from Deutshland. The city center is very well maintained and showcases countless outdoor cafes, and on a sunny day, is pretty lively. The main cathedral is actually late Gothic (no onion domes here!) and is the largest example of a western Gothic cathedral this far east.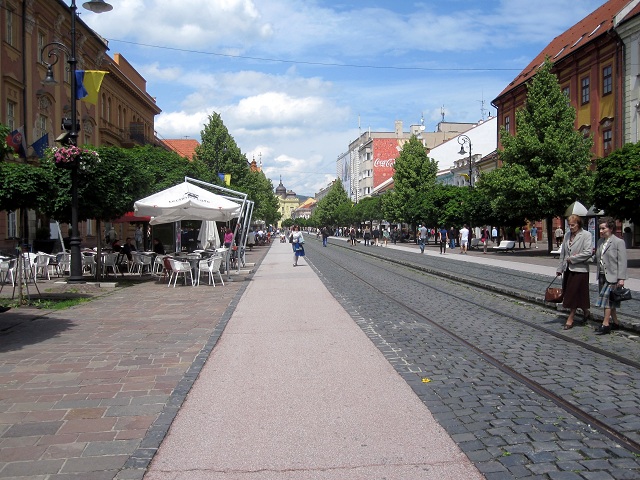 The main reason I was invited to Kosice by the tourism board isn't because I'm awesome (well maybe a little), but rather to promote that they were the prestigious winners of the European Capital of Culture, and since then, have invested a ton of money in sprucing up the city and are now offering all sorts of new cultural opportunities for both locals and tourists alike.
The first taste of this culture I experienced was when we were brought to the main square to witness a pretty awesome thing. A tower made out of cardboard boxes that was to rise 50 ft.! The artist behind the piece was a french man by the name of Olivier Grossetête. His style of art blended perfectly with one of the main goals of the Capital of Culture project, involving the people in their city. He pre-cut all of the boxes with some help from the locals (mostly students) and when it came time for the raising of the tower, he asked anyone who was watching to take part (including myself). Every time a new level was to be added, we all circled the tower and lifted it up as people shifted new boxes underneath. After a new level was added, people taped the shit out of it until Olivier gave the signal for everyone to lift up the structure once again. This process continued until the tower reached more than half way up the cathedral!
On the same day, Ivana, our designated guide from the City of Kosice (who was awesome by the way) told us we were getting an extra special treat, tickets to the symphony orchestra that night. Great…two hours of listening to a bunch of mediocre Slovaks plucking violins, but no my friends, the orchestra was in fact, the Tokyo Metropolitan Symphony Orchestra, one of the most renowned in the world!
I had grown up being forced to go orchestras and medieval choral concerts (my mom loves the shit) more than I like to admit, so I wasn't too excited, but after I heard the first booming note emanate from the perfectly synchronized symphony, I was hooked. It was truly amazing, and the 1st violin, a cute, young Japanese girl was absolutely shocking. There were people crying in the crowd and after the concert, there was a standing ovation that, no joke, lasted for 10 minutes. While I would have enjoyed maybe the Star Wars theme, or Indiana Jones peppered into the set list, their renditions of Tchaikovsky and other old composers I've never heard of before were truly stellar, it was a great time.

I had some pretty good food while in Kosice and a few places I can recommend are Reštaurácia Teatro (on the main st/square,Hlavná 32/58) which has good breakfast), Villa Regia for a well-priced, good authentic Slovakian meal ( Dominikánske námestie 599/3) and Mancini for great, cheap pizza (on Biela Street, next to CasablancaCafe).
The nightlife is pretty solid as well and picks up towards the weekend (Friday being the most popular day to go out). Some good places in the city center are Jazz Club, Little Havana and Golem (they make their own beers).
I spent a week in total in Kosice, Slovakia, and I can say I could spend some more time, it's just got a quaint, relaxed feel that will keep you longer than you'd expect.While there might not be 5 days worth of things to see in Kosice, it makes a great place to explore the region.