So after my stint in Portugal, previously pallid skin sun tanned and looking good, I headed to Slovakia for a press trip compliments of the city of Kosice and the Tourism Board of Slovakia. Where the hell is Kosice (pronounced Ko-See-Che ) you ask? I had no idea either, but after a bit of research and help from the tourism board, I learned it was the 2nd biggest city in Slovakia and located in the eastern part of the country.
I plan to write more about the city, but I wanted to share one awesome thing in particular that we did, a wine tasting in the Tokaj region, about an hour southeast of Kosice. Yes, any wine tasting is awesome so I was excited, but they purposefully didn't tell us why this area, or wines in particular were special.
Our van left around 10 AM from the Kosice city center. We exited the city through a flat valley and into the hills. The landscape was very picturesque and extremely green (it rained…a lot). We wound our way through some nice little towns (nothing like pictured in the movie Hostel) until we came upon a sign for the J&J Ostrozovic Winery. The grounds were immaculately maintained and showcased multiple flower beds and wine making antiques like old barrels and wine presses.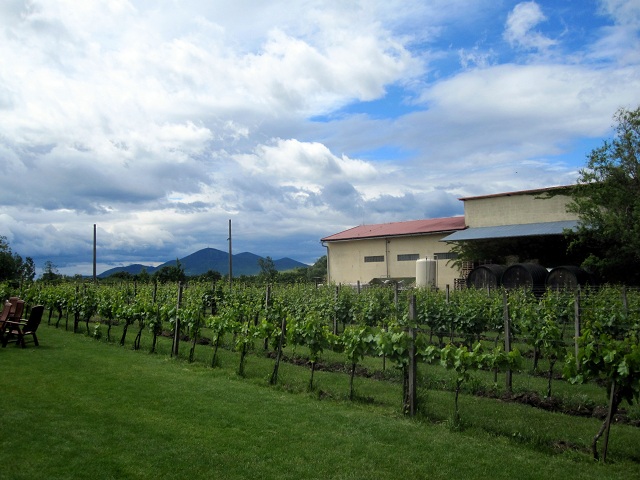 We were greeted by a rather burly Slovak man who welcomed us into the main building and asked if we needed sweaters. Sweaters? I thought we were just gonna stomp some grapes and drink our hearts content straight from the barrel. The next thing I knew we were descending down a set of steep steps (80 in total!) that look like they were leading to the dungeon of some medieval castle. As we started getting further and further down, the temperature began to drop as expected, but something else very strange began to happen.
A musky odor started to take hold of my nostrils as I felt water start to drip on my head and splash under my feet, WTF? As my eyes began to adjust to the darkness, I started to see some sort of white substance carpeting the walls and floor. Thinking I was just hallucinating still from the mushrooms I bought off a Gypsy in the main square, I paid no mind (just kidding!). As I heard the stocky Slovak in the front of the line begin to chuckle at our reactions, I started to accept it wasn't some sort of sick trap. When we reached the bottom of the stairs, we entered a cave that looked like something out of Mario Brother's the Movie…fungus, everywhere!
I then realized why they wanted to bring us here, I had never seen anything like it. Hundreds of wine barrels and bottles completely covered in green and white fungus. Our guide explained that the fungus adds a distinct flavor to the wine and is an integral part of the Tokaj wine making process.
Tokaj wine can only be made in a small region of Hungary and Slovakia because of the volcanic bedrock called tuff which the caves are dug out of. It's semi-permeable to water, so the caves are always wet and dark, just what the special fungus needs to thrive. I asked the guide how the fungus started, and he said they brought one barrel down with a little of the mold on it and the rest was history.
He showed us around the network of tunnels which were actually pretty extensive. He stopped at one shelf that had just one clump of mold in the corner and said that it was oldest bottle of Tokaj at their winery, and was from the early 1960's! Oh and that it costs 800 Euro.
After our little tour, we were brought to a tasting room (in the cave still) to sample the wines. I looked around the table as we sampled our first wine. The journalist from Hungary swirled briefly, sniffed and sipped, and I followed suit. Just when I thought I was a pro, I turned to see the French journalist spinning his glass vigorously, sticking his nose almost all the way down to the wine and making wild faces as he swished it around his mouth, culminating by spitting it right back out into a vase…I felt like an amateur. But, instead of disposing of my extra wine, I decided to put it down my gullet to ease my anxiety, and did the same with the next 7 glasses… I passed out on the way back to Kosice, it was a good day.
Tokaj wine from Slovakia is only available for sale within the country as they don't export it. It was pretty cool to sample 1. A wine that was made with mold, and 2. something probably only a few Americans have ever locked lips with. You can buy Hungarian Tokaj wines abroad, but to sample the real Slovakian deal, to Kosice you must go!