If gambling was the only reason to frequent a casino (we're not talking about Reno here), then opening one up would be as simple as setting up some slot machines and table games.  Naturally, players want a memorable experience in exchange for their time and money and while winning is on everyone's minds, good drinks, a fun atmosphere and "feeling important" is often higher on the list.  Each person's taste is different and one person will want a more modern experience while others want the charm and history that some of the older European casinos offer.
If you're looking for a full-blown casino vacation, check out the  top travel destinations for casino lovers. Below are three European gaming meccas of varying ages and why they are among the best casinos in Europe.
Monte Carlo – Monaco
One of the oldest casinos in the world is also among the most famous.  The Monte Carlo Casino in Monaco finished construction in 1863 and was designed by Charles Garnier, the architect of the Paris Opera House.  Overlooking the Mediterranean Sea, the classical style buildings are set in a formal garden terrace.  The combination of architecture, history and gaming makes this simply one of the best older casinos in Europe.
The gaming at the Monte Carlo starts off with over 1,000 slot machines, the largest collection in Europe.  Machines range include roller machines, video rollers, video poker, progressive slots and more.
The Beaux Arts style of architecture and variety of gambling options in the casino combine to make a breathtaking display to patrons.  One persons was so awe inspired by the Monte Carlo that it became the background in one of his novels.  Ian Fleming used the Monte Carlo to describe his "Royal-Les-Eaux'" casino in Casino Royale that was published in 1953.  Later, the casino would be used in various James Bond films.  Among those using the Monte Carlo as a backdrop included Never Say Never Again, GoldenEye, and Casino Royale.
Porto Carras Grand Resort
Considering that Europe has numerous casinos dating back hundreds of years, the Porto Carras Grand Resort in Greece is considered one of the newer European casinos at 35 years old.  In casino towns like Las Vegas, it would be considered a dinosaur.  The property of 1,763 hectares was purchased in the 1960's by Giannis Carras.  It wasn't until 1973 that the construction on f the property actually began.
The Porto Carras is  known for its casino gaming that includes 423 slot machines, and numerous table games including American Roulette, Blackjack, and Caribbean Stud poker.  One unique feature of this casino is that you must be 23 years of age with appropriate ID to enter the casino.  This is one of the few casinos worldwide to have this age requirement.
The primary reason that this resort is such an attractive option for casino goers is the fact there is much more to do then just gamble.  This is a true resort nestled among 9 Kilometers of beaches with a bevy of activities available including golf, water sports, horse riding, diving classes, climbing wall, beach volleyball, hiking trails, spa, marina tours, and more.
Silks Casino Club
One of the smaller casino venues in Dublin is one of the best choices for those who want the look and feel of a private casino that you would see in movies like Rounders.  Silks is a small "member's only" club but membership is free and relatively easy to obtain.  While only operating limited hours from 8 p.m. to 6 a.m., the club gives a great experience to those that are looking for smaller upscale environment.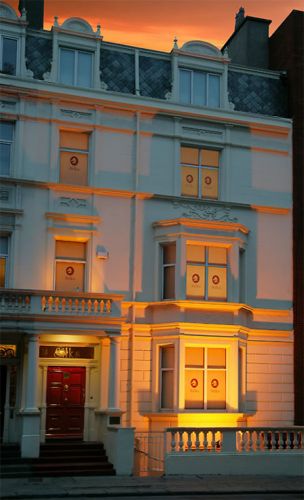 Games at Silks include Blackjack, Roulette, Fast Poker, Stud Poker, and Punto Blanco.  Silks also has a Texas Hold'em table setup for those wanting real poker action, but without the long waits of the big casinos.
Silks has just been in operation since 2003 but has quickly built a reputation among the private upscale gambling community.  It doesn't have the history of the Monte Carlo or even Porto Carras, but for those of you ever wanting an intimate gaming experience, Silks has you covered.
Have you been to or know any other impressive casinos in Europe?