When I travel, I'm allured to creating personal connections with people and places.  While seeing the heroic metropolises of Paris, London and New York London and New York are on every human's bucket list, I prefer to visit places where I can get to know the locals, manage the urban layout, and relax if I so please.  Not to mention, second and third tier cities are much more affordable, still have all the luxuries of larger cities (I'm really just talking about ubiquitous Wi-Fi here) and public transportation usually isn't even an issue, because exploring on foot is the norm.  One of my favorite smaller cities to visit is Tarragona, a seaside gem on the north east coast of Catalonia Province and the perfect place to spend Spain holidays.
Just a little over an hour south of Barcelona on the train, Tarragona makes a great day trip, or if it's summer, the perfect place to spend a night or two.  Just like in Barcelona, The people of Tarragona have two official languages, Spanish of course, and one you might not have heard of, Catalan.  While living in Barcelona, I was constantly mixing the two up as I was just learning Spanish, and the people of the Catalonian province have a fierce national pride and will most likely answer you in Catalan, regardless of what language you address them in, but they're still nice about it some how!
What to see
What's special about Tarragona is its amazing collection of well-preserved Roman ruins.  The city was once the Roman Capital of the Iberian Peninsula, so you can be sure they decked it out with the finest in architecture and amenities like an amphitheater, fresh running water from an aqueduct and a large forum .  The majority of ruins are visible at the south of the Old Town and overlook the crystalline Mediterranean.   Have a stroll around and check them out, you'll be impressed.
When walking around the Old Town, more Roman ruins are scattered all over the place and pop up in plazas, are built into houses (or vice versa?) and a large fortress wall surrounds the western part of the city which strolling along will make you feel like you're living in a scene from Troy.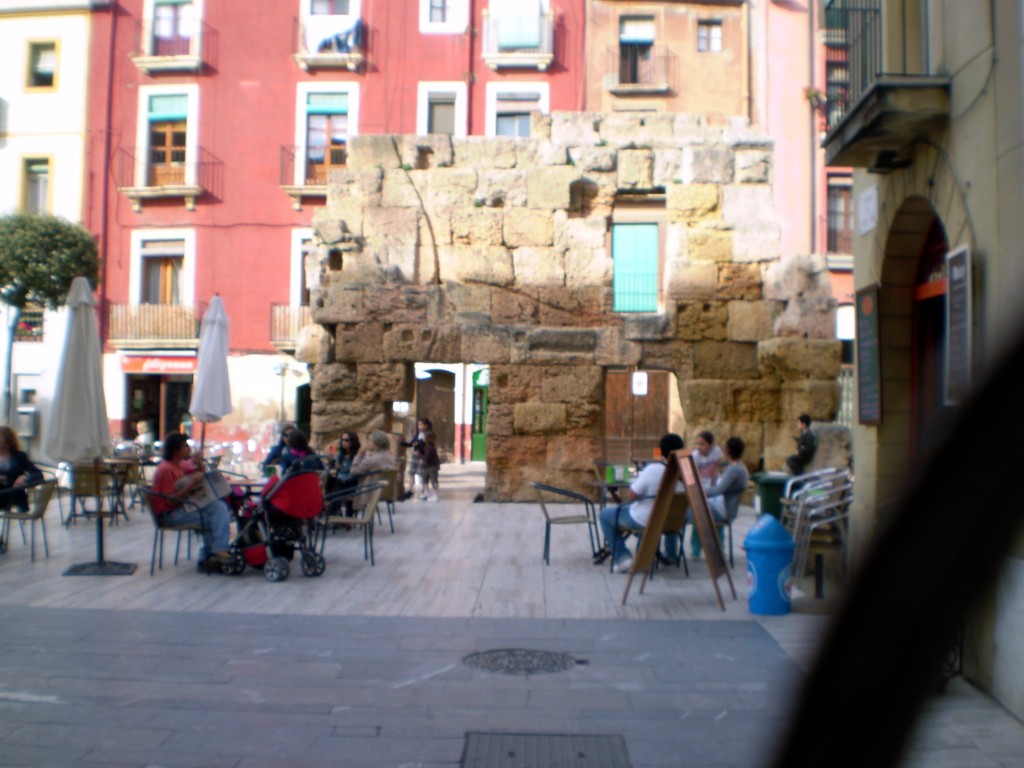 The cathedral is very impressive and is a mix of both stout Romanesque and more airy Gothic architecture and its cloister is a relaxing place to have a rest and catch up on your day dreaming.
If you're all historied out, then have a stroll down the Rambla Nova in the heart of the city.  This thoroughfare is a pedestrian promenade lined with beautiful early 20th century architecture that will remind you more of Paris than an ancient Roman capital (Google Street View it!).  Many quaint cafes line the tree-shaded street with outdoor seating and great people watching.  At the end, you'll find an impressive statue of men forming a human pyramid, which is supposedly some sort of Catalonian tradition (wish I could have seen them try it in real life!).
Nightlife
Nightlife in Tarragona is amazing during the summer months when people flock there on the weekends to wander its immaculately maintained streets, and of course, to relax and catch some rays on the white-sand beaches just steps from the heart of the city.  The majority of the bars and clubs are clustered together at the Marina and Port which makes it convenient to hop from one to the next, with many having different vibes and themes from salsa to deep house.
Some more traditional Spanish watering holes can be found on almost every street around the city center where Estrella Damm beer flows like win…well, beer!
Tarragona is truly a great place to spend a couple days that offers something for everyone, sun, fun, history and drinkery.  Happy travels!