So after my two months in Asia, I had to spend two days traveling to get all the way across the world back to Miami where I spent three days gathering some clothes, Couchsurfing my own couch (not kidding), and then flying right back out to the furthest possible place I could in the continental United States, Seattle, Washington.
Why such jet setting you ask? Well my friends, even travel bloggers have to work sometimes. Although I have basically become pretty location independent with supporting myself (this blog, my other site Top Spot Travel.com and my web development business), I still don't turn down money on the table for fun jobs that I get to actually interact with human beings beyond your typical coffeehouse introvert.
I'm in Seattle this week for the auto show which just finished. I was working as a product specialist, i.e. wearing a $1000 dollar suit they provided me and answering the same questions over and over again.
"Does this have a Hemi?" Yes sir. "What's the towing capacity on this one?", 5000 pounds ma'am. "You don't know the rear axle ratio on this Jeep compass off the top of your head?!", Go fuck yourself.
Being asked a million questions paired with the worst case of jet lag I have ever experienced, cherry-topped with hangovers from drinking heavy-ass IPAs (India Pale Ale) with co-workers equaled a couple days of serious struggling on the job. I was waking up at 5 AM most days and only sleeping a few hours at night, but I finally got myself back on schedule thankfully.
I decided to take the auto show gigs as they will fly me out anywhere I am in the country to wherever the show is, put me up in a hotel for the week and pay me pretty well to stand around and talk with people about cars. It's also a great way for me to actually see my own country which I have yet to really do.
My next auto show is in San Francisco next week, and instead of having them fly me all the way back to Miami and right back out again three days later, I opted to spend the time in between shows here in Seattle. Here are some cool things to see and do if you find yourself in The Emerald City.
First Impressions of Seattle
Seattle is bigger than I thought it would be. While the majority of my time was spent near my first hotel next to Century Link and Safeco fields a bit south of downtown, I got to explore a bit more after work. Seattle sports a sizeable downtown with many semi-urban neighborhoods surrounding the skyscrapers like Capitol Hill, First Hill, Pioneer Square (original city center) and the University District.
Travel notes about Seattle
Seattle is not a cheap city. I was actually surprised at the prices  including food and drinks. It's also not nearly as saturated with your typical chain stores and restaurants as other US cities. Don't expect to see a 7-11 on every corner or McDonald's at every turn. But, you will see a ton of Starbucks so don't fret. It's kind of refreshing to see a lot of locally owned stores, but when you have to walk 6 blocks in the heart of downtown to get to the closest pharmacy, it's a bit annoying.
Seattle is a pretty diverse city, but when I mean diverse, I mostly mean every type of white person and some Asians. There are a lot of homeless people and street kids who are pretty strung out and many have dogs (pit bulls), but for the most part, everyone seemed pretty harmless. Working at the auto show, I was given the impression that Seattle was comprised of mostly mountain people who go off-roading any chance they get, but after walking the streets and spending a few days in the city, I really saw its true colors. Hipsters galore, coffee heads that can sometimes be confused for your purist hipster, but are really just rugged java freaks (Starbucks was started in Seattle), yuppies, pot heads (weed is now legal in Washington) and just your typical homely folk. While there is a diversity of people, everyone for the most part is extremely friendly and happy to help you in the right direction, or just talk to you about the city and surroundings for which they are pretty proud of.
Hotels
There are a wealth of hotels in Seattle (as well as hostels), but be warned, they aren't cheap. I opted to stay at a place called Hotel Five in the Belltown Neighborhood of downtown which was actually a great find. I paid $92 a night for a big room that had good Wi-Fi, free water bottles, Tommy Bahama shampoo, Satellite TV and a Keurig coffee maker.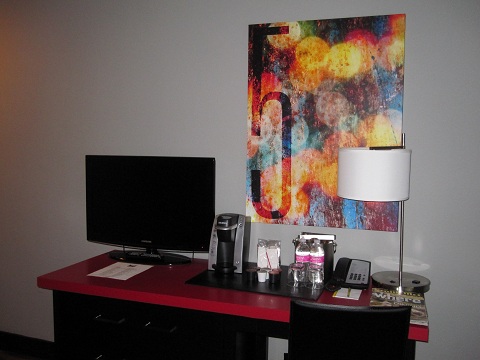 They also had free Starbucks and pineapple cupcakes in the lobby, a business center, decent fitness center and free bikes. The place was really geared towards flashpackers which I thought was cool. Just be aware that Seattle has a 14% hotel tax/night so account for that when creating your accommodation budget!
Things to do in Seattle 
While I only got to spend a couple days actually exploring, I saw some cool things that I thought were pretty unique and worth your time if you make it to Seattle.
The EMP (Experience Music Project)
Easily the coolest museum I've ever been to in the entire world, the EMP in Seattle is a Frank Gehry designed structure that is dedicated to pop culture, namely music. Seattle has a storied history when it comes to modern music as it's the birth place of Jimmy Hendrix and the Grunge Movement powered by such bands as Nirvana, Pearl Jam, The Presidents of The United States of America and Alice in Chains.
There are some well-coordinated exhibits about the music history of Seattle, Nirvana, Jimi Hendrix, the leather jacket and the history of science fiction just to name a few.
Some of the other cool exhibits include a sound lab where you can actually learn and play all sorts of instruments including drums, guitars, keyboards, vocals and bass. There is also a virtual live performance called On Stage where you can plug a Fender Strat guitar into a huge amplifier and play and sing along to your favorite classics like Purple Haze and some others. You can even purchase your performance on DVD or as a picture…or you can scum a quick shot of the monitor when the attendant isn't looking!
Don't miss the huge high-definition movie screen with super sound system playing music videos, it will bring you back to the good old days when MTV actually just showed music and not shit TV shows.
Pike Place Market

 
Built in 1907, Pike Place Market is one of the oldest continually operated farmers markets in the country. It is located right in the center of downtown on the waterfront and actually has grown into a small neighborhood. The market is huge and reminds me more of an M.C. Escher drawing than your traditional marketplace with multiple levels, shops tucked into little corners and all sorts of characters running around including hipster fish mongers (not kidding) and mountain folk peddling their highland wares.
You could easily eat every meal on your trip in Pike Place as there is a melange of great stalls, little restaurants and stands to eat locally grown or made foods that are really good.
Pioneer Square
The area around Pioneer square has some really cool architecture from the turn of the century, and you can find some good restaurants, bars and nightclubs that get going around 11 PM. You can also take the Seattle Underground Tour which leaves on the hour between 11 AM and 6 PM and shows the original street level of the city beneath the current buildings as well as some comical tales of how the quirky city came about.
Capitol Hill
One of the most densely populated neighborhoods of Seattle, Capit0l Hill resembles San Francisco in many aspects. It is a center for nightlife, the gay community, restaurants, interesting, independently run shops like art galleries, hipster bakeries, tattoo parlors, smoke shops and everything in between. It's definitely a cool place to wander around both day and night and the architecture is nice from brick buildings from the early 1900's to the 1920's, all the way up to modern low-rise structures designed to blend in with the older ones.
If you're looking for a great place to grab a quick burger, shake and fresh fries. Try Dicks Drive-in (115 Broadway East). It's been there for over 50 years and looks like it hasn't changed since. Burgers are only $1.25!
While I just got to scratch the surface of Seattle, I really had a good time there. It has a much more authentic feel than a lot of other major US cities for its size and I definitely give it a thumbs up and recommend checking it out if you find yourself in the Pacific North West.