I just finished a quick weekend in San Francisco en route to Asia, and I have to say, it might take the cake for my new favorite US city. I've been here once upon a time with my parents (under 10) and all I can remember is making my mom cry with a double-team whining onslaught with my brother, our shitty 80's Toyota Carolla rental barely making it up a steep hill and watching the sea lion orgy at Pier 39.
Well, deciding to break up the long haul from Miami to Manilla, San Francisco seemed like a good halfway point (well at least it's in the right direction). I stayed at a pretty nasty, massive hostel in the Union Square area which, when I arrived, was informed it was dubbed "America's number 1 party hostel" and the Wi-Fi password was in fact, "PartyHostel", FML. I guess I'm getting older now when such a prestigious "award" is more of a turn-off than a perk. Anyways, they did have free beer every night, so I made sure to have enough that I might be able to sleep through drunk European kids running around and passing out in the halls.
Anyways, besides the slightly dodgy hostel (I probably should have checked Trivago before going!), San Francisco was awesome. The summer weather is really pleasant and on the cooler side around 65 degrees (20 Celsius) and I was lucky enough to land two perfectly sunny days (not so common). It's the perfect weather to find things to do while you're in San Francisco. Beyond the cool temperature, San Francisco is famous for another unique weather related phenomena, fog. Not pea soup fog like the Brits know all too well, but a rolling fog that if you find yourself inside, visibility  is decreased to mere feet. It is a beautiful thing to watch it coming off the mountains and into the bay.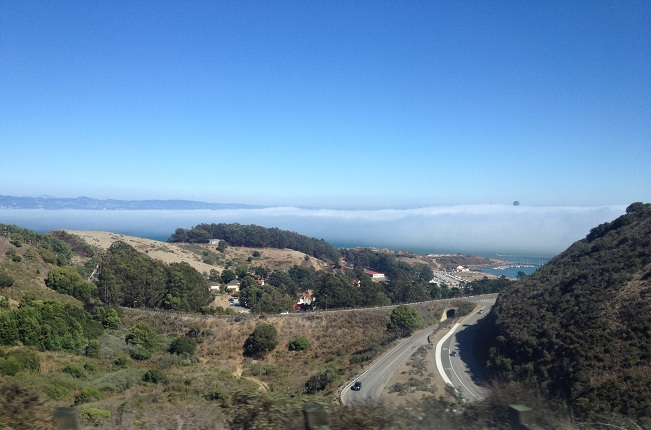 San Francisco is a completely walkable city for the most part (if you don't mind the occasional hill!) and offers something for all the senses when taking to two feet. I had a nice walk my first day through a few of the neighborhoods. I was staying in the Union Hill area which kind of reminded me of parts of Manhattan with it's mid-rise edifices, stores and cool park (Union Square). The Westfield Mall is  in this neighborhood and is definitely one of the best urban malls I've been to, and if you're not in the market to buy anything, it's still worth a trip just to see the interior, and especially its massive dome.
A little east of Union Hill you'll enter China Town. What's cool about China Town in San Francisco is the architecture. Turn of the century brick construction with Asian influence that was built specifically for its far-east inhabitants. I've never seen anything historical built specifically for any type of immigrant group in America, beyond some flimsy adornments that were later added by the tenants. The smells of the spices and foods while walking through will make you feel like you're in another country all together.
Past China Town, you'll continue on east through North Beach which has a ton of great restaurants and bars, mostly along Columbus Ave. There is also a beautiful park with a picturesque church that sits on the eastern border called Washington Square.
If you continue eastward, you'll reach the waterfront, anchored by Pier 39, the rather cheesy tourist pier with lots of overpriced seafood restaurants, etc. What's really cool about Pier 39, is actually the pier just north of it where you can walk pretty far out and have a look at Alcatraz if the bay is clear of fog and also, the mascots of San Francisco, the squealing sea lions that hang out on the docks.
There is truly more to see and do than just a weekend allows for, especially if you decide to head out of the city and enjoy the beautiful surrounding country side. Napa Valley (wine country) is only 60 miles away, Yosemite National Park is a couple hours, and Muir Woods where beautiful, ancient redwood trees grow is less than an hour. I personally opted to visit Muir Woods for its proximity. I took a tour that cost me $50 and included hotel pick up and drop off, a guided tour out to the woods and a stop in the beautiful town of Sausalito.
I would suggest you visit Muir Woods during the week or on a non-holiday weekend as it was pretty packed and it took a little bit away from the tranquility of the forest when there are toddlers screaming and asking their parents "where's the slide?". Anyways, you'll feel like you're going back in time within the forest, and the massive redwood trees are actually considered to be almost immortal and have been around for millions of years. Their tightly packed networks of roots connect with one another, and when one tree dies off, another sprouts where it left off.  They also grow in circles with the oldest tree in the middle and younger trees growing around it, almost paying respect to their elder.
I had a great time while in San Francisco and definitely want to head back for a longer stay so I can see more of the city and the surrounding attractions. Hell, I was almost close to searching for San Francisco Movers on Google!