After just getting back from two months in South East Asia, I have already been thinking about my next jaunt there as I felt like I just scraped the surface. One country I didn't get a chance to enjoy was Vietnam, so when Lela Lake offered to write a guest post about why it's a cool country to check out, I said sure!  Check out her top choices for places to see while visiting Vietnam.
From professional globe-trotters to "gap year" explorers, travelers are discovering how they can tour in Vietnam for a fraction of the cost of other destinations! Nature-loving backpackers are enthralled by the extraordinary countryside, intrepid explores dig the ancient ruins and remote villages and adventurous diners delight in local delicacies.
Dalat
This city looks so much like Paris, you may think you've walked through a portal! Built as a playground for French residents, this colorful town even has its own scaled down version of the Eiffel Tower. Unlike the heat and humidity of the coastal towns, Dalat enjoys clear mountain air with pleasantly warm daytime temperatures and crisp evenings.  The Da Lat Market is a feast for the senses, full of exotic local delicacies along with recognizable fare like fresh avocados, artichokes and strawberry jam. For luscious Vietnamese coffee and great low-cost meals, try the Backpackers Café (61- 3 thang 2 Street, F 1) where the friendly staff shares tips for renegade travelers.  Excellent budget accommodations are provided at the Dalat Green City Hotel where the helpful English-speaking staff bend over backwards to make travelers comfortable in their newly refurbished rooms with free Wi-Fi and complimentary breakfast. Take a stroll by the Crazy House, a fascinating hotel that looks like it came straight from the pages of a Dr. Seuss book!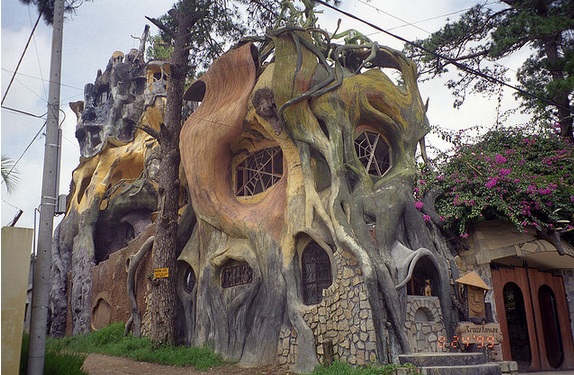 Quy Nhon
Skip the tourist beaches and head for this undiscovered coastal gem where the friendly villagers always say "hello" to strangers. Although a thriving city (300,000), it seems smaller since there's no heavy industry and the traffic is mainly mopeds and bicycles.  The beautiful coastline is surrounded by lush green mountains and the sandy beaches are unspoiled by pesky vendors. Although it's a high-end establishment, the Royal Hotel & Healthcare Resort has very reasonably priced rooms that include garden views, private baths and complimentary continental breakfast. Excellent "backpacker food" is served at Barbara's Kiwi Connection (18 Nguyen Hue) where her homemade carrot cake and Earl Grey tea are comfortable reminders of home. Barbara herself is full of advice for thrifty travelers and can arrange trips to the nearby Po Nagar Cham Towers, fascinating ruins reflecting India's influence on this region that are especially beautiful in the late afternoon light.
Sapa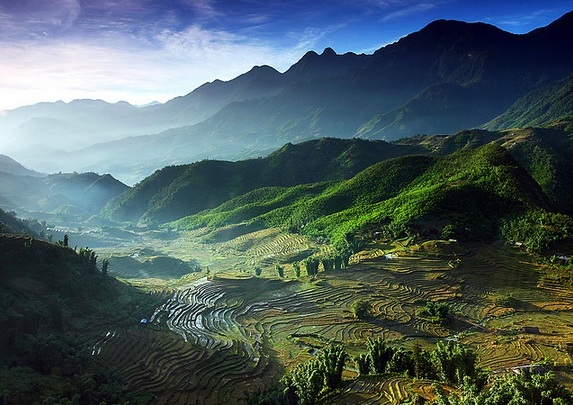 High in the misty Hoang Lien Son Mountains, this persistent town has weathered many battles to bloom into one of the coolest backpacking destinations in Vietnam. The views of the surrounding countryside are stunning, that is when you can see them through the blanket of fog that frequently rolls in that adds a mystical touch to this bustling city. The Little Sa Pa Restaurant is a favorite of both locals and expats who appreciate the variety of excellent dishes, from vegetarian fast food to Italian and French dishes that are quite affordable (pizza under 5 bucks). Budget-priced rooms are available at Sapa Starlight where the sparkling clean accommodations have beautiful views of the terraced valleys and the perks include washing machines, a helpful tour desk and high-speed Internet kiosk. Just outside of town is the Hoang Lien National Park where the many different elevations create micro-ecologies in a protected environment creating a huge diversity of wildlife and impressive botanical wonders.
Lela Lake is a seasoned traveler who shares her love of exploration and discovery with her readers. Originally from Texas, she has lived in several countries around the world including Vietnam. Lela writes about her backpacking adventures for Hostelbookers.com.
Have you ever been to Vietnam? What were you're favorite places?