So I've been spending a few days hanging out in Ao Nang, Krabi province in Thailand this week. The area is beautiful, punctuated by almost vertical limestone cliffs and mountains that run from the mainland right up to the ocean's edge. Krabi is also very accessible as there is an international airport with direct flights to Bangkok, Singapore and a few other places.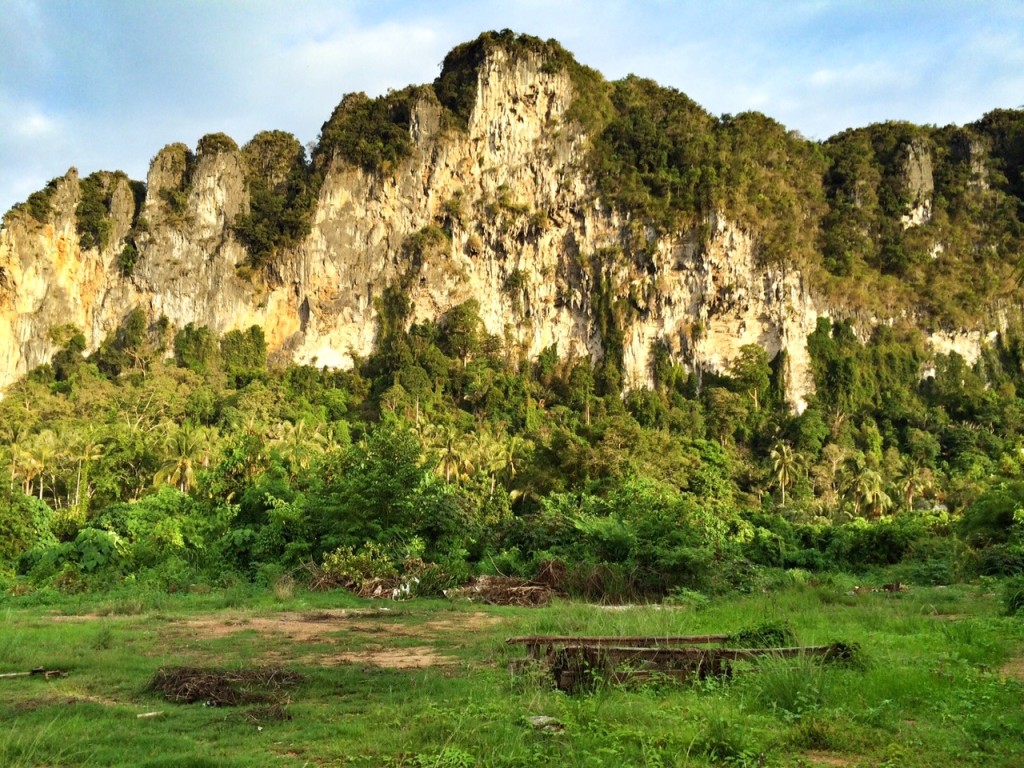 Given I just spent the time to finally get scuba certified, I figured I should give a dive a shot outside the loving sweet embrace of my instructor, Big Joe.
I went to a couple dive shops to get some pricing, but I quickly realized that basically all of the shops were working together because it's low season and the prices were all the same. The first day I wanted to go, all of the shops in the entire town couldn't even get 8 people (the minimum) together, but thankfully the next day they had about 30.
I woke up at 6:30 AM and headed to the shop where they fitted me for my gear. We then hopped into a pickup truck and headed for the pier where a traditional Thai longtail boat shuttled us out to the dive boat which was actually pretty sizable.
We stopped at nearby Railay Beach to pick up a couple more people and then we were off to Koh Phi Phi, a popular island about 30 KM (1.5 hours) from Krabi in the Andaman Sea. Many people have said I should go stay on Phi Phi, but every time I read about it, I got a bad vibe. It's a popular stop on the "banana pancake trail", i.e. backpacker hub which I have grown to disassociate from in recent years.
Our boat pulled up around midday to the main port of Phi Phi and we were told we had about 45 min to walk around, check out the town, the beach, etc. I hopped off and headed to the end of the pier and checked out the colorful longtail boats "docked" on the beach.
When I entered the town, I have to say I wasn't very impressed…at all. It was pretty filthy, smelly, ramshackle and not somewhere I wanted to be ingesting anything besides beer. The main beach on the other side of the island (which is a 5 min walk from the pier) also wasn't so spectacular for me. Around the small bay you can see some impressive hotels precipitously perched on the hills, but I imagine if you stay at one of those, you don't leave much (probably for the best). When I came back to the boat, we were off to our first dive of two for the day, Viking Cave.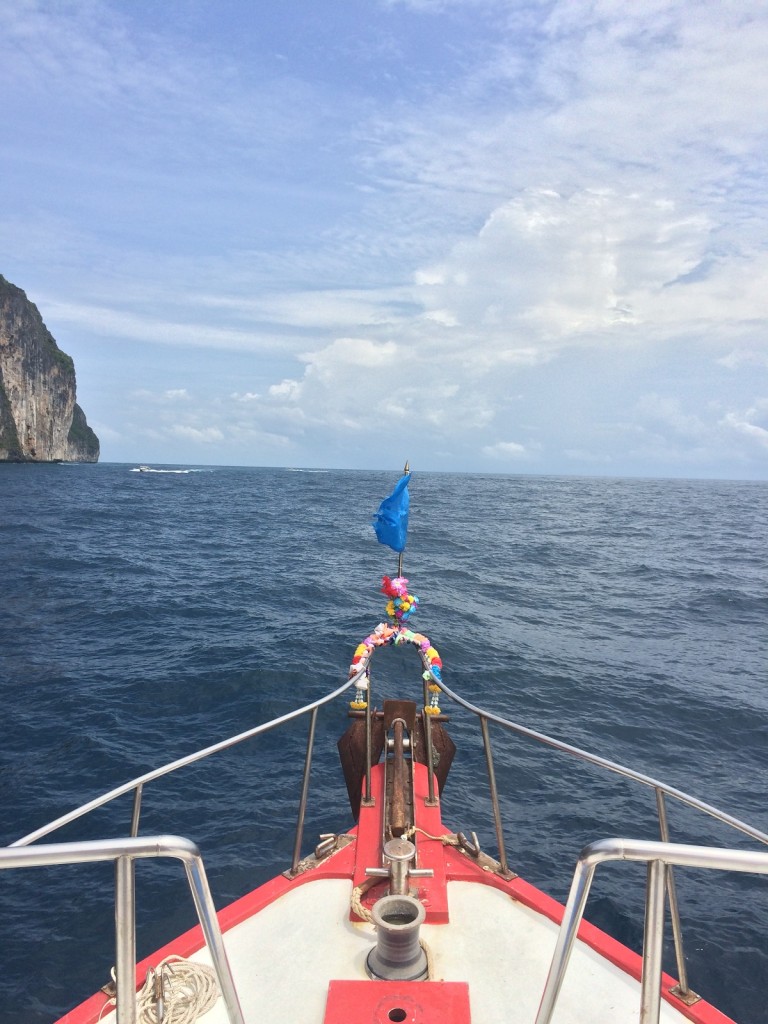 When we got to the first dive site, everybody suited up, lined up single file, and slowly penguined our way to the back of the boat where we Navy-sealed into the water. Of course I didn't follow the instructions I had beat into my brain by Big Joe and forgot to hold my mask onto my face as well as my weight belt, both of which almost went the way of the Titanic, but I was quick enough to secure both thankfully. After double checking everything, I started my descent to the bottom about 15 meters or 50 feet down, (see video below).
The water clarity was decent and when my dive guide led me to the reefs I saw some amazing corals, very colorful schools of fish, disgustingly large sea cucumbers complete with 6 foot poop trails, and a cuttlefish (a cross between a squid and fish in my layman grasp of it).
We dove for about 50 minutes and then we ascended, hopped back on the boat and had lunch which was actually a great yellow curry with chicken, pumpkin and fried rice. I was starving by that point and definitely overate which left me laying on a bench like Jabba The Hutt for about half an hour. After I got my act together, it was time to suit right back up for the second dive.
Our second dive was off of Mosquito Island, and with a name like that, it's probably the last place you want to be marooned, well, maybe just after Ladyboy Island. All jokes aside, it was a really beautiful place.
Under the water, the visibility was a bit worse than the first site, but I thought that was actually kind of cool because as I was exploring, things just came into focus out of nowhere, and at this site there were numerous large underwater statues. There's nothing like swimming along minding your own business when BOOM, you've got a coral-encrusted Poseidon staring at you.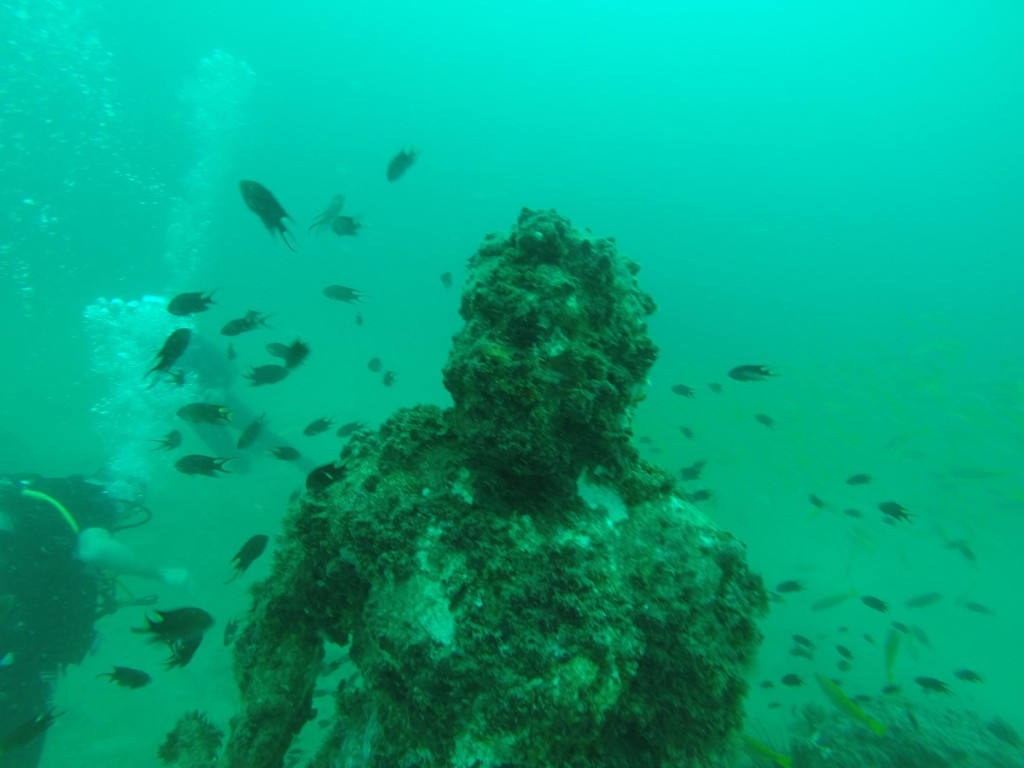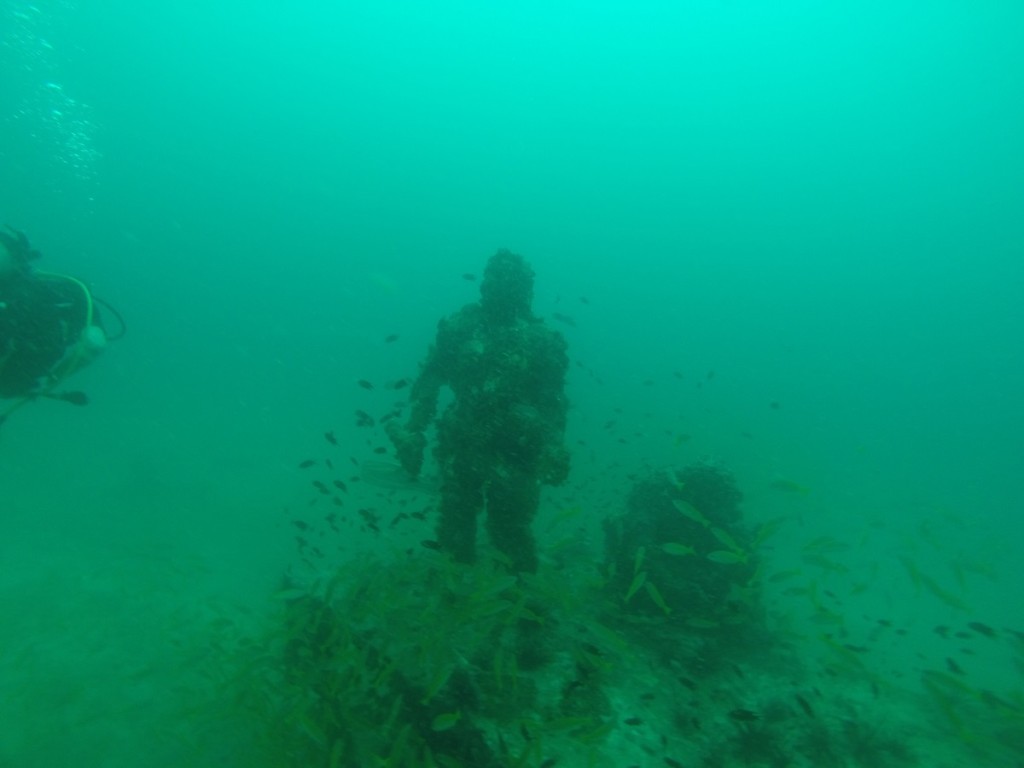 After the dive, I climbed back onto the boat, packed up all of my equipment, and headed up to the top deck to crack open a beer and talk about the dive with everyone else. When we made it back to Krabi, I treated myself to a great dinner. A large Chang beer, pad thai and som tam (papaya salad). It was a fun day.