For those of you who don't know, when I'm not abroad, I'm most likely in my home base of Miami Beach. It's walkable, it's sunny, and there are plenty of people from all over the world to talk to if I ever get antsy for the road. While Miami has plenty to do, I never venture too far out of the area. If you go an hour in any direction, you're pretty much in the deep south, which I want nothing to do with.
So, deciding I wanted to take a little vacation without having to go to the airport, I thought long and hard about what was within reasonable distance that I haven't been to yet, and one place came to mind, Key West (I'm not counting the cruise I went on over 15 years ago)!
What was once an island only accessible by boat is now connected by road thanks to one man, Henry Flagler. While this industrial era tycoon is basically responsible for everything south of West Palm Beach (he brought the railroad there), Miami wasn't enough for him. He wanted to push the limits of modern ingenuity, engineering and what is basically just humanly possible. He wanted to connect his prized Florida East Coast Railway to what could even BE the end of the line, literally. He wanted his railway to extend all the way to the quaint little island community of Key West, just a short 90 miles north of Havana, Cuba.
Believe it or not, Key West was the largest city in Florida at the turn of the 20th century with around 20,000 people (and it was the richest too). It was a center for trade between Cuba and the States as well as a hub for ship salvagers making boat loads (no pun intended) of money collecting the remains of the countless shipwrecked vessels along the Florida Reef (one of very few still living reefs). All of this peaked Flagler's interest and he began the massive project of linking Key West by rail over 128 miles to the Florida mainland. It only took his workers 8 years to complete the railroad between 1905 and 1912. As you drive along the highway which replaced the railroad after a major hurricane in the 1930s, you can still see remnants of Flagler's rail line including some impressive steel bridges and crumbling concrete viaducts.
The drive takes about 3.5 hours from Miami, and while there are some nice views of the multi-colored water and islands along the way, Key West is a welcome sight after basically just dilapidated motels and bait & tackle shops punctuating the ride from the beginning of the Keys (Key Largo). Key West is really a nice place sporting historic wooden houses, tree canopied streets, cage-free chickens (yup you'll see them running around all over) and massive Iguanas roaming freely.
I stayed at the Eden House which is located in the old town. The staff is extremely friendly and knowledgeable about the area and there is free coffee, iced tea and water in the lobby which is a nice perk. The hotel is basically a little compound with a few historic buildings all facing inwardly towards an amazingly relaxing interior that's lushly landscaped with verdant tropical plants and flowers. You can laze around in swinging chairs, hammocks, chill out in the pool, hot tub, or just sip a cold corona on the porch of your room – I almost didn't even want to see anything it was so chill. Another big bonus was that they have parking, something many Key West hotels don't, especially in the old part of town. Eden house has a restaurant which I didn't make it to, but there is a fantastic bakery around the corner called Old Town Bakery which you should definitely check out if you make it down.
While I didn't have too much time to explore my first day after getting there in the late afternoon, I did have a walk through downtown and towards the cruise port. You could spend hours just ambling around the streets checking out all of the cool old wooden houses that are very well maintained. People are extremely friendly and will most likely wave to you from their porches or give you a smile while walking on the street.
The Downtown area of Key West, which comes off of Duval Street is lined with some very nice turn of the century masonry buildings that house many big name retailers, I saw Banana Republic and Express just to name a couple.
The Cruise Port is a cool place to hang out during the sunset. You can grab a beer or cocktail (yes there are vendors just selling them right on the street) and enjoy some pretty awesome street performances, like the one from this dude:
After the sunset, you will do like most people who are visiting Key West do. Go home for a rest and then indulge in a fresh seafood dinner. There are countless places with fresh catches (obviously), but prepare to spend a bit, none are really that cheap.
Once the sun is really down is when the people come out to play. Duval Street which is a quaint tourist thoroughfare by day, becomes a wild, anything goes, party central by night. There are a ton of big bars, but don't expect anything too swanky. Put on your flip flops, t-shirt and shorts and prepare to pound bud heavys with America's elite (teeth optional). I think I could have filmed a DVD and called it, "white people gone wild". While that's not really my scene, it's fun for a night or two. Probably the most interesting place you can go though is is a place called the "Garden of Eden which is located atop the Whistle Bar (pictured below). Why so unique you ask? Well, let's just say you can dance your clothes off, literally. It's a nudist bar, and people really do get naked.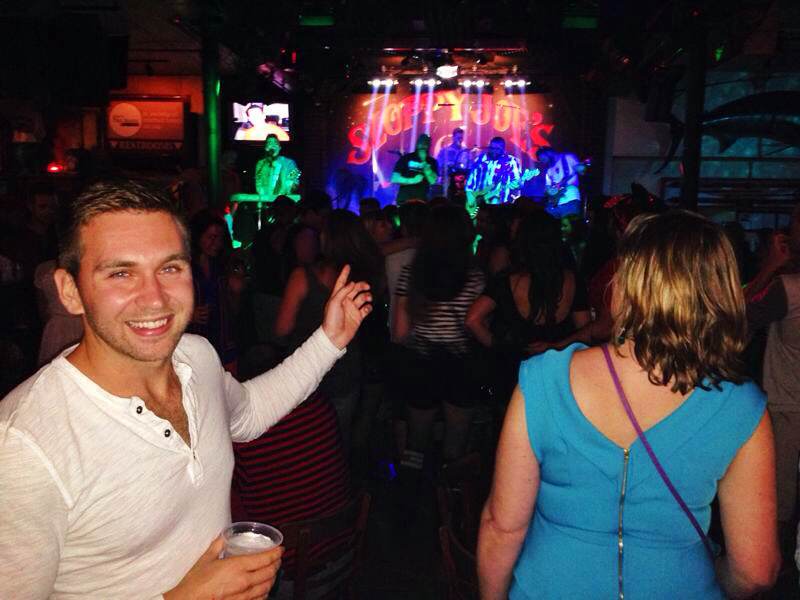 The next day, the Tourism Board was gracious enough to hook me up with a Jet Ski tour around the island with Barefoot Billy's Watersports. Everyone who I talked to on the phone right down to the tour guide, Chris, were fantastic and I'd highly recommend them. We stopped a few times and Chris gave a little history about Key West. We saw things from old Civil War forts to man-made islands and landmarks like the southernmost point in the US, it was a lot of fun.
All in all, Key West was definitely cool for 24 hours, but I'd like to go back and spend at least 2 or 3 more days to enjoy all the activities on offer, which are many. If you make it South Florida, make it a bit further south and check out Key West, you won't regret it!