Fort Lauderdale is home to the Port Everglades cruise port, where numerous ships depart each day for the Caribbean, Bahamas, Panama Canal, and transatlantic destinations. Enjoy smooth sailing for cruise vacations from this port with the following tips.
Transportation and Parking
The most convenient airport for travelers departing from Port Everglades is the Ft. Lauderdale/Hollywood International Airport, less than five miles away. The Miami International Airport is the next closest option, located 25 miles from the cruise port. A short taxi ride is the most affordable way to get directly from the airport to the cruise port.
Parking prices vary widely for travelers driving to the port. The official Port Everglades parking garage is the most convenient option, but also the most expensive. The cheapest choice is Park 'N Go, particularly for travelers who book online. A free 24-hour shuttle to the port makes up for the distance. Visitors spending at least one night at a local hotel can also park free at some locations, such as the Rodeway Inn & Suites which offers up to ten nights of complimentary parking.
Cruise Lines and Terminals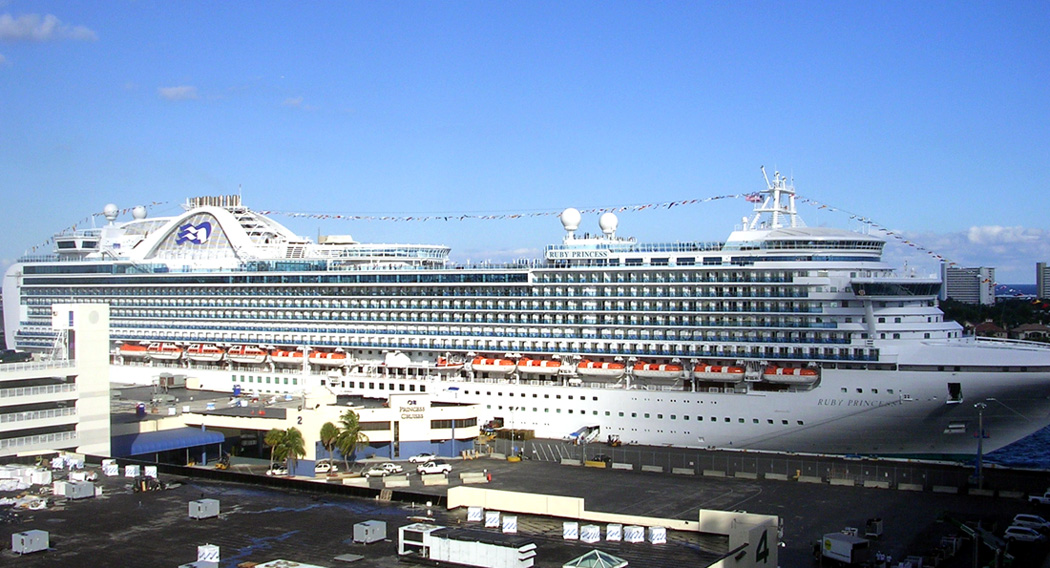 Image via Flickr by Roger Wollstadt
Ten cruise lines sail out of Port Everglades. Celebrity Cruises, Holland America, Princess Cruises, Royal Caribbean International, Seabourn, and Silversea all have multiple ships traveling through this port. With a capacity of 5,400 passengers each, the Royal Caribbean Oasis of the Seas and Allure of the Seas are the by far the largest.
This port has two cruise terminals. Terminals 1, 2, and four are at Northport, while terminals 18, 19, 21, 22, 24, 25, 26, and 29 are at Midport. Ample signage points travelers in the right direction.
Timing Your Departure
It's important for travelers to board their cruise ship at least two hours before departure. However, there is no need to overdo it and arrive excessively early. Most passengers disembark between 6:30 and 10:30 a.m, so traffic around the port decreases significantly after 11 a.m.
Convenient Hotel Options
Visitors who want to relax for a night between their flight and cruise can streamline travel arrangements at hotels like the Rodeway Inn & Suites Ft. Lauderdale Airport Cruise Port and Ramada Fort Lauderdale Airport/Cruise Port. These hotels offer free shuttles to and from the airport and cruise port.
The Rodeway Inn also offers affordable day rooms for travelers who need just a few hours to relax. These rooms are available from 10 a.m. to 6 p.m., or 10 a.m. to 10 p.m. A complimentary hot breakfast, free WiFi, and pool access are included with this brief stay.
Local Highlights
Guests who have some extra time to spend in the Fort Lauderdale area will find plenty of local attractions to explore. Las Olas Boulevard is the hottest shopping district in town. For upscale retail therapy, try the Galleria Mall. Visitors who are in the mood for gaming can visit the Seminole Hard Rock Resort and Casino. Twenty-three miles of beaches offer sun and sand for cruise travelers who just can't get enough.
Take to the seas for an unforgettable journey out of Port Everglades.
Author Bio:
Mandi Rogier lives and writes in sunny central Florida. She has travel pieces published on several blogs and websites including USA Today's Travel Tips.