Route 66 is one of the world's most famous road trips, but that doesn't mean driving is the only important part of the adventure. I think the places you choose to stop at are every bit as crucial as the ground you cover in the car, as these will give you the chance to really get under the skin of Route 66, so to speak. It's easy just to make a beeline for the big cities like Chicago (where the road starts), but I think there's a lot to be said for visiting some small towns too. By doing so, you can soak up the spirit of this world-famous old highway. Also, these towns give you a different perspective on the parts of the US you're travelling through – see how the construction of big highways has impacted small towns, and how places that once thrived on their natural resources are now shadows of what they once were.
For anyone even remotely interested in gaining a deeper understanding of both this famous road and the US as a whole, stopping at places like the below are a must. For ideas of how you can fit these into your itinerary and more, specialist tour operators like Bon Voyage know where to stop on Route 66 for the full experience.
Oatman
In my opinion, one of the most interesting and enjoyable towns to visit during your road trip is Oatman, Arizona. A former gold-mining town, Oatman was once a thriving community home to around 10,000 people. These days, its population is closer to the 200 mark, and the gold boom has long since passed. This means that Oatman is virtually a ghost town, but its residents of course ensure that it is still a living and breathing community. So, coming here is quite an odd experience, almost like visiting a living museum – a sensation that's enhanced by the fact that the town looks a lot like a Wild West film set. Pop into one of the saloons for a beer and get into the cowboy spirit. As a warning, if you come here on the weekend, don't be surprised if you come across a gunfight – these are often staged for tourists' benefit!



Groom
Over in Carson County in Texas is my next suggestion – Groom. This town is famous for two somewhat unusual attractions, with my favorite being the Leaning Water Tower. While it tilts like the famous Leaning Tower of Pisa, it by no means has the same artistic value; what it does have, though, is a strange quirky charm that makes it a must-visit. In fact, the tower was meant to be demolished, by it was saved by a gentleman named Ralph Britten, who put it to use as a sign for his truck stop, which is no longer up and running. The second key attraction is pretty hard to miss, being visible from as far as 20 miles away. Located next to the historic Route 66, the Giant Cross is approximately 19 stories high and is absolutely staggering to behold.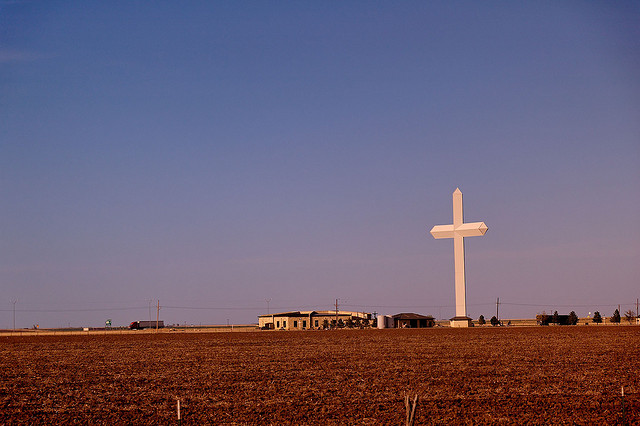 Ghost towns
It's also worth bearing in mind that you're likely to drive through a number of ghost towns when you're travelling between cities. As an example, the stretch of road between Springfield and Carthage is generously sprinkled with old towns, many of them very much falling into the 'ghost town' category, having been felled by the construction of Interstate 44. Stopping the car and strolling round one or two of these, even just for a few minutes, can be an eerie but memorable experience.
This was a guest post from David Laughead, A Brit with a penchant for America.