This past week, I had the pleasure of going paddle boarding with Diamond PR, Ciro Campagnoli (owner of the  Sense Beach House hotel) and a bunch of other great journalists/editors working in the travel niche as well as enjoying a great lunch at Ciro's restaurant, The Local House.
We met at 10 AM on a warm, crystalline day outside the Sense Beach house. The quaint, 18-room boutique hotel is located at 4th and Ocean on South Beach in the South of Fifth neighborhood. I personally like this area of South Beach the best as it's full of great restaurants, great bars and offers a more relaxed vibe than just a few blocks north. The first floor of the Sense Beach House is primarily occupied by the hotel's restaurant, The Local House. The soothing blues, whites and beige tones used to decorate the space invite you right in, and it really feels like someone's personal living room at a beach house in the Hamptons rather than the typical overdone (or underdone) South Beach hotel lobby.
The staff is welcoming and as you brush by tables with patrons enjoying a meal, almost everyone looks up and gives you a smile – something unique in South Beach. Ciro, the owner, is a young Italian entrepreneur who purchased the property a couple of years ago. Since taking over, the hotel has become wildly popular and is booked at capacity almost all of the time. He admits he had minimal restaurant experience before opening the Local House, but out of necessity, he took on the challenge. He and his team have put their hearts and souls into making it a place not only tourists enjoy, but locals alike. His investment in time, energy and of course money have paid off tremendously.  The restaurant has become a real passion for Ciro, and you can find him hanging out there at almost any given time greeting guests with a smile, dropping by tables for a chat or sitting at the bar to ask how people's day has been.
After a few introductions at the restaurant, we headed outside to the street where a bright yellow stretch jeep was waiting for us, graciously provided by Tons of Fun Tours. Mike, the driver, helped us all in and we headed north to the Sunset Harbour neighborhood about 10 minutes away (another one of my favorite neighborhoods in South Beach).
Mike dropped us off at South Beach Kayak, a family run kayak and stand up paddle board rental company, right across from the aqua marine waters of Biscayne Bay. They gave us a few pointers, helped us with our boards down to the boat launch, and away we went! Here's a short video I made of our adventure:

After about an hour of cruising around the Bay and connected waterways, we meandered our way back to South Beach Kayak, hopped in our Jeep, and headed back to The Local House for some lunch. Ciro and Patricia (The GM) went above and beyond and had a nice long table waiting for all of us. We enjoyed a sampling menu which included fresh watermelon juice, grilled octopus over a lentil tomato medley, Oysters on the half shell, as well as bacon wrapped dates (one of my favorites), corvina ceviche, greek salad,  and branzino and salmon. The food was delicious and made for the perfect lunch; not to heavy, but offering enough protein to satiate. Here are some pictures of the beautifully presented cuisine: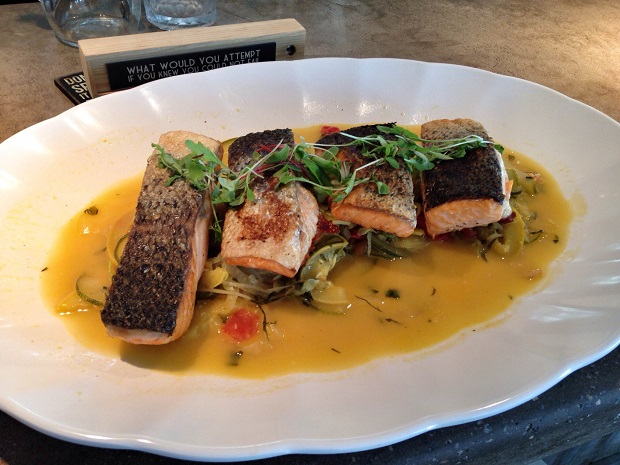 After lunch, we checked out a room in the hotel which was very spacious for South Beach standards and looked very comfortable. We then headed up to the roof to see their recently renovated pool deck which looked like a great place to take a dip or relax with a book under one of the shaded canopies or umbrellas.
All in all, I had a great Friday meeting new interesting people, getting a little exercise as well as a enjoying a great meal with new friends.