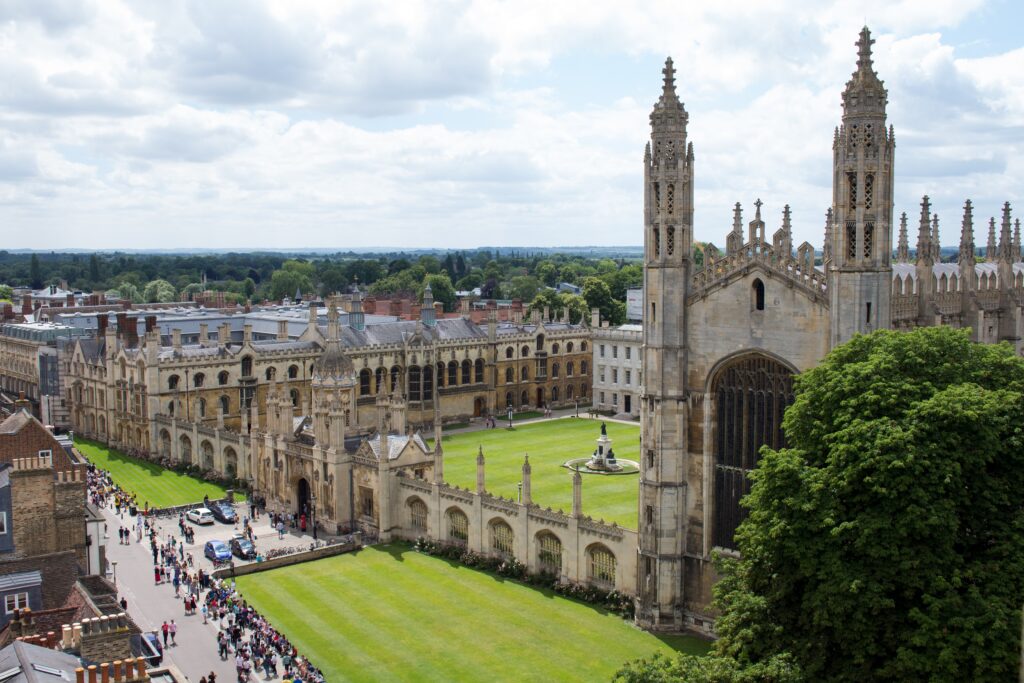 The picturesque and historic city of Cambridge is not only famous for its prestigious university, but also for its rich cultural heritage, beautiful architecture, and vibrant atmosphere. A long weekend here offers a delightful blend of history, nature, and relaxation.
From exploring historic colleges and museums to punting on the River Cam and savouring traditional British cuisine, Cambridge provides a rich and diverse experience for every visitor. We've put together the perfect three-day itinerary to help you really squeeze the most out of your visit to this charming city.
Day 1: Exploring the Historic Centre
Begin your long weekend in Cambridge by immersing yourself in the city's rich history and stunning architecture.
Morning at King's College Chapel
Start your day with a visit to King's College Chapel, one of Cambridge's most iconic landmarks. Admire its breathtaking Gothic architecture and, if time permits, attend a morning service with the world-renowned choir.
Punting on the River Cam
No trip to Cambridge is complete without experiencing punting. Rent a punt (a flat-bottomed boat) and leisurely glide along the scenic River Cam. You can do it yourself or hire a punter who will regale you with tales of Cambridge's history.
Lunch at a Traditional Pub
Head to one of the city's traditional pubs, such as The Eagle or The Pickerel, for a hearty English lunch. Enjoy classic dishes like fish and chips or a ploughman's lunch with a pint of local ale.
Afternoon at the Fitzwilliam Museum
Explore the Fitzwilliam Museum, home to an impressive collection of art and antiquities. From ancient artefacts to contemporary art, the museum offers a diverse range of exhibits to captivate any visitor.
Stroll through the Botanic Garden
Take a leisurely stroll through the Cambridge University Botanic Garden. The beautifully landscaped gardens offer a serene escape from the city's hustle and bustle.
Evening Dining
For dinner, indulge in a fine dining experience at a restaurant like Midsummer House or dine al fresco at one of the charming restaurants along the Quayside, overlooking the river. Alternatively, if you're exhausted from a day of exploring the city, Cambridge has an array of restaurant-quality takeaway options to choose from.
Day 2: Academic Adventures
Cambridge is renowned for its academic excellence, so it's only fitting to dedicate a day to exploring its intellectual side.
Morning at the University Colleges
Embark on a guided tour of some of the university's historic colleges, like Trinity, St. John's, and Clare. Explore the stunning courtyards, chapels, and libraries that have inspired generations of scholars.
Visit the Scott Polar Research Institute
Delve into the world of polar exploration at the Scott Polar Research Institute. The museum houses artefacts from famous expeditions and offers insights into the history of exploration.
Lunch at a Student Hangout
Enjoy a casual lunch at a student hangout like Fitzbillies, known for its delicious Chelsea buns, or the Cambridge Chop House for traditional British fare.
Explore the Whipple Museum
For science enthusiasts, the Whipple Museum of the History of Science is a must-visit. Discover an array of scientific instruments and rare books that tell the story of scientific progress.
Evening Lecture or Concert
Check out the university's event calendar for lectures, concerts, or plays taking place during your visit. Attending an intellectual event can be a unique and enriching experience.

Day 3: Nature and Relaxation
On your final day in Cambridge, take a break from sightseeing and embrace the city's tranquil side.
Morning Walk at Grantchester Meadows
A short walk or bike ride along the picturesque Grantchester Meadows is the perfect way to start the day. Enjoy the serene countryside views and perhaps stop for tea at The Orchard Tea Garden.
Punting or Rowing
If you didn't have a chance to punt on the first day, consider spending your morning on the river. Alternatively, rent a rowboat for a different perspective of the Cam.
Lunch at a Riverside Café
Savour a leisurely lunch at a riverside café, like The Granta or La Mimosa, where you can enjoy a meal while gazing at the river.
Visit Anglesey Abbey
Explore the beautiful Anglesey Abbey and its stunning gardens. This National Trust property is a peaceful retreat with its historic house, gardens, and a working watermill.
Afternoon Tea
Indulge in a traditional afternoon tea at a charming tea room like The Old Bicycle Shop or The Tamburlaine Hotel.
Sunset at Magdalene Bridge
End your long weekend by watching the sunset from Magdalene Bridge, a tranquil spot where you can reflect on your memorable visit to Cambridge.