After spending almost a month in Romania (I wasn't even planning on going there in the first place),  I decided to take a little Adriatic adventure with one of my friends, Stefan (the Danish metrosexual viking) who lives in Bucharest. The original plan was to rent a car in Bucharest and drive across Serbia, into Croatia and then down to Montenegro…that didn't happen.
Apparently, people don't like you to take their rental cars through non-EU countries (i.e. Serbia), so we had to get creative. We searched for the cheapest flight from Bucharest to the Adriatic region and luckily found a flight via Wizz Air (low cost airline) that went to Treviso, Italy, a small city near Venice. We booked it on a Thursday, flew the next day at 6 AM, and after just 1.5 hours in the plane, were saying "buongiorno, me escusi, me escusi" in Treviso just in time for a morning espresso. We walked around Treviso for a couple hours and then managed to find a direct shuttle to Ljubljana (pronounced lyoo-BLYAH-nah), Slovenia, the capital city, which is only 3.5 hours away. Why did we go to Slovenia? Why not.  I actually had a friend from the University of Miami from there. I told him we were considering coming to Slovenia and he happily said come on through, and the next thing I knew, I was sipping Slovenian beers on the ridiculously nice riverside of Ljubljana.
Don't feel bad if you've never heard of Slovenia.The population of Ljubljana is under 300,000 and the entire country barely has 2 million people, that and it's pretty easy to confuse with Slovakia if you don't know much about geography (another random country in central Europe).
Before crossing the border from Italy, I was trying to go through my head to see what I expected to see. After some pretty eye opening experiences this trip to the central European region (once behind the iron curtain, but now very nice), I thought I was going to see something like Transylvania in Romania. Nice German influenced architecture, but still pretty rundown. When I arrived in Ljubljana, I was blown away. It might be the nicest city center I have ever seen. It is immaculately maintained, the architecture is fantastic and the scenery (mountains) that serve as a backdrop add another wow factor. It is actually so nice that it felt a bit sterile. None the less, it was a very interesting place to see and a pleasure to enjoy for a couple days.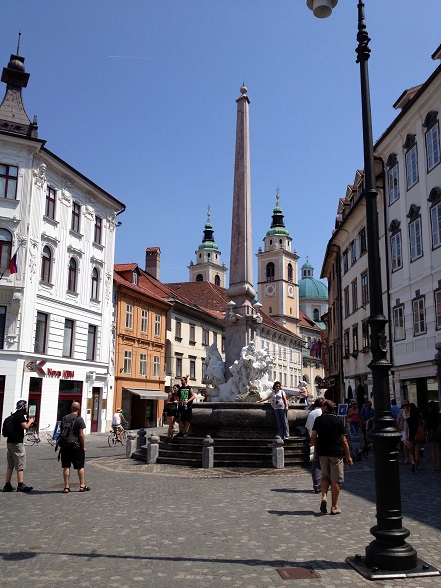 While there is definitely enough to see in the city center to keep you busy including a few nice museums and galleries, the Ljubljana central market and some good restaurants (I had a great breakfast at le petit), the countryside of Slovenia will surely round out a few day trip to the country.
I was lucky enough to be taken out for a day in my friend's car to explore the region near the Austrian border (in the Alps) to check out some pretty amazing lakes. The first was Lake Bled, about 45 minutes from Ljubljana. The water is an amazing aqua marine color and is extremely clear. There is a very picturesque small island in the middle with a church that you can see from all around the lake as well as a medieval castle perched on a cliff overlooking the region. While it's pretty touristy, it's a very nice place to enjoy a coffee or go for a swim (you can go to "castle beach" which has some small water attractions as well).
After Lake Bled, we continued on the road west for about 30 more minutes to another amazing place, Lake Bohinj. This lake was a bit less touristy and less developed so it was nice to see something more natural. It's also flanked by soaring mountains which are pretty impressive in their own right. At the very end of the road, there is a campground you can park at, go for a swim and enjoy some good BBQ as well.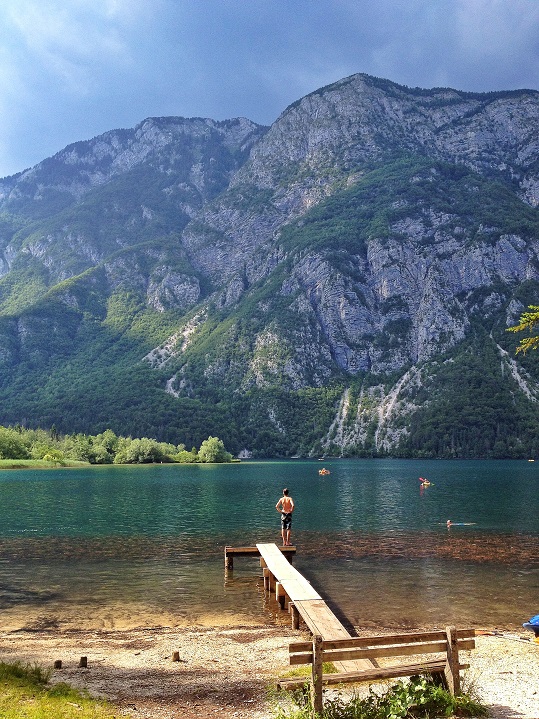 All in all, my short two day stint in Slovenia was great. They use the Euro but prices are about 30% cheaper than its western European neighbors which makes having a bit more fun, a bit more feasible. Put it on your next central European itinerary and you will be sure to have an enjoyable time.