Located in Cebu City, Philippines, The Henry Hotel is truly something unique in a city that is caught between rapid no-rules growth and and a relaxed island vibe.
This is my 3rd time in Cebu. Why the hell do I keep coming back to a place where traffic is even worse than in Manila, the streets kick up dust as motorbikes whiz by, trucks belch past and depressing poverty is squeezed into the spaces that the city's wealthier residents aren't occupying? I don't know either, but I think it's the people. The Cebuanos are the warmest people I've ever met. Their unreserved happiness is worn on their sleeves, and if you visit, prepare to make lots of friends.
While Cebu can be unbearable at times, it seems there are just as many places that offer western-standards to stay, eat, shop, and party as there are in Manila (probably 20 times larger), so while the cultural sights are few and far between, Cebu makes a great place to hang out for a long weekend before heading out to a beautiful beach on Cebu Island, or one of the other worthwhile places to visit via land, sea or air within an hour or two at most.
While I normally stay in the main core of the city, I decided to try something a little bit further out to avoid the calamity. The Henry Hotel caught my attention online, and when I showed up for a two-night stay there, it was even better than I could have imagined (not something normal in the Philippines). Here is my review of the Henry hotel in Cebu:
Upon entering the modern lobby, I was greeted by a clean, inviting fragrance paired with 4 smiling faces at the front desk. I got get a big, "Hello Sirrrrr" (which happened every time I walked past). Check-in was swift, seamless and the 5-star desk staff gave me some great recommendations for restaurants, one in which was the best Mexican food I've had in a very long time (Maya).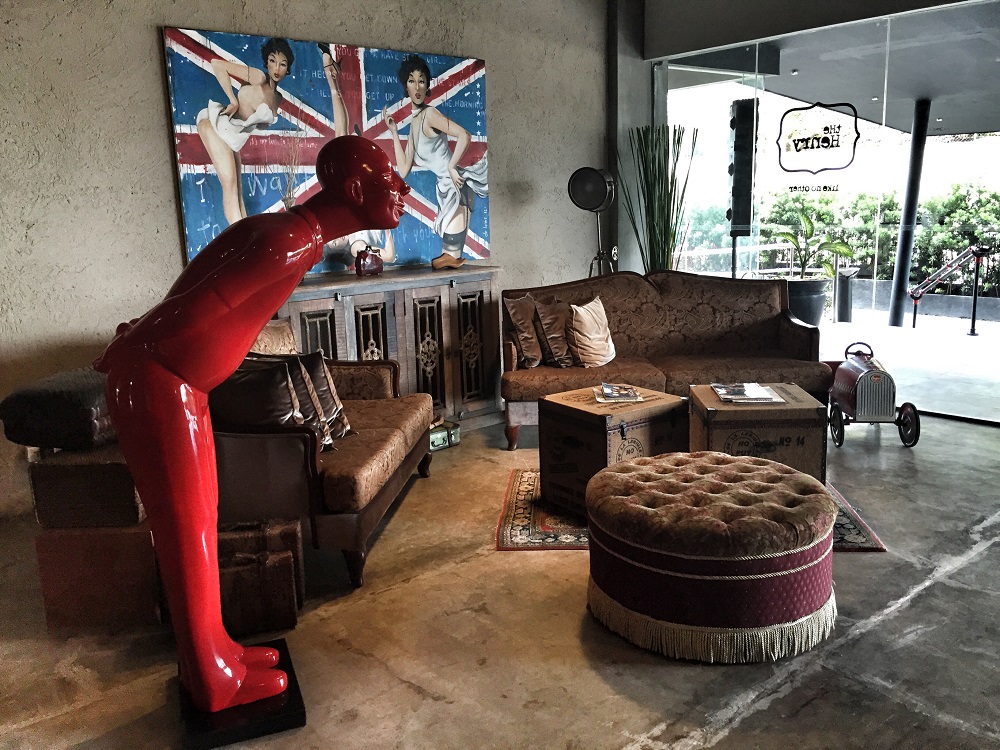 The hotel feels like a contemporary art museum, or at least a feature in a design magazine. Everywhere you go there is something funky, thoughtfully placed or just interesting to stop and check out. Even the stairs are done up, which is normally a space overlooked in traditional designs.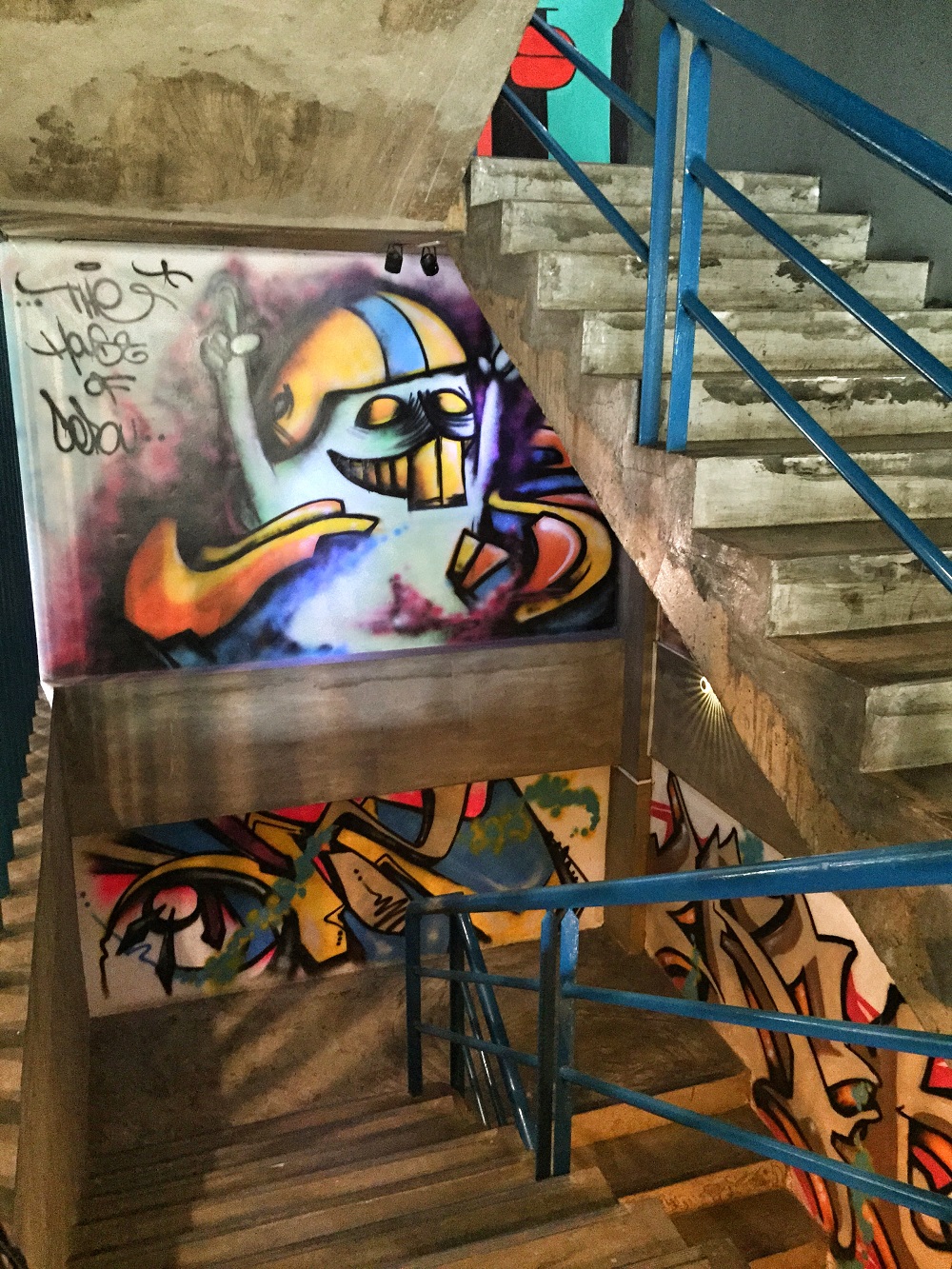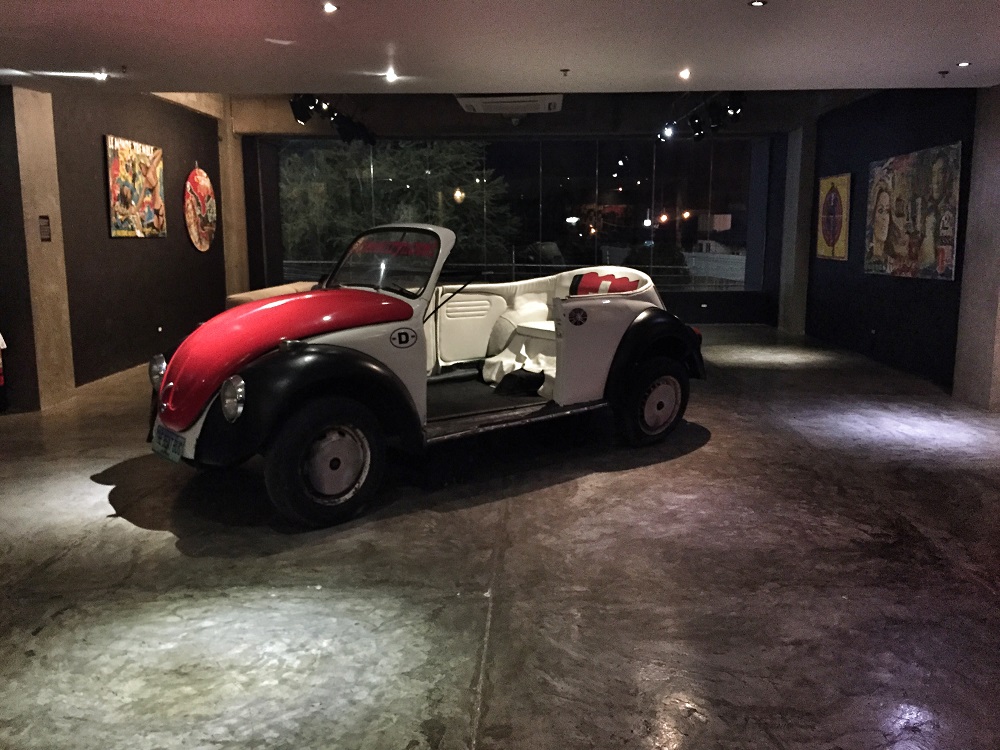 The modern elevators were fast and required a key card to proceed to another level (can't go wrong with more safety). I stayed on the 3rd floor which also housed the Reading Room. A place where people opting for the larger room choices could enter via key card to hang out, use the computer, print stuff out, play chess, have a coffee, etc.
The hallways were adorned with contemporary art and custom lighting as well. I would have added some soft surfaces like a carpet run down the middle or on the ceiling as hallways like this look awesome, but can be noisy when people slam doors (which was the case in the morning).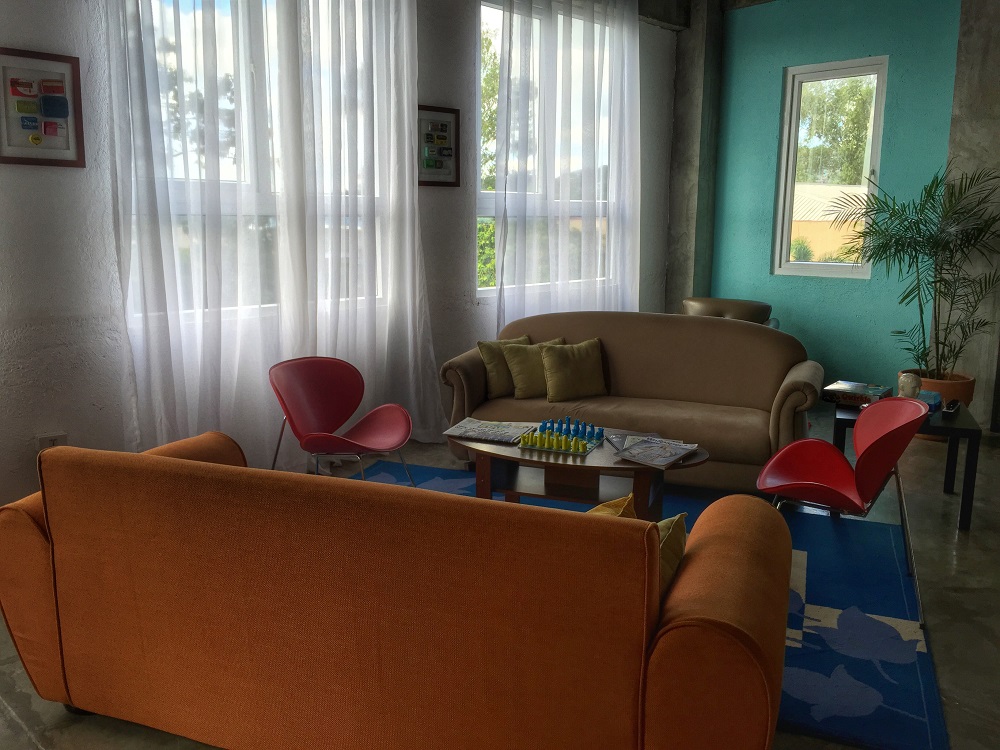 I stayed in "big" room, which is actually their smallest option, but it was most definitely very spacious. The windows were sound proof and I had a view of the immaculately maintained backyard/pool area.
My room had one of the most comfortable beds/linen sets I've ever graced, and both days I stayed there I slept for 10 hours, something highly unusual for me as I'm the lightest sleeper in the entire world (a curse).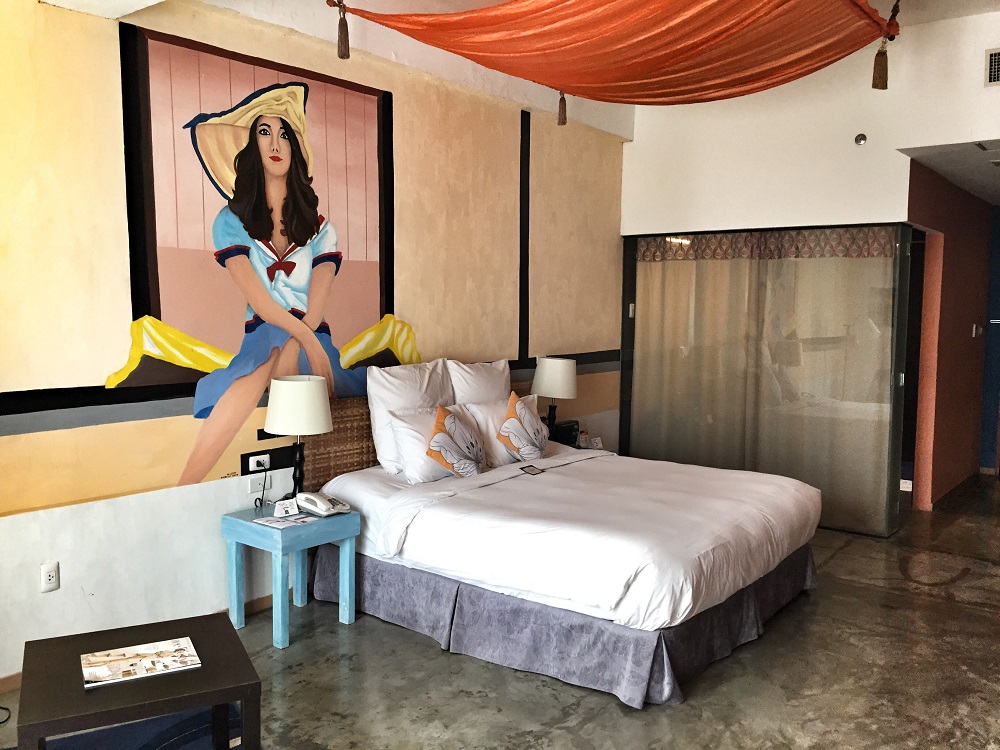 The Wi-Fi was strong, TV large, and loaded with premium channels. The desk space made it easy to bang out some work as well.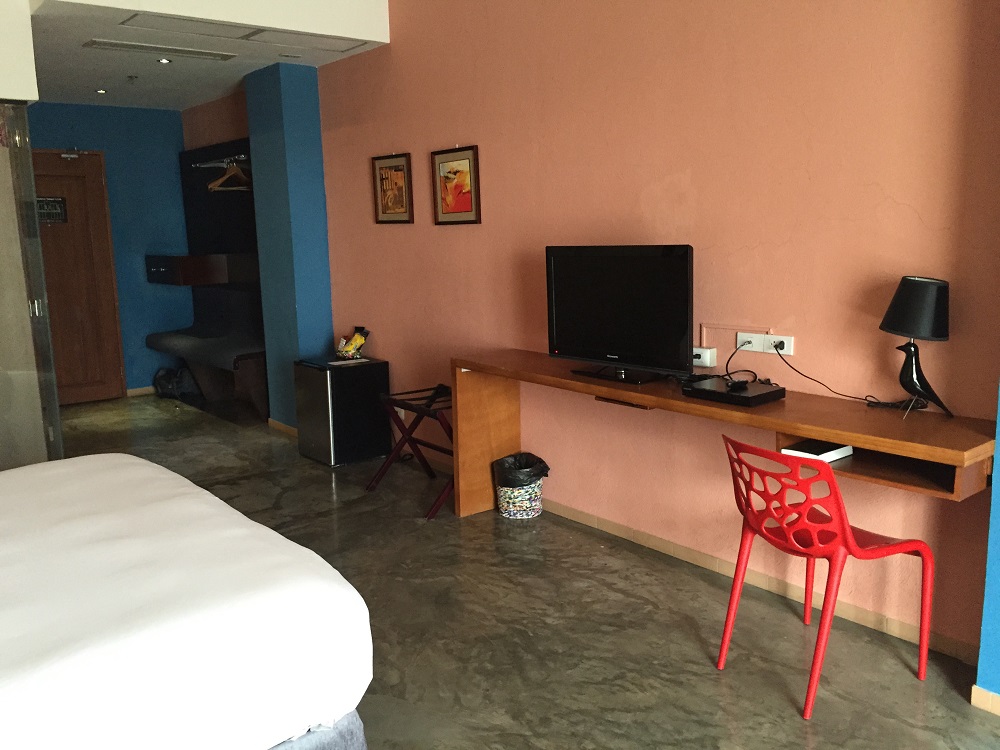 The bathroom, like the room, was very large, came with a hairdryer and had multiple bathing options including a rain shower and a regular shower head that could disconnect and become hand-held (revel Euros and Asians). Would have been nice to have a bidet for the toilet though (pretty common in Asia, so surprised there wasn't one at a place of this caliber). Gotta love the deuce water bottles every day! Mini-bar options were also reasonably priced too, so I hit that up as well.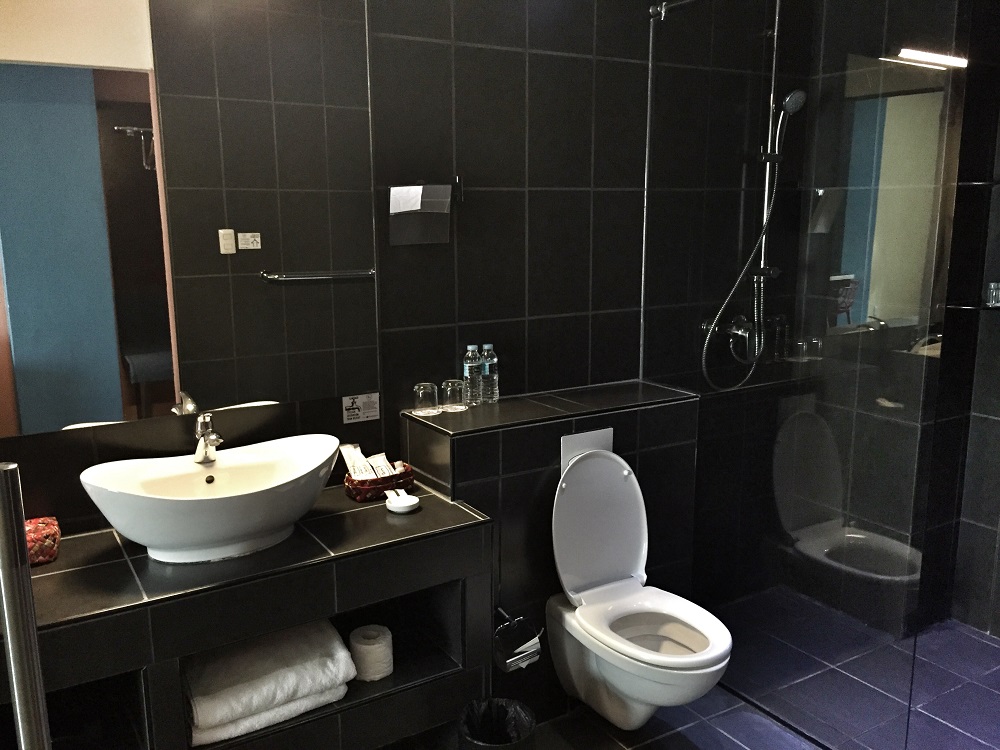 Big plus to The Henry Hotel in Cebu for the multitude of plugs. There were plenty of them all over the room, bathroom, and next to the bed on both sides, something which is extremely annoying if not present.
The included breakfast is served until a reasonable 10:30 AM in Rica's Restaurant on the 1st floor of the hotel. The décor was modern and fun (as you can see). Breakfast boasted plenty of options including made-to-order omelets, fresh fruits, cereals, pastas, quality American-style bacon, and a few more choices like fresh fish (more geared toward the Filipino guests).
After breakfast on my full day, I opted to lounge by the poolside. The infinity pool was very clean and a great place to cool down and to get some sun.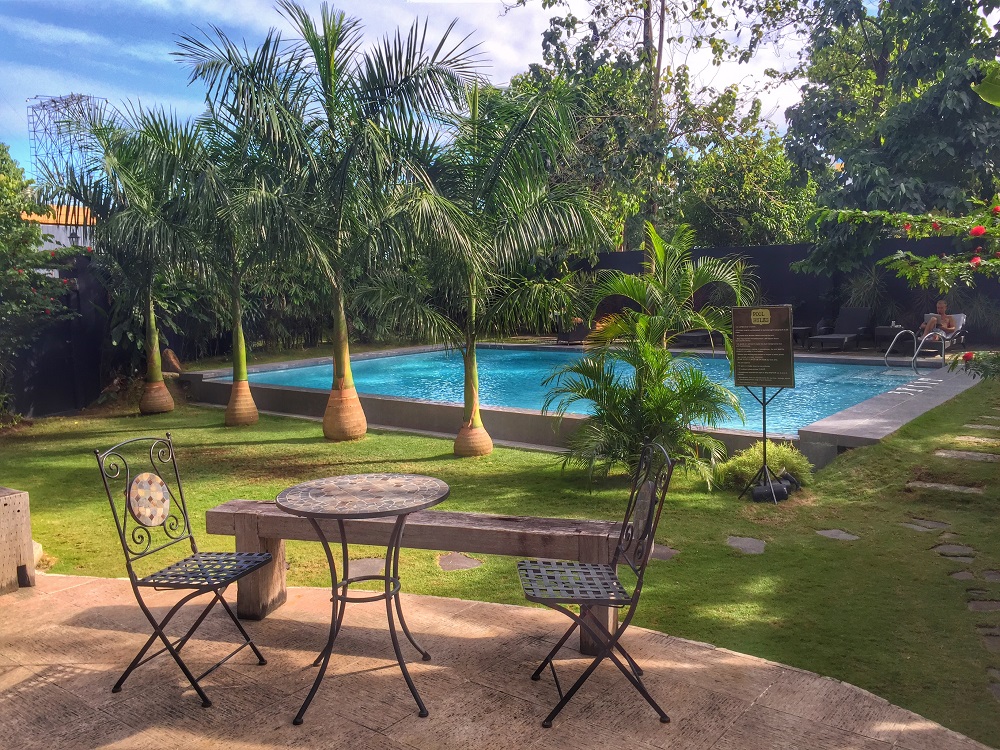 All in all, I give the the Henry two thumbs up. You can find it on booking.com for only about $60/night, and for what you get for that price, in a country like the Philippines, and a city like Cebu – you can't go wrong. I'm definitely going to stay at the Henry Hotel in Cebu next time I'm here as it was truly the eye of a hurricane (well, I guess Typhoon if we're being Asian about it).