If you're looking for amazing flavors, along with a bit of spice to your plate, there's no better than Mexican cuisine. Tasty dishes such as tacos, quesadillas, fajitas, and burritos are staples in the fast-food industry, but does cooking Mexican food allow for eating healthy at home? Here are some healthy Mexican recipes that you can create in your kitchen. So add a little extra spice and flavor into your dishes and get inspired!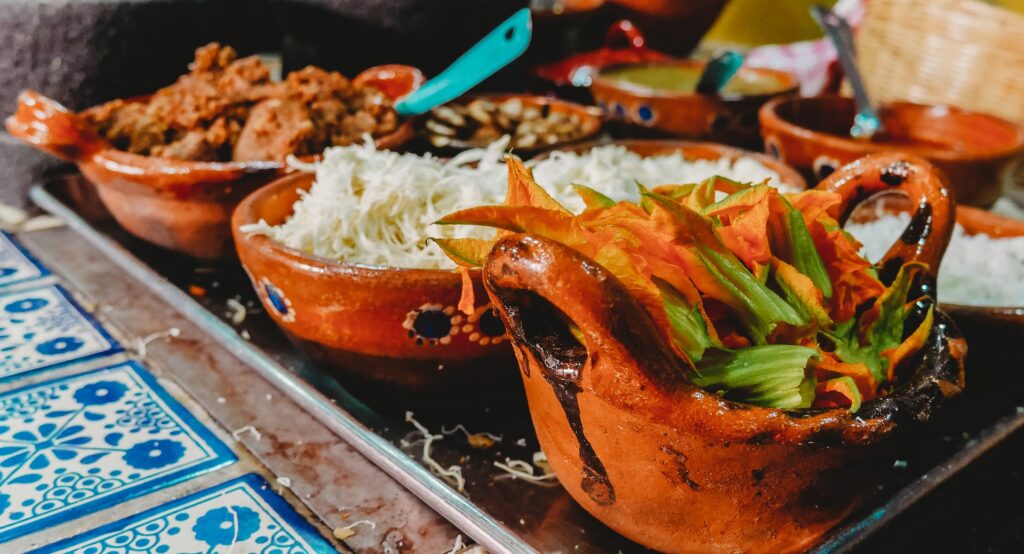 Slow Cooked Chicken, Brown Rice and Avocado
A slow-cooked chicken dinner is the epitome of comfort food. It is full of flavor and absolutely delicious.
Ingredients: Olive oil, 1 whole chicken, 1 onion, coriander, 4 peeled garlic cloves, 1 tsp dried oregano, 1 tsp ground cumin, 1 tsp dried chili flakes, 1 ½ tsp paprika, 2 tsp tomato paste, 6 Roma tomatoes, 500ml chicken stock, steamed brown rice, avocado, spring onion 
Method: The oil should be heated over medium heat, and the chicken should be salt seasoned. The skin of the chicken should be golden brown after 6 minutes of cooking. Then turn the chicken over and cook for 4 more minutes. After cooking, remove the chicken from the pan and set it aside.

Onion, coriander root, and garlic should be cooked simultaneously in the same pan for about five minutes, stirring often. Cook, stirring, for 2 minutes or until fragrant, adding dried oregano, spices, and tomato paste. Cook for a few more minutes, then add tomato and stock.

The chicken should be returned to the pan, covered with a lid, and the heat should be reduced to medium-low. Occasionally stir the chicken for 1 hour 30 minutes or until it is tender.

Set aside the chicken. Stir frequently for the next 15 minutes until the sauce is thick. Taste and season. Cut the chicken into shreds and discard the bones. Gently heat the sauce after adding the chicken. Mix coriander and spring onion with the rice, followed by avocado, tomatillo and mixed coriander.
Broccoli, Cottage Cheese and Lemon Quesadillas
You can quickly increase your veggie intake with these cheesy and flavor-filled vegetarian quesadillas.
Ingredients: 1 small broccoli, 2 spring onions, 200g cottage cheese, 120g grated cheddar, 1 lemon, olive oil, 4 tortillas, alfalfa sprouts.
Method: Start by preheating the oven to 392°F (200°C). In a large pot of boiling, salted water, cook broccoli for 5 minutes or until soft. Pat the broccoli dry well, using a paper towel. Chop the florets coarsely, discarding the tough stalks. Spring onion, cottage cheese, cheddar, lemon zest, egg, and cottage cheese need to be combined in a bowl. Mix well and season.

Next, spray a nonstick ovenproof frying pan lightly with oil. Start by placing one tortilla in the pan. Cover the tortilla with half the broccoli mixture, then top with the other tortilla. Continue cooking for a further 4 minutes, or until the base is golden. As soon as the quesadilla is golden on the bottom, turn it over and continue cooking for three additional minutes. After five minutes, place the quesadilla in the oven to melt the cheese. Let cool.

Continue with the rest of the tortillas and broccoli mixture. Finally, cut into wedges and sprinkle with additional spring onion and alfalfa. Enjoy with a wedge of lemon.
Guacamole
Having as much guacamole as you want is guilt-free with this recipe. 
Ingredients: 2 limes, ½ red onion, 2 ripe avocados, 1 garlic clove, coriander, 1 jalapeño, 1 cup of watercress sprigs, 1 cucumber, 1 tsp ground cumin, 1 tsp paprika.
Method: Slice the onion with lime juice and add a tsp of salt flakes to a bowl, and set aside to soften slightly. Roughly mash the avocado in the bowl. In a bowl, mix lime juice, onion, garlic, coriander, and jalapeño. Stir until combined. Season with salt and pepper and transfer to a bowl. Drizzle with oil and sprinkle with watercress. Along with the cucumber, scatter paprika, cumin, and salt flakes.
Fish Tacos with Healthy Green Vegan Mayonnaise
You won't feel bad about enjoying this recipe since lettuce cups replace conventional tacos, and the 'green veganaise' is packed with healthy ingredients.
Ingredients: 8 skinless fish fillets, ½ tsp smoked paprika, ½ tsp ground cumin, ½ tsp ground coriander, 60ml extra virgin olive oil, 1 flour tortilla, 1 butter lettuce, sauerkraut, cucumber, coriander
Method: In a bowl, combine the skinless fish, spices, and 2 tablespoons of oil. Refrigerate for 10 minutes, then serve. Using a large nonstick pan, preheat the oil over medium heat, then cook the remaining tablespoon of oil along with the tortilla pieces. Turn them over halfway through cooking. Take them out and let them drain. Add fish to the pan and season with salt. Sauté for about 6-7 minutes, turning once. 
For the vegan mayonnaise, you will need 1 tsp olive oil, 120g frozen peas, 80g silken tofu, 1 lime, coriander, 2 tsp oregano leaves, 1 jalapeño, 1 garlic clove, 1 tbsp apple cider vinegar. 
Method: In a food processor, combine all ingredients until smooth for veganaise, then sprinkle with seasoning.
Chorizo Enchiladas with Spice
Enchiladas are a tasty and healthy option for any meal.
Ingredients: Olive oil, 1 onion, 3 garlic cloves, 1 carrot, 1 celery stalk, 1 ½ long red chilies, 1 chorizo, 400g lentils, 2 x 400g cans of chopped tomatoes, 1 tsp smoked paprika, dried oregano, coriander seeds, 1 tsp ground cumin.
Method: Eggs and chickpea flour should be whisked together with 1/2 cup of water and 1 tsp salt to make the omelet. The omelet needs to thicken for about 10 minutes before serving. Spread baking paper on a baking sheet. A 22cm nonstick frying pan should be warmed to medium heat with 1 teaspoon of oil. Make a skinny pancake by adding 1/3 cup (80ml) batter and swirling. After 2-3 minutes, flip the pancake over and cook for another 2-3 minutes. Make six pancakes again with the remaining batter and oil. Place in the refrigerator until needed. 
A medium-sized frypan should be heated over medium heat to make the filling. Stir frequently for 15 minutes or until onion, garlic, carrot, and celery are soft and golden. Add chili and chorizo. Stirring occasionally, cook for a further 5 minutes, or until the chorizo has broken down. Spices, tomatoes, lentils, and oregano are added along with 1 cup (250ml) water. The liquid will evaporate in 50 minutes or so if you stir frequently. Season to taste and set aside. Preheat the oven to 200 degrees Celsius. Distribute lentil mixture among each pancake after spreading ricotta on one half. Place on a baking sheet and fold up to enclose. Grated Parmesan should be sprinkled on top, covered with foil, and baked for 15 minutes.
Grilled Corn with Manchego, Paprika, and Lime
Vegetarians and meat-eaters alike will enjoy these grilled corns as the perfect side dish. You can serve them along with other Mexican dishes for a complete meal. Here's how you can make them:
Ingredients: 4 corn on the cobs with husks removed, 1 lime, 2 tbs almond nut butter, 1 tsp paprika, and 100g Manchego cheese.
Method: Begin by putting the corn into salted, boiling water for 5 minutes or until tender, whichever is first. Preheat a grill or a grill pan to high heat. In a large skillet, cook corn, occasionally turning, for 10 minutes or until charred. Then, squeeze lime juice over the corn. Finally, spoon nut butter over the corn. Sprinkle it with paprika and grate over Manchego. Add seasoning, then serve.