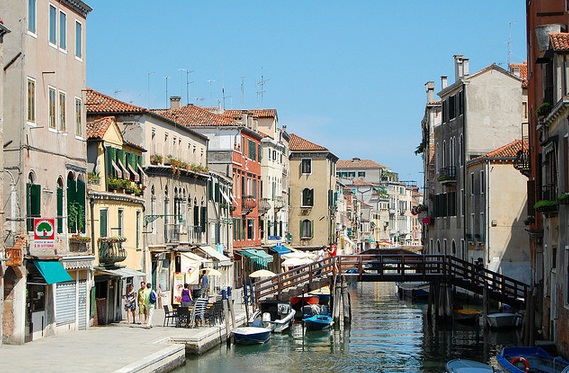 Venice undoubtedly comes up on most people's Top 3 lists of places they want to visit before they die, and rightly so. The city is rich with culture and is surrounded by beautiful architecture and unique relics. It is known by many names, including "City of Water" and "The Floating City" and has been described by many as the world's most beautiful and romantic city (yea yea, Paris I know). The way Venice looks today is not much different from how it did six centuries ago. The history of Venice is quite storied and pretty interesting. The name "Venice" comes from its inhabitants in the 10th century BC, the Veneti people. The Venetian Republic was an economic force to be reckoned with and its capital city of Venice was a major player during the musical and artistic developments in the Renaissance.
Today, Venice maintains its status as one of the most popular vacation destinations in the world. Coupled with the over 270,000 local residents, the city can get extremely over-crowded but that doesn't seem to stop travelers from seeing as much as they can of the grand city.
One of the most intriguing things about Venice is its lack of roads. The reason for this is geography. The city rests on a 117 island archipelago and is connected by over 400 bridges and 177 canals. Waterbuses and gondolas are the main sources of transportation in the city, the site of such notable events as the Venice Film Festival and Venice Bienale. Two of the most popular destinations are St. Mark's Basilica and Piazza San Marco. Doge's Palace offers tourists an impressive collection of small museum and a relaxing courtyard to think, chat and stretch out in.
Many travelers opt for the Museum Pass, which grants entry to Doge's Palace as well as Museo Civico Correr which highlights Venice's civic history and Ca'Rezzonico which hosts a large collection of 18th century masterpieces.
There is definitely a lot to see in Venice, but you've got to sleep some time. Travelers who aren't interested in pinching pennies can take their pick from among the many unbelievably luxurious and internationally recognized five-star hotels in the city. Of course, with superior accommodations comes a superior price tag.
There are more moderately priced options as well, but with Venice being the year-round tourist destination that it is, even these accommodations can break the bank. A smarter and more affordable option is looking into short-term apartment rentals in Venice on Oh-Venice. With a little bit of pre-planning you can save a good deal on accommodations on your long-awaited Venice vacation. Put the cash towards drinks or souvenirs instead!