So I arrived in Panama City yesterday from Miami.  I had done virtually no research before my trip becasue I was busy trying to get things wrapped up with clients/decided it would be more of an adventure that way.
I arrived at Tucuman International Airport and took a taxi to La Jungla Hostel who offered me accomodation free of charge (yea budddyy).  The taxi ride from the airport cost me $28 (pretty expensive for Latin America)  but was a pleasant drive.  About 1o minutes from the airport, I noticed the tops of some massive skyscrapers rising over the nearby hills.  As we got closer, I was amazed at the number, size and modernity of them as well. I immediately thought, Miami.
I arrived at the  hostel which is in the Bella Vista neighborhood that reminds me of Medellin.  It is pretty safe and easy to walk around with every amenity you'd want as a traveler, corner stores full of beer and non-perishable food, pharmacies, restaurants, bars, casinos and clubs.
Last night, I went to eat at a Chinese place nearby (ton of Chinese people in Panama City) and then stopped into a local casino.  Casinos are a big business in Panama and there are some massive ones.  Another interesting/odd thing is that the casinos are full of…prostitutes.  I didn't even realize that the girls were in fact prostitutes at first because they are truly that beautiful and not dressed in your run-of-the-mill hooker garb. I kindly made conversation with a few (until I realized they wanted me to pay them).
There was also some ridiculous game where old Panamanian women suited up in a pocketless grease moneky outfit and then hopped into a plastic case for their chance to grab as much money as they could in 30 seconds.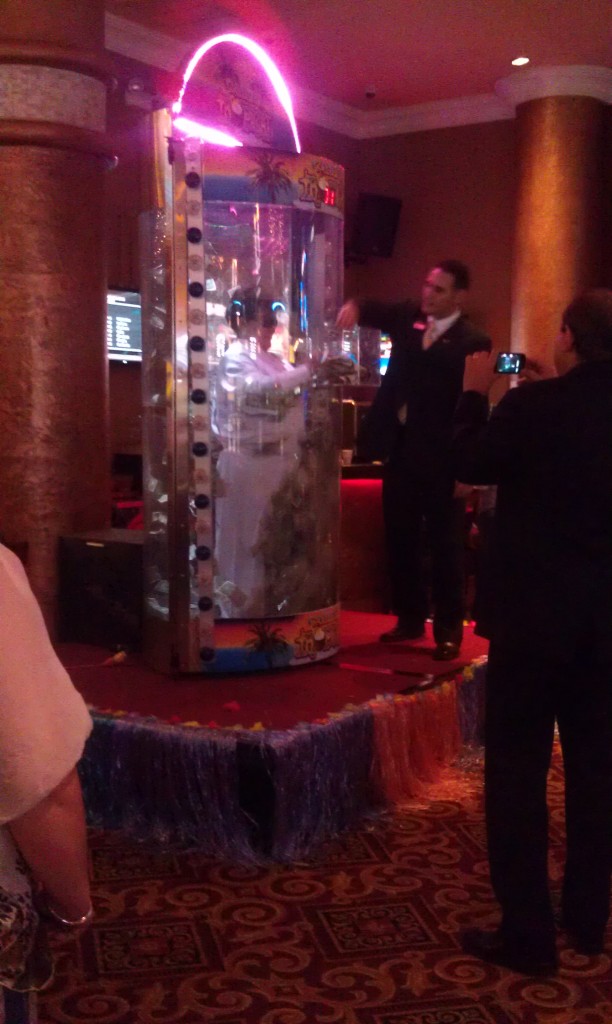 I enjoyed watching the frantic old women for a little while longer and then came back to the hostel, put down a few beers to deal with the heat and knocked out.  Headed to a volcanic rain forest tomorrow for a couple days, looking forward to the cooler climate.