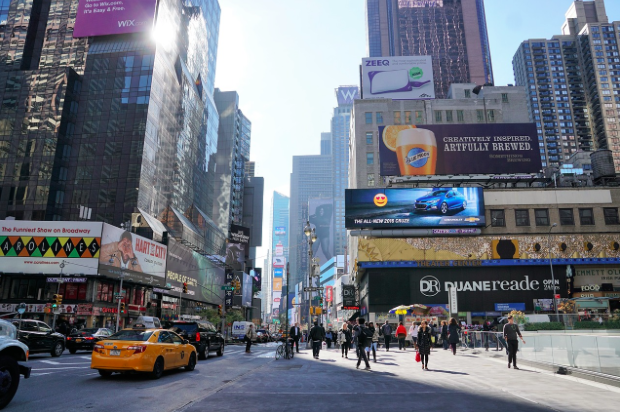 Source: Pixabay
What not to do when you are in New York is just as important as what you should do. Solely focusing on the 'Dos' leaves you vulnerable to unpleasant encounters. No matter how many times you've visited this beautiful and incredibly diverse city, there's always something new to discover.
In particular, learn from previous visitors' mistakes and steer clear of common tourist missteps so your trip to the Big Apple can be one you'll want to remember for years to come. So here goes.
New York is colorful, buzzing and cosmopolitan. As a tourist, it can be hard to resist the urge to pause every once in a while and soak in the sights, sounds and smells at your own pace. That's well and good but only as long as you do not stand in the middle of the sidewalk.
New York is a hectic city with throngs of people brisk walking on the sidewalks. Residents are also infamous for being direct and having a fairly short fuse. If you're going to walk slowly or come to a complete stop on a sidewalk, pull-over to the side to make sure you aren't impeding the movement of passers-by.
Don't Limit Your Tour to Times Square
Make no mistake: Times Square is iconic and attracts millions of visitors each year. It's a convenient base for tourists keen to see Broadway shows. However, it is just one neighborhood in this expansive city.
It would be unfortunate if you limit your entire New York experience to just this one location. Add some variety to your trip. If you've never been to Times Square before, one visit is good enough to admire the giant neon signs, snap a couple of pictures before you are off to someplace else. This is where a bus tour would be ideal (check out https://www.topviewnyc.com/).
If you've never used one before, your first attempt at using the NYC subway may be a spectacular fail. Actually, it can still be confusing even if you regularly use the subway in your hometown. New Yorkers make it look so easy so the thought of attracting embarrassing stares is unnerving. Hailing a cab seems much less intimidating but will rapidly rack up your costs.
If it's any consolation, you're not alone. There are hundreds of newbies using the city's subway every day. To make your experience easier, do a Google search and find out what the color codes mean and which trains to take. Once you get the hang of it, you'll realize it is much quicker than a cab and costs far less.
Don't Dress Like a Tourist
One of the great things about New York is the rich diversity. When it comes to dressing, virtually anything goes. That being said, when you dress like a tourist, you'll get treated like one and that's not necessarily in a good way. You'll stand out from the crowd and become an easily identifiable target for local con artists.
Keep it simple by wearing smart unassuming attire such as dark-colored jeans. You'll neatly blend in. Avoid white sneakers, sweat pants and the 'I Love NY' hat that is probably best worn when you are back home.
Don't Go to the Empire State Building
The thought of not visiting the most defining landmark of the New York skyline can feel unimaginable. This is one of the places friends and family back home will be eager to hear about. Forget it. The Empire State Building's is probably not worth your precious limited time.
Like Times Square, it's a notorious tourist trap. The lines are long and you have to pay $50 if you want to skip them. If you are looking for great views of the city, head to Top of the Rock where the lines are much shorter.
Don't Be Afraid to Ask for Directions
This flies in the face of New Yorkers' reputation as cold and aloof. Yet, the city's residents are more friendly than they are given credit for. They may not make eye contact or say hi to strangers on the sidewalk but all this is a coping mechanism for such a fast-paced metropolis.
New York is massive and it's quite easy for visitors to lose their way. Don't continue in the wrong direction simply because you are too scared to seek help from a stranger. Most people will be happy to help. Seek out persons pushing a baby stroller or walking dogs as they are likely to be locals and know their way around.
You don't have to make these mistakes. Read them over and make every effort to avoid them. It's the way to go if you want your visit to be a memorable one.